The NHS is undergoing radical reform, which throws up opportunities to reorganise its £36bn estate. But big political, financial and legal uncertainties leave the construction supply chains unsure of their future
Confusion surrounding the proposed NHS reforms reached new heights this week as anger over the government's plans forced the health minister Andrew Lansley into a retreat.
On Monday he delayed the controversial Health and Social Care Bill for three months, admitting that its critics had "genuine concerns". These critics include GPs, Primary Care Trusts, healthcare developers and supply chains and the influential House of Common's health select committee, which claimed this week that the bill is going to need more than "minor tweaks".
In a significant twist for the construction industry, the committee attacked a central plank of the reforms that would have given GPs a controlling hand over health budgets. Instead of GP commissioning consortiums proposed by the government the committee wants a wider range of health professionals and local officials to share the responsibilities within NHS commissioning authorities.
Such major changes to the bill will mean more delays and continued uncertainty over the future of healthcare commissioning, including procurement of capital projects - which will have a knock-on effect on contractors working in the sector. Here we examine what's at stake.
More than just cuts
Public sector projects kept construction firms in rude health during the boom years, and they were a vital lifeline when the private sector collapsed in 2008. So the government's austerity cuts were always going to be a shock to the system.
But in the health sector, there's much more at stake than cancelled projects and capital programmes being put on hold thanks to the reforms: the client base is being abolished, and there will be a whole new set of as-yet-undefined organisations, taking a radically different approach to delivering services.
Everyone is just looking for detail right now. I ask three people who know the sector and I get four opinions
While the bill has now finally completed at committee stage in the commons, deputy prime minister Nick Clegg has said the government wants to conduct a listening exercise before it returns to parliament in the summer.
It's hardly had a smooth passage so far, with more than 100 amendments since its publication in January, and as everyone knows it's been widely criticised as rushed, ill-conceived and unnecessarily destructive - even by the GPs who would be handed control of 80% of the NHS budget.
The bill is pretty sketchy on what the most dramatic reorganisation of the NHS in its 63-year history will actually mean in practice, with many of the financial and legal fundamentals undecided. There are undoubtedly opportunities to reform the NHS' vast estate to fit its new structure, even as public spending dries up.
But construction firms are crying out for more certainty, so they can work out where those opportunities are. Paul McGirk, business development director at Galliford Try, says: "Everyone is just looking for the detail right now. When I speak to people who know this sector well, I ask three people and I get four opinions."
Uncertainty rules
Such uncertainty is debilitating given the scale of capital spending on healthcare in recent years. According to a report published in February by AMA Research, the sector has built 107 PFI hospitals at a cost of £12bn and around 750 primary care centres, many under the Local Improvement Finance Trust (LIFT) scheme, a kind of PFI-in-the-community.
There are now 49 LIFT companies, which have delivered more than £2.3bn of investment in 285 buildings. Meanwhile, the publicly-funded Procure21 framework is estimated to have a total value of £4.2bn, and its successor Procure21+ launched in October is expected to spend £2.9bn over a four year period.
There's no question that the fat years are over. While spending on health will remain steady over the next four years, funding for capital projects will shrink by 17%. Capital spending in England peaked at £6.8bn in 2009-10, around 7% of the total NHS budget. In 2010-11, it dropped to £5.1bn, and it will hover around the £4.4bn mark for the rest of the Spending Review period until 2015.
But it's less clear who will actually be doing the spending. "There's a huge amount happening as a consequence of the re-organisation, which makes it difficult to know who is going to hold the purse strings to commission construction services and how many projects will go ahead, particularly until the new entities are bedded in," says Bridget Archibald, a partner in the health group at lawyer Mills & Reeve.
What we do know
The bill proposes to abolish Primary Care Trusts (PCTs) and Strategic Health Authorities, both of which have played an important role in capital projects to date. PCTs' role in commissioning clinical services - accounting for 80% of the NHS budget - would pass to consortiums of GPs, overseen by a new national body, the NHS Commissioning Board.
They may commission those services from "any willing provider", which pits existing NHS organisations against private providers in an open market. As for acute care, NHS trusts must all become foundation trusts by 1 April 2014, which have greater independence from government, greater freedom to borrow money - and greater freedom to fail, if they cannot compete with the private sector.
The shift from large acute hospitals to community-based facilities will continue, which means projects will be smaller, more likely refurbishments than newbuild, and concentrated in the primary care sector. Despite investment since 1997, about 23% of the NHS estate is estimated to be "unfit for purpose". The AMA report says that although 3,000 GP premises have been modernised since 2001, one in seven is still officially classed as "below minimum standard".
The question is what will happen to the 4.5 million m2 of property worth £36bn that is owned by the PCTs after they are abolished in 2013, and who will take over their 20% shareholding in the LIFT companies. "Basically it's a mess," says Michael Clarke, health manager at Willmott Dixon. "The government still hasn't said where ownership of these buildings will go. We don't know who's going to own them or who is going to be procuring new buildings or even maintaining the existing ones."
The bill does make reference to the transfer of PCT assets, but it does not say where they could be transferred to. In January, the Department of Health published guidance for the new community foundation trusts - proposed under Labour to separate the commissioning and provision of services - about taking over PCT properties, but this does not include PFI or LIFT assets.
There are a number of places the PCT assets could sit: with the GP commissioning consortiums (GPCCs), the NHS Commissioning Board, foundation trusts or community foundation trusts, local authorities, or an independent company, either wholly or partly owned by the state.
Local authorities might be an obvious candidate, given that they are already taking over the PCTs' responsibility for public health. Clarke would welcome this: "We'd like to see LIFT companies play a greater role where they exist, but otherwise there's a lot of sense in the assets going to local authorities, because they have estates departments who are already managing libraries and town halls and leisure centres."
But Paul Coomber, head of healthcare at Davis Langdon, doesn't think local authorities would be the government's preferred option. "It will probably go to GP consortiums, although that's not the most popular choice, especially among the GP consortiums."
If GP consortiums are sitting on a £100m spend, I can't see government shifting that into GPs' bank accounts
Matthew Custance, KPMG
But GPs themselves are not actually part of the NHS, they are private businesses that have a contract with the NHS. So this raises questions over the legal and financial status of GPCCs. "We're still not certain how commissioning consortiums will be set up," says Matthew Custance, director of public sector healthcare at KPMG. "The government is going to have to find a way of managing GPs' responsibilities.
There are some things that PCTs do that are public duties and they need to be done by a public organisation. If GP commissioning consortiums are sitting on a £100m spend, I can't see the government shifting that into GPs' bank accounts."
There was, however, a hint in mid-March, when the DoH published "The Functions of GP Commissioning Consortia: A Working Document", which stated that GPCCs
would be responsible for capital as well as revenue funding.
Transferring PCTs' interests in LIFT companies could be particularly messy. These public-private partnerships were originally supposed to have a 25-year life, and the oldest is barely 10 years old. "Many LIFTs were created over two or three primary care trusts, and over two or three counties or two or three London boroughs. GP commissioning consortiums are almost always not coterminous, " says Ian Greggor, project director at Cyril Sweett.
Archibald from Mills & Reeve mentions another option: "Logically, it would be the National Commissioning Board, but while it will have regional offices it is a national rather than local entity."
An internal Department of Health briefing document dating from July 2010, and obtained by the Health Services Journal in February, warns that the legal liabilities for terminating LIFT contracts early "could easily reach the high hundreds of millions", and that the private sector partners could even evict their NHS tenants. The document said that the favoured options to take over LIFT contracts were the NHS Commissioning Board or a "health infrastructure company". This could be wholly owned by the department, an arm's length body or a public-private joint-venture.
As for whether doctors want to become property developers and facilities managers, that's another question. The British Medical Association's GP membership voted in March for the bill to be scrapped, but 52 consortiums covering 1,860 GP practices have already signed up as the government pathfinders.
As they don't officially exist yet, and they don't know what powers they will have, it is still too early to ask what they would build if they were in control of capital budgets. But there are already a handful of established GP commissioning consortiums making spending decisions that are then signed off by PCTs. One of the most established is in Cumbria.
It has submitted a planning application for a £4.1m health centre, which will include new surgeries for several local GPs, and bring together other services including dentists, a pharmacy and a range of clinics.
In the meantime, Coomber expects the assets will be transferred to an interim body while all this is worked out. "I think there's going to be a holding position, for 12 months to two years." But this doesn't necessarily mean everything will stop: "I don't think they can stand still, investment is going to have to be made in the intervening period or the estate will continue to degenerate."
Custance says KPMG has found PCTs responding in one of two very different ways. "The more progressive ones say 'let's sort out as much of the estate's problems now as we can before we are abolished, so at least we've got a solution that we can hand over'.
The others are ignoring their estates until a decision is made. It's a real problem, and it's making a lot of projects across the NHS difficult. If organisations are going to commit to bidding on something, they need to know it's going to be completed before the Primary Care Trust is abolished."
For all this, there is still a sense of optimism among the experts. "Any strategic change is an opportunity," says Coomber. "There is no question that the NHS over the last six months has been pretty lean. There's been a stagnation for a while, but that can't continue forever. When it does kick off again, I think there will be a major programme of investment."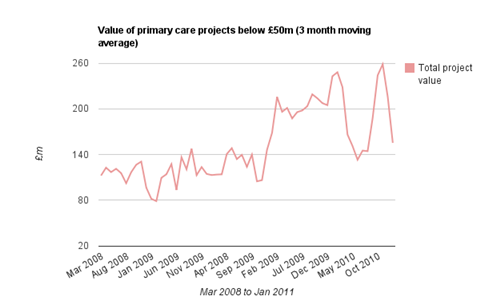 Data from Barbour ABI
Joint ventures: the next big thing
With public funding in short supply and PFI becoming increasingly unpopular the stage is set for a new procurement route for NHS projects. And that procurement route looks set to be a form of joint venture, similar to the Local Asset-Backed Vehicles that have been used elsewhere in the public sector. The public sector contributes the land and the assets, and the private sector secures funding to an equivalent amount. Both have a 50-50 share in the resulting company.
The first deal was signed in July 2010, between Lancashire mental health trust and private sector provider Ryhurst. As "long-term estates partner" to Lancashire Care NHS Foundation Trust, Ryhurst will work with it to design, build, finance and operate new facilities and will manage the trust's facilities across 102 sites. The deal could be worth in excess of £100m and lasts 15 years, with an option to extend for a further three years. The joint venture's first project is a £50m acute mental health unit.
Ryhurst business development director Stephen Collinson explains: "PFI means the hospital is renting the buildings over the life of the lease and takes ownership at the end. Under the joint venture, we continue to own the building through ownership of the private company, and at the end of the lease period we decide what to do with it with the trust. It's a non-exclusive deal, so it doesn't tie them to us and we don't bring a fixed supply chain, like with PFI." Ryhurst is shortlisted for four more joint ventures with foundation trusts including Leicester and Southend.
Matthew Custance, director of public sector healthcare at KPMG, worked on the deal for Ryhurst. "This is the next big thing," he says. "It's a very flexible procurement route that you can use not only to build a new project, but deliver and develop opportunities for surplus land and also take over some of the existing estate functions."
For construction firms comfortable with PFI, joint ventures may bring challenges. "Because it's a joint venture between the trust and the contractor, they need a different level of ability to partner with NHS clients than you would have on PFI or LIFT," says Custance. "All the way through the project, they will be making joint decisions about how things will be built and how the estate will function, and be managed, helping save money on day-to-day operations. Contractors have to think about what trusts' businesses look like and what they can do to help."
And now the very good news: "We've found that it makes the documentation a lot simpler, because you don't have to predict everything upfront as you do with PFI."
Private sector opportunities
We may not know who will be commissioning them, but there are some indications as to what the health projects of the future will look like. They will be small, community-based, refurbishments rather than newbuild, and many will be delivered through joint ventures (see above).
Ian Greggor, project director at Cyril Sweett foresees opportunities in the acute sector under the new regime. "Foundation trusts will be in a competitive market, and the regulator is saying that they will be competing on quality of care and outcomes. If that's the case, construction companies should have half a smile. Organisations are looking to be as efficient as possible, and efficient buildings can improve the quality of care significantly."
There is also another, potentially huge, new client group: the "any willing providers" that will be able to compete with the public sector to provide services. There are already a number of private providers, some working out of existing NHS premises like Care UK; others using a mix of tenures. The Practice PLC has a network of 50 surgeries, some of which it owns, some it leases, and some provided by PCTs. In the acute sector, Circle has built a sparkling new 28-bed hospital in Bath designed by Fosters that boasts "boutique-hotel style hospitality" and organic food, and has started constructing another in Reading, worth £50m. As for future estate developments, however, they're keeping their cards close to their chests.
And of course, the construction sector itself contains many willing providers of property services. Conor Ellis, global account leader of health at EC Harris, suggests that there will be opportunities for private firms in the medium term to not only deliver clinical services but to take over the running of the health estate. "The Bill is driving estates to be there to assist in the delivery of care. Speaking to NHS Board members such as chief executives, there is a sense that the NHS will concentrate on delivering excellent clinical services, and not necessarily actually providing property and facilities management services."