Public sector cuts and government proposals to hand healthcare commissioning to GPs means these are interesting times for healthcare specialist architects. Building talks to Mike Nightingale, founder of Nightingale Associates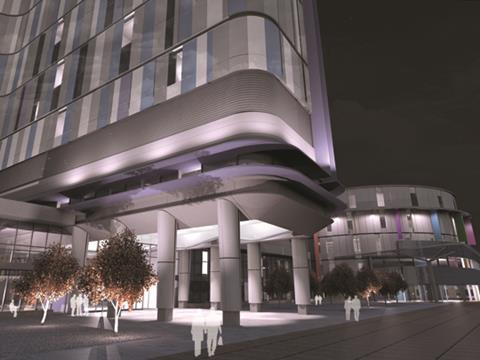 How big is the practice?
Nightingale Associates employs 250 staff operating from six studios in the UK and one in South Africa. We are part of the IBI Group that has over 1,000 architects working from more than 70 offices worldwide.
What sort of projects do you do?
We specialise in healthcare, education and science projects.
What percentage of your workload is healthcare?
About 65% of our commissions are in the healthcare sector, ranging from masterplanning, small refurbishment projects right through to the largest teaching hospitals.
We have been practicing for 21 years, and in that time have completed hundreds of healthcare projects in the UK and abroad. We operate from locally based studios averaging 30 people, and for larger schemes use the services of several studios.
Financial pressures will, ironically, increase the need to rationalise inefficient estates, to provide better functioning buildings that are cheaper to maintain and run
What healthcare buildings are you currently working on?
New South Glasgow hospital in Scotland; Local General Hospital in Ystrad Mynach, Caerphilly Borough, South Wales; St Ann's Mental Health hospital in Poole; North Middlesex University hospital in London; Bolton One, a new-build health, leisure and education centre; Shelton Mental Health hospital in Shropshire; extension and refurbishment of the Royal Berkshire hospital, Reading; and the refurbishment of Rotherham hospital under the government's Procure 21+ framework.
What is the current state of the market for healthcare buildings? What impact is the NHS' Estates policy having on this?
There is a cold wind of public sector financial restraint running through the UK market for healthcare buildings, with a vacuum of policy from the government. The coalition administration is pushing ahead with the abolition of primary care trusts (PCTs) and strategic health authorities and devolving the administration of the £80bn annual spend on primary care to GPs.
As with schools being strongly encouraged to become academies, NHS trusts are being steered towards foundation status. Foundation trusts (FTs) have received bad press recently because of fears that an emphasis on financial targets may have a detrimental effect on care. Despite these concerns, the coalition is seeking local accountability through the expansion of FTs. This may provide opportunities for skilled architects and health planners, as a requirement of FTs is to have a coherent masterplan for their premises and clear plans for future development.
What impact will the government proposals to hand healthcare commissioning to GPs have on the market?
It is too early to say exactly how this reorganisation will impact on healthcare specialist architects, but it is clear that recent spending on new hospitals through PFI is slowing dramatically, with only a handful of bids currently in progress. We are fortunate to be bidding on one such PFI, Papworth hospital in Cambridgeshire, and acting as the client adviser on the largest, the Royal Liverpool hospital.
Has the demise of the PFI super hospital impacted on the practice?
The impact of the dramatic slowdown of the UK PFI market has had a profound effect on Nightingale Associates because PFI has been the dominant procurement method. We were extremely pleased to secure the design of Glasgow's New Southern general hospital early last year. This £850m non-PFI commission has acted as a buffer and allowed us to rethink our future strategy.
Has this been made up by other types of healthcare building or have you had to diversify into other sectors?
Joining the IBI Group was a key element of our business strategy to develop internationally. We are applying our healthcare design expertise to appropriate world markets through their established network of offices. Currently, we are pursuing opportunities in China through their Beijing and Shanghai offices.
Does the demise of large PFI hospitals mean more refurbishment of existing facilities?
Inevitably, the PFI slowdown, and possible demise, will lead to a more refurbishment-led approach to the redevelopment of healthcare sites.
What impact will the wider cuts in public spending have on healthcare procurement?
Change is already afoot, with a new procurement strategy just approved by the NHS. Procure 21+
is a procurement partnering arrangement with top-performing contractors specialising in healthcare building. This arrangement is likely to be used more and more to incrementally improve estates instead of the wholesale replacement of hospitals achieved through PFI.
What impact will cutbacks have on healthcare design?
Financial pressures will, ironically, increase the need to rationalise inefficient estates, to provide better functioning buildings that are cheaper to maintain and run.
With less money to go round, the "wow factor" effect of PFI competitions is becoming less of a priority, so we are likely to see fewer impressive entrances and atriums than are common in new hospitals. At a detail level, designers will be at an advantage if they can make attractive and efficient use of space that is capable of accommodating future change driven by rapidly evolving medical treatment.
Designers will need to be persuade their clients that it is short-sighted to use cheaper materials, by encouraging them to combine the initial capital costs with future running costs in making their design choices.
What are the current trends in healthcare design?
Healthcare clients, whether they are building owners or contractors bidding for projects, need designers that can offer real innovation in tackling the increasingly complex challenges of modern healthcare design. There are conflicting trends, such as the current desire for 100% single bedrooms in hospitals, in a global climate where there is downward pressure on the costs needed to provide them.
Are there any interesting developments, for example, new approaches in response to new healthcare technology?
At Nightingale Associates we have strengthened our research, development and innovation team, known as Nightingale THiNK. The team is made up of dedicated specialists who can advise our designers on the latest developments, so that they can offer clients the best possible short and long-term solutions. THiNK is also encouraging the direct engagement of all Nightingale and IBI studios in the generation of new ideas specifically aimed at current design challenges.
Led by Nightingale THiNK, we are now testing our new "Cruciform" wards in two hospitals, the Princess Elizabeth hospital in Guernsey and Peterborough City hospital. We believe that these four-bed bays embody many of the benefits of single rooms, but are more cost-effective.