The UK's biggest construction site in west London looks on paper like a dream development in a market desperate for new housing. But amid scare stories of fleeing investors and slashed prices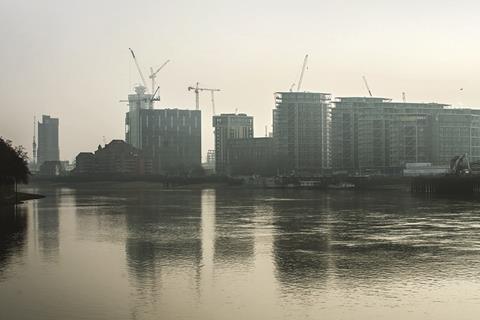 The previously unloved Nine Elms part of London is without doubt the UK's fastest moving regeneration project - a developers' playground to be filled with 20,000 homes in a constellation of residential towers a hair's breadth from the heart of the capital. But it is also, if you read many recent reports, about to become the biggest disaster in UK development: a victim of London's prime property downturn, which will leave the area an unfinished and incoherent mess of bland, investor-targeted flats, empty of people and haunted by the shattered dreams of over-ambitious developers.
Certainly, there are warning signs - a search on Rightmove shows that a large number of off-plan buyers in the unfinished developments are attempting to "flip" their properties before they're even completed, and the agent talk is that many have been on the market for months, unsold. All of the indices show that foreign investors - in popular perception the main purchasers of new apartments in Nine Elms' riverside apartment buildings - are not buying in the numbers they were a year or 18 months ago, causing a fall in "prime" prices. And meanwhile the cost of building out the developers' plans in the middle of the biggest construction site in the country has shot up amid the broader market recovery.
But talk to those involved in the scheme and a very different picture is painted, of a diverse and exciting regeneration plan underpinned by the huge latent demand for homes, £1bn public investment in a new tube line, and major new employers such as the American Embassy. The problems, they say, are a media confection designed to pander to the unease about foreign investor buyers. So with so much of the construction industry's London residential pipeline bound up in the plans for the area, will the real Nine Elms please stand up?
Battersea panic
According to the Nine Elms Partnership, a joint venture between the neighbouring boroughs of Wandsworth and Lambeth set up just six years ago, 20,000 homes are due to be built on the stretch of river between Vauxhall and Battersea, in a holistic masterplan providing green spaces, visitor attractions and 25,000 permanent jobs. A huge amount has happened since the partnership's inception, with the tube investment, US embassy construction and proposed New Covent Garden Market transformation all acting as catalysts for a rash of developments to come on stream. Of course the biggest beast in the jungle is the 4,000-home redevelopment of Battersea Power Station, the development of which finally got off the ground in 2012 after three aborted attempts over 30 years. The success, therefore, of this £8bn scheme, backed by a consortium of Malaysian developers, is totemic for the development as a whole. And it is not long since the project was able to boast of making £600m of sales in four days with its 860-home first phase. Even the second sales launch, in 2014, sold nearly all of its 254 properties within five days. Fast-forward two years and the development is instead suffering headlines like "Battersea panic" and "investors flee".
Rob Tincknell, chief executive of Battersea Power Station Development Company, admits to being immensely frustrated by what he describes as "nonsense scare stories" that "just affect our ability to deliver this amazing project". Stories about falling prices at Battersea have, he says, been based on investors attempting to resell homes at huge profits and then having to reduce their expectations. The Power Station itself has never reduced its prices and not a single one, he says, has been re-sold beneath its original sale price. "The average resale value was running at 30% above sale price, it's come down a bit to 20%. Across the competed schemes in Nine Elms there hasn't been a single purchaser default." Tincknell admits there has been a slowdown in the market, but only in comparison to "three exceptional years". The firm has still reaped £110m of sales across 50 properties since November, with the focus now shifting to letting of the commercial units.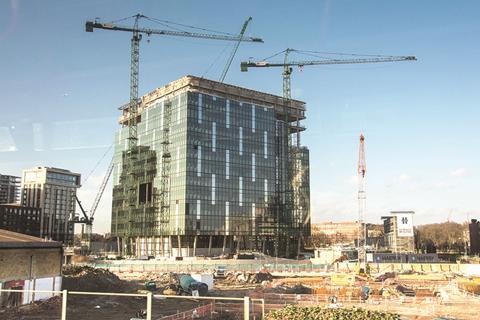 Contrary to public perception, he says, 60% of sales have gone to British passport-holders, with the proportion of British owners increasing as properties are re-sold at the rate of "about 10 deals a month". Likewise, Wandsworth Council leader and co-chair of the Nine Elm Vauxhall Partnership, Ravi Govindia, said the horror stories in the national press were untrue. "Sales rates have gone from incredibly fast to a more normal level but that was always going to happen at some point."
The backdrop to concerns over Nine Elms is the general drop-off in overseas buyers, for whom a combination of currency fluctuations, domestic economic and political instability in their home countries, higher stamp duty rates on purchases above £936,000 and, for some, fears over the UK economy post-Brexit, have conspired to make London a far less attractive home for their money than previously. This issue saw price falls in "prime" parts of London last year, but is particularly focused in the new build sector because of its popularity with investor buyers. Buyers of homes above £1.55m will now pay at least £100,000 stamp duty; £140,000 if they are a second home.
A lot of funders and lenders I know are not interested in NINE elms because there's a lot of negative talk - it's become a self-fulfilling prophecy

Randeesh Sandhu, Urban Exposure
Agent Cluttons said earlier this year that with 60,000 new build homes set to complete in London in 2016 and 2017, a "sizable proportion" will drift back on to the market before completion, potentially undercutting the value of new homes. "Domestic buyer activity is unlikely to offset this trend significantly," it concluded. Concerns over the drop in prime sales have seen the stock market's housebuilder poster boy, Berkeley Group, suffer a 13% fall in its share price since Christmas because of fears over its exposure. More than 5% of shares in the firm, which has three schemes in the Nine Elms area, are now held by "short-sellers" betting its price will fall further.
Oversupply
In this context the most common accusation levelled at Nine Elms by its critics is that of oversupply of new homes. With 20,000 units planned in the area, the vast majority of which will be apartments in high-rise towers or large blocks, a huge number of purchasers are needed. One estate agent working in the area, but whose main business is north of the river in the established prime areas of Kensington and Chelsea, says: "The market is pretty bad at Nine Elms. You've got thousands of homes coming on to the market and they're all essentially identical high-rise apartments and it adds up to huge oversupply." He says one major scheme has more than 100 properties current advertised for resale. "They're just not selling," he says.
Former EC Harris residential head Mark Farmer, now director of consultant Cast, says: "There's a basic supply and demand issue there. It's because of the [developers' business] model, which is all about retail investors buying off plan in Asia. Previously they could absorb that supply, but now that market is not particularly strong." Farmer says he hasn't taken on work in his new business in the area because of his concerns.
However, Wandsworth's Govindia disagrees. "There's a misconception that every new property is a riverside penthouse and they're all on the market right now," he says. "In reality these homes are spread across many different markets, price points and tenures and will be built gradually." Likewise, those who are working in Nine Elms say these fears are overstated, with construction due to take 20 years. Randeesh Sandhu, chief executive at development financier Urban Exposure, which has lent against a "very large project" in the area, says his firm estimates 7,000 homes will come to the market in the next five years. "We were nervous at first but once we delved in we found a very different picture. In a market generally undersupplied with housing we think this volume is entirely absorbable."
Ed Mead, executive director at London agent Douglas & Gordon, who admits there are a rising number of resales, says the overall numbers shouldn't be a concern: "I'm nowhere near as bearish as some about Nine Elms. Over the timescale proposed, the number of units is entirely reasonable."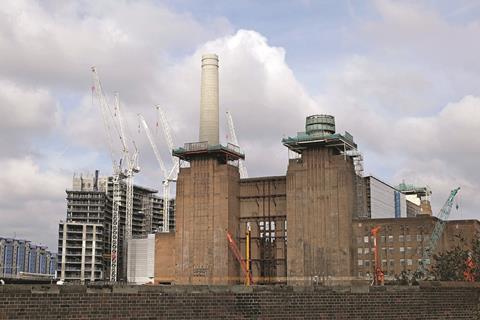 Word on the street
The common complaint of many of the area's defenders is that negative sentiment generated by a small number of irresponsibly negative press reports that have misrepresented or misunderstand the facts, is actually now the biggest threat to the project. Urban Exposure's Sandhu says: "Generally a lot of funders and lenders I know are not interested in the area because there's a lot of negative talk. When people constantly write negative things it can become a self-fulfilling prophecy."
Whether or not the press has been guilty of hyping problems, most commentators agree that developers looking to sell now are having to be more modest in their price expectations. Where prices for existing homes in fringe areas of central London such as Nine Elms are commonly around £1,000 per ft2, developers in Nine Elms have been looking to charge anything up to £2,000 per ft2 - double the normal price. A 2,000ft2 three-bedroom flat in Berkeley's Riverlight scheme, for example, is on the market for £3.6m, while agent JLL is marketing a 2,400ft2 three-bed apartment within the original power station itself for a cool £8.4m. It is sales of these most expensive apartments which are expected to suffer most.
I'm nowhere near as bearish as some about Nine Elms. Over the timescale proposed, the number of units is entirely reasonable

Ed mead, douglas & Gordon
One well-placed analyst of the London market said: "There are lots of homes being built at the wrong price point. There are developers there that haven't sold a flat above £1m for a year." Sandhu adds: "Developers now probably need to be careful of having too many three-bed and penthouse units because it makes them unaffordable," while Douglas and Gordon's Mead says: "Yes, developers are nervous. We're finding transactions are happening, but developers are being more realistic about the prices they're setting and may well be accepting offers."
If this is hurting developers' expectations of how much cash they can bring in, even more of a challenge may be the rising cost of then getting the apartments constructed and completed.
While Battersea Power Station's Tincknell says rising construction costs don't jeopardise his scheme because of allowances made within his overall cost plan, nobody is disputing that costs are rising. Steve Watts, partner at cost consultant Alinea, says: "The biggest challenge is the sheer volume of construction in the wider area during a period of rising prices. Often developers' viability models on big schemes are sensitive to relatively small changes in the market." Market talk is of subcontractors holding main contractors to ransom on prices while finishing trades are increasingly hard to secure at all. Farmer says: "In a sense the timing here couldn't be worse because you have this issue around the certainty of delivery of construction at one end, combined with a softening of the sales market."
This week, the developer on One Nine Elms - a pair of towers at 45 and 60 storeys in height - confirmed that it was looking for a new contractor on the project, after failing to finalise a deal with Interserve and its Chinese joint venture partner, China State Construction Engineering Corporation. Speculation is growing that the JV will be replaced with one of Balfour Beatty or Brookfield Multiplex because progress on the scheme has not been as fast as hoped.
Despite all this negative sentiment, no developers have admitted to putting their schemes on hold, and the Nine Elms Partnership maintains there is no reason any will be stopped. Tincknell for one says there is no chance construction at Battersea will slow. However, Farmer says this does not mean many developers are not taking a moment to think things through. "It's very unusual for people to formally say their project is on hold. But a lot of people are pausing for thought, they're looking around and checking sales and construction costs, and considering their options," he says.
Ultimately, given the paucity of independent data on sales in the area, it is impossible to know for sure whether the bulls or the bears have got it right. But with completion of the 800-home first phase of Battersea due toward the end of the year, the direction of travel will soon be clear from whether - as the critics expect - large numbers of buyers start defaulting on their purchases. "Phase 1 of Battersea - that's what I'll be looking at," says Farmer. "Seeing that occupied will be a real bellwether and a barometer on Nine Elms' health." With so many developers having so much riding on the success of the area, he won't be the only one studying it closely.

Thames Gateway
Nine Elms is not the only focus for residential growth in London. The announcement in the Budget that Michael Heseltine will lead a Thames Estuary Growth Commission represents a second go for the Tory grandee at regenerating this 40-mile corridor of the UK, running from Canary Wharf in east London up the Kent and Essex coast. While the idea for the Thames Gateway is most closely associated with former Labour deputy prime minister John Prescott, he merely expanded an existing plan. Heseltine announced the formation of the East Thames Corridor in 1991 as an opportunity to reverse the development of London from west to east. Under Prescott it became a £9bn, 160,000-home plan to regenerate an area inhabited by three million people. Prescott's plan was increasingly derided for lack of leadership and progress, and was quietly dropped under the coalition government. However, chancellor George Osborne appointed Heseltine to develop an "ambitious vision and delivery plan" for the Thames Estuary designed to support economic growth and make the most from infrastructure investments. Heseltine will report back before the 2017 Autumn Statement.