He may be editing a London newspaper but the former chancellor still has his eye on developing the 'northern powerhouse' that he championed in government. Here, George Osborne reflects on the 'northern powerhouse', infrastructure, Brexit and his hope that the current government will finish the job he started.
George Osborne is wedged into the corner of his sofa, legs crossed, jacket removed. An occasional pencil-thin smile flickers across his lips as the bright late summer sunshine gleams off his starch white shirt. Osborne is a picture of contentment as he meets Building in his corner office at Northcliffe House in Kensington, west London.
He certainly does not have the thunderous air of someone who only a few hours earlier has written the most damning editorial imaginable on the prime minister who sacked him, Theresa May.
Now the editor of the London Evening Standard – and free from the need for political toadying having quit parliament at this year's general election – Osborne used his scathing article to condemn May's premiership as "like the Living Dead in a second-rate horror film."
It was less than 18 months ago that Osborne was on course to succeed David Cameron as prime minister. But his close ally's gamble on a referendum to settle the Conservative Party's argument on whether to leave or remain in the European Union backfired when the Brexiteers secured a shock 52%-48% victory last June.
Cameron quit, May was effectively handed the keys to Number 10, and Osborne was sent packing to the backbenches. Osborne disagrees with his former coalition Cabinet colleague, the new Liberal Democrat leader Sir Vince Cable, that "exit from Brexit" is now possible given the difficulties of negotiations.
But, weeks ahead of the Conservative Party's annual conference and a crunch EU summit next month where the 27 other nations will discuss progress in the Brexit negotiations so far, he is resolute that Brexit is a grave error. And, given his chancellorship was littered with pictures of him visiting infrastructure sites in a hi-viz jacket ("and a hard hat!" he adds excitedly), Osborne is particularly concerned about the impact on the UK construction industry.
So what effects does he see Brexit having on UK construction? And where does it leave his big passion projects: infrastructure investment and the northern powerhouse?
I think if the northern powerhouse solely depended on any one government, or any one chancellor, then it's not going to work as a long-term idea
Brexit risks
"The risk is twofold," explains Osborne, referring to Brexit. "The first is you get delayed investment and new projects don't go ahead because people are uncertain about arrangements with Europe and its future.
"Second, there's a challenge of access to the necessary labour. The construction industry has a long tradition of using talented people from across Europe."
Brexiteers and remainers have argued for months over whether these problems are long-term or if those who lost the referendum are simply guilty of talking down Britain. However, analysis by the commercial property information provider CoStar Group found investment in UK commercial property in the quarter after Brexit was the lowest in four years. The RICS has claimed the country could lose nearly 200,000 workers under the government's plans to leave the single market.
Mulling the likely loss of labour, Osborne laments at how Brexit could also result in restricted opportunities for UK-born construction workers. "Actually when I was growing up British workers were travelling out to Germany and elsewhere," he sighs.
In office, Osborne fiercely believed an infrastructure renaissance was vital to the future of the UK economy. He often spoke of providing "the greatest programme of investment in the railways since the Victorian age". This is why he so vigorously supported the High Speed 2 railway, even as its costs spiralled to a current estimate of nearly £56bn.
Ed Davey, the Liberal Democrat former energy secretary, clashed with Osborne in coalition because of Conservative resistance to renewables, but admits there is nothing contrived about his enthusiasm for improved rail links or a new generation of civil nuclear reactors, starting with the £20bn Hinkley Point C in Somerset.
"He was particularly keen on transport," says Davey. "Less so energy, except for nuclear and gas. On on-shore wind and solar he was very negative, despite all the evidence."
It was Osborne who wooed the Chinese to invest in the UK. His biggest success was the decision by China General Nuclear (CGN) to take a one-third stake in Hinkley in 2015, a time when EDF was under pressure to ditch the project over financial concerns.
Had EDF walked away it would have been a dreadful blow to the UK's energy security, given that the Hinkley plant will provide 7% of the country's electricity supply; enough to charge 640 million iPhones all at once. In exchange, CGN will lead the construction of a new nuclear plant at Bradwell in Essex.
Osborne says he wanted even more trade with China and argues this was an illustration of how EU member states are still free to work outside the bloc. "After all, the Germans trade a lot more with China than we do and they're in the EU," he adds.
Osborne shakes his head at arguments the UK needs to leave the customs union – which sets a common external tariff on goods from outside the EU – in order to strike its own trade deals. "You'd only want to leave the customs union if you really thought the trade deals you were going to do outweigh the trade barriers you're erecting by leaving the customs union," argues Osborne. "Leaving the customs union is an act of protectionism. It's not an act of free trade."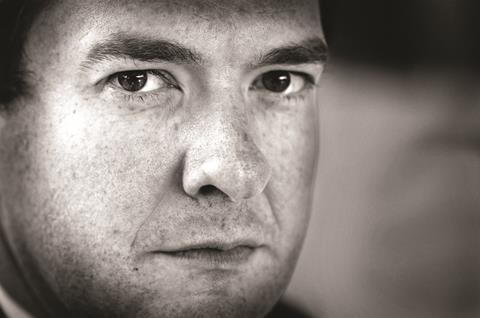 The northern powerhouse
Osborne has dropped one job, quitting as MP for Tatton in Cheshire when June's snap general election was called, but gained six since leaving Number 11. Aside from the Standard, he picks up £650,000 a year for a part-time role advising US hedge fund giant Blackrock.
Perhaps most interestingly, though, he founded and chairs the Northern Powerhouse Partnership (NPP), a think tank promoting his flagship policy of rebalancing the economy from its dependence on London and the South-east. This is complemented by work as an honorary professor of economics at the University of Manchester, where he will give a few lectures a year on the importance of a northern economic resurgence.
Osborne says NPP has a modest budget, but its board is crammed with executives from some of the most influential names in British business and public life. From the built environment alone there is Mace chief executive Mark Reynolds, Bruntwood boss Chris Oglesby, Arcadis partner Jonathan Moore, and Arup director Dave Newton. They rub shoulders with top figures from HSBC, Barclays, Associated British Ports, Manchester council and Transport for the North.
NPP's first report in February concluded the north of England would receive a £100bn boost to the economy over three decades, creating more than 850,000 jobs, provided infrastructure, adult skills and broadband provision are vastly improved.
But transport secretary Chris Grayling has already scrapped three rail electrification plans in July, notably in the Lake District and between Kettering, Nottingham, and Sheffield. He then said a link between Manchester, Leeds and York would not be fully electrified, contrary to previous promises.
Leaving the customs union is an act of protectionism. It's not an act of free trade
Critics warn these cuts severely undermine the prospects for a northern powerhouse that is dependent on creating a new commuter belt filled with the best of British talent.
Osborne lays down a challenge for his successor, Philip Hammond, who recently met northern elected mayors to mollify their concerns. He dares the chancellor to commit to northern transport in his autumn Budget, expected in November.
Osborne says: "The big test is coming on the northern powerhouse. This is not just a commitment to the north of England, it's a very specific economic idea to bring the cities of the North more closely together, get them working together. It's to make the North more interconnected; make the whole bigger than its parts.
"That's based on solid economic theory about urban agglomeration. To make that happen I thought there are various things that had to take place. First of all, you had to give these cities more power. That's been done in most cases and you've got these elected mayors and I'm proud to have played a part in that. Those cities need to work more closely together and more closely with industry in the North."
Osborne adds: "We need to have things like universities working more closely together: the research institutions, the NHS hospitals and the like. All of that is taking shape, so there are a lot of things happening in the northern powerhouse that don't really depend on the government. I think if the northern powerhouse solely depended on any one government, or any one chancellor, then it's not going to work as a long-term idea.
"But where we do need the government is in the investment in transport links. We set in train plans for the Trans-Pennine rail links being much better. But I left government before that was complete so we now need the government to commit to those fast, cross-the-North train links and the opportunity to do that comes this autumn with the Budget."
Hearing Osborne's words, a member of the NPP board tells Building: "It's a shame he's not part of the government today."
For his part, Osborne says he "doesn't rule out" a return to parliament one day. But the large letters "E" and "S" that are lit up by LED lights on his desk show his current commitment is to his new career in journalism.
And from that desk, the prime minister can expect plenty more barbs, particularly if she and her chancellor fail to deliver Osborne's vision of a northern powerhouse.