A panel of experts discussed whether offsite manufacturing is about to become mainstream or whether there are still barriers to it becoming a more common construction method.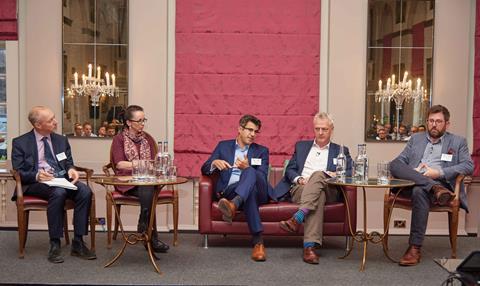 "There are a load of people right on the cliff edge," said Jaimie Johnston, head of global systems at Bryden Wood. "They are going 'it's probably deep enough, but do I dare?' And as soon as one person has jumped in and gone, 'yeah, it's fine', a load of people will suddenly rush in."
Johnston was sitting on a sofa, nestled between other experts, looking out over a congregation of construction enthusiasts at a roomy venue in London's Bloomsbury hotel. He was talking about whether offsite construction is ready to take over from traditional, bespoke methods.
"My guess is once the first few [big success stories] happen in different sectors, and people start to see the benefits, all the dominoes will topple. My guess is it will happen very quickly in three, to five, to seven, to 10 years. If it doesn't, we have a massive problem."
I have heard the smaller entities in the construction world say: 'That wasn't partnership, that was partner-shaft. We got absolutely nailed by the big guys'

Scott Crease, Max Fordham
Nobody vigorously disagreed with Johnston. Mike Pitts, deputy challenge director for transforming construction at UKRI, said the tipping point is around five years away, if UK construction can avoid recession. Amber Beare, technical design lead at Urban Splash, said the industry is in the midst of the change already – but it is gradual. And Tim Hall, consultant at Total Flow, said the sector is probably close – he is just praying there are no spectacular failures that knock the industry backwards.
So how, and why, will the offsite revolution happen? How will it affect the size and shape of construction firms? And what – if any – role should foreign capital or government policy play?
"We talk about how it is hard to deliver things on time and on budget, and without a doubt modern methods of construction are an opportunity for us to improve in that area," said Lara Potter, director of workforce for the future at Arcadis.
Offsite methods are already favoured by developers looking for a speedy build. Rory Bergin, sustainability partner at architect HTA, said: "Build to rent is the classic example. You finish the building six months earlier; you get six months more rent. On a substantial building, this is worth millions [of pounds]."
And the speed bonus is more than rent. The cost of borrowing falls if it is over a shorter period, while halving construction time can also free staff to work on other developments. "We have designed and built buildings from start to finish – from first drawing to handover – in two years," said Bergin. "It's not unheard of for it to take two years to get planning."
But saving cash on offsite construction is more difficult if you cannot monetise hasty construction times. "It's still the position that most housebuilders don't have that business case," said Joey Gardiner, contributing editor at Building. "They build to sell at the rate they can sell, and they can only sell one a week, so they don't want speed. The biggest benefit of offsite is not necessarily seen as a benefit by clients."
Traditional is too slow, offsite construction may be fast but is not producing a product that they want, so they vertically integrate

Tim Hall, Total Flow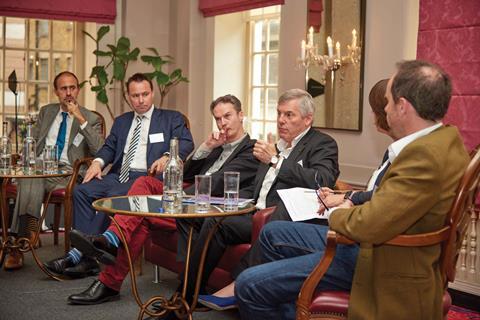 Bringing down cost
There are others reasons why offsite might be better. It could be better for the environment. It could create a safer and more robust product. And it certainly reduces labour needed on site.
But if offsite construction is ever going to become standard, bringing cost down is important.
Scott Crease, senior partner at Max Fordham, said he has seen clients shy away from offsite over cost fears. "Most of those projects were at design and build, [RIBA] stage three," he said. "And actually, it was the risk of not being able to go out to a wide enough base of contractors to get a price they are comfortable with. [In particular] the housing associations and local authorities were very scared of the procurement rules they've got to abide by."
One reason for a relative dearth of independent construction manufacturers is the lack of regular demand: factories run most efficiently when they have stable output. Part of the problem, said Total Flow's Hall, is the brutish and transactional nature of construction supply chains.
"There is an awful lot of terminology used in construction about 'let's have a partnership'," he said. "Then I have heard smaller entities in the construction world say: 'That wasn't partnership, that was partner-shaft. We got absolutely nailed by the big guys'."
Contractors are also used to hopping between subcontractors – and using the threat of walking away to push suppliers on margins. But this has to change, said Hall. "Toyota doesn't change its gearbox suppliers on a weekly basis – it partners, it learns what makes the other tick, it learns how its behaviour drives cost in the supplier's cost base," he told the audience.
As a result, a lot of developers have chosen to vertically integrate – buying or building their own factories – to better manage the relationship between construction demand and manufacturing output.
Housebuilders' factories
"Most housebuilders who are using modular on site have their own factories, even if they have not set out to do that, because they cannot get the cost models to work [by other means]," said Beare. Urban Splash itself bought a factory, along with 70 staff and intellectual property for modular systems, from its supplier SIG in 2018.
Owning the supply chain also improves developers' control over their product. "Build to rent [developers] have seen a lack of capacity for the kind of houses or apartments they want – so you get them investing in manufacturing capacity," said Hall. "Traditional is too slow, offsite construction may be fast but is not producing a product that they want, so they vertically integrate."
A shift towards offsite construction methods and developers owning their supply chains has a knock-on effect for contractors. Tier one construction firms might currently be managing 2,000 work packages and 200 subcontractors – "basically, herding cats", said Hall – and taking overall responsibility and risk. This all changes if suddenly all that is needed is one firm to do groundworks, another to do MEP and a third to crane in boxes.
"We are starting to see a return to the CM model," said Johnston. "Instead of tier ones seeing all the money on their books, they are becoming the integrator and they are becoming the construction manager."
Pitts challenged UK firms to invest and modernise their methods before foreign firms swoop in for their dinner. "If you think you can keep building crappy, boxy homes in the same way, you are wrong. Ikea build factories right now – I believe [BoKlok, Ikea's JV with Skanska] is the most profitable part of Skanska's entire operation. Amazon are getting in there – and these guys know how to deliver stuff for customers."
Bergin wondered whether imported manufactured goods, or foreign direct investment, could be yet be a game changer – adding he had seen projects where "Chinese manufacturers can provide the same thing, for a lower price, and with better quality finishes". He points out that in Singapore, firms are required to build using offsite construction.
The whole life value of Chinese manufactured goods would be worse than UK-made goods, says Pitts in response. The carbon footprint is likely to be much worse due to the shipping, if not also from the manufacture itself. Plus, goods made in the UK help boost local economies and communities around any given factory. But, counters Bergin, UK procurement does not currently take this into account – leaving this consideration down to client benevolence.
Bearle has first-hand experience of the benefit of foreign capital. Japan's largest housebuilder, Sekisui House, bought a 35% stake in Urban Splash in a £90m deal announced in May.
"We have a wealth of technical knowledge coming from overseas into the company," she said. "I've now got two members of their design team working with me." But she added that Sekisui House is not trying to "implement their thinking about construction on a UK company […] they are very much coming to learn about the UK construction industry".
But Hall lamented the lack of internal investment in the UK. He said: "The thing that frustrates me is that there is plenty of money sloshing around in the UK in terms of investment capital, and they're willing to have a couple-of-million-pound punt on a piece of fintech because it's all sexy and modern and based in Old Street. But they couldn't give a toss about getting a factory up and running in Hull, which could actually do something really remarkable, and could be an export potential in terms of IP [intellectual property] etc."
Government support?
For some, the solution to getting offsite construction over the line is government help.
The state has already committed to a preference for offsite methods in its own procurement. And in sectors where it is the biggest client – such as schools – it has overhauled its procurement to create a bigger pipeline while using research funding to try and stimulate an offsite breakthrough. But some think it should go further in regard to pushing housing, where the UK has a dire shortfall.
One audience member, Ridge and Partners' Mark Nieuwenhuys, told panellists: "It needs government [to give it] a real push to drive proper volume. Offsite has been around since pre-fabs in the 1950s and 1960s – we need a drive to get the volume which can make the whole thing work financially."
Nieuwenhuys shares this view with the House of Common's housing select committee. It has called on the government to help "aggregate demand for MMC products and bolster domestic supply chains" by mandating housebuilders benefitting from Help to Buy to use modern methods of construction. In its response, published last month, the government said there "are currently no plans" to pursue such a policy.
Hall pushed back against setting requirements for MMC from housebuilders. "I would fight tooth and nail against pushing us down a mandatory route which actually drives the wrong behaviour," he said. "What they are doing in Singapore means they are mandating modular when it's not what they always need." Instead, he said, change will be created by clients' demands.
"We want zero carbon, we want it built quicker, we don't want 500 people on site because it's a safety issue or it's a logistical nightmare; this is what we want," he said. If clients say that, "somebody will step up to provide it".
Panel debate: Is the future modular?
Chair: Thomas Lane, group technical editor, Building
Amber Beare, technical design lead, Urban Splash
Jaimie Johnston, director and head of global systems, Bryden Wood
Mike Pitts, deputy challenge director, transforming construction, UKRI
Tim Hall, consultant, Total Flow
Panel debate: Making the shift to offsite construction — the implications for the consultant team
Chair: Joey Gardiner, contributing editor, Building
Peter Caplehorn, interim chief executive, CPA
Lara Potter, director, workforce for the future, Arcadis
Rory Bergin, sustainability partner, HTA
Scott Crease, senior partner, Max Fordham
Patrick Garner, partner and head of construction, Shoosmiths