An off-site Passivhaus solution has been developed that can, its maker claims, be put up by anyone able to hold a hammer. Thomas Lane reports
The big plus points of Passivhaus buildings are warmth and comfort combined with minuscule heating bills. But there is a sting in the tail, as meeting Passivhaus standards requires forensic attention to detail during construction. Any tiny gaps in the insulation, holes in the building envelope or thermal bridges will mean the building won't get certified. This level of detail eludes most builders.
There is an obvious solution to this problem: use modern methods of construction. The high quality and close tolerances achievable with factory-made components are the perfect way of meeting the high standards demanded by Passivhaus. But no-one has come up with a homegrown Passivhaus system - until now.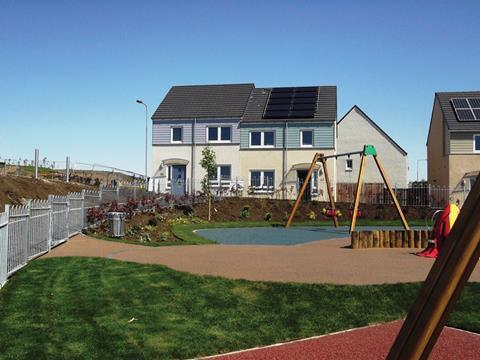 A company called Beattie Passive has developed a system that it claims is so foolproof it can be put up by anyone. "If you can hold a hammer you can build a Beattie Passivhaus," boasts Ron Beattie, founder of the company and developer of the system. To prove his point he got what he describes as "third-generation unemployed" 16-18 year olds to build four houses to Passivhaus standards in Scotland. These achieved airtightness levels of 0.05 air changes an hour, which is a staggering 10 times better than the already extremely onerous 0.6 required for Passivhaus certification. Thermal imaging tests revealed only one tiny area, the size of a golf ball, where the insulation had been missed. Another big plus is that builders automatically receive Passivhaus certification for the structure if they use the Beattie system.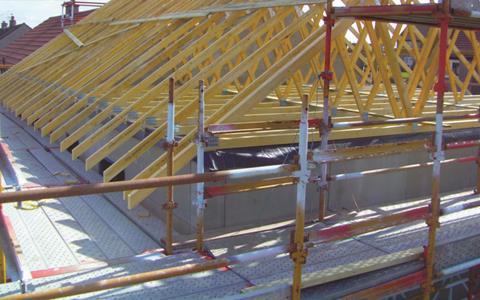 Beattie says conventional construction is overly complex with too many interfaces between building elements. This reliance on a multitude of trades means there is lots of scope for things to go wrong. "It only takes one person to let down the whole process," he says. "If you have a very simple build process delivered by one person then you have a better chance of delivering a building that does what it is meant to."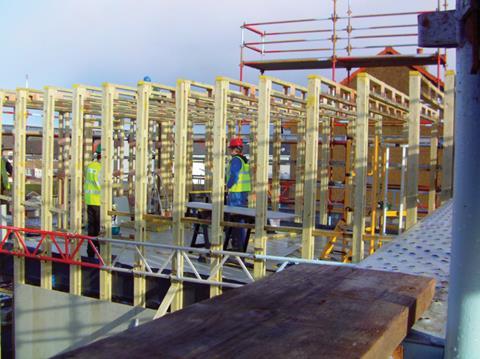 The result of this philosophy is a complete build process that starts with the foundations and finishes with a test on the completed structure. The system is based on a series of space studs: two parallel studs joined together by cross studs, similar to a ladder. These run from the top to bottom of the building, which eliminates the need for joints at intermediate floor level, thereby reducing the risk of air leakage. Any size or shape of building can be created with the system - the building design is fed into a 3D model and the studs are made in Beattie's factory to the required dimensions. Shorter studs are used to accommodate doors and windows.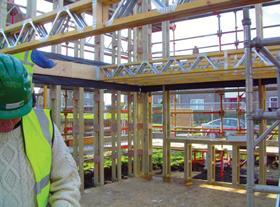 Precast ground beams are placed over foundation pads at the building perimeter. The floor is then built up from components including a damp-proof membrane, floor joists and a void former called Ecoslab - this allows air to circulate under the home and is also intended to help drain water if the home floods.
Next, the space studs are set out at ground floor level using a special notched tool, and scaffolding is erected. The same setting-out tool is used to determine the position of the space studs at high level and support clips are fixed to the scaffolding. The space studs can then be installed, followed by the floor and ceiling joists. Fireproof boarding is fixed to both sides of the space studs and the system is inspected by a Beattie engineer. "It doesn't matter how good your system is, human error means it can always go wrong," says Beattie.
Doors and windows are installed next, and the joints taped up. A 50mm layer of insulation is then fixed to the exterior of the building. This keeps the outside of the structure warm, which eliminates the risk of thermal bypass (convection currents within the insulated structure which reduce its insulating properties). Exterior cladding and the roof go on and finally EPS insulation is blown into the void between the inner and outer layers of fireproof board. A thermal imaging test validates the continuity of the insulation - if this is satisfactory the structure receives its Passivhaus certification.
Beattie says the system is competitively priced with build costs of £780/m2 for a fitted out affordable home with a 1.5kW PV array. He adds there has been interest from the big housebuilders too, which means that Passivhaus could rapidly become mainstream.
AN ALTERNATIVE METHOD
Another Scottish company, Campbell Construction Group (CCG), has also delivered a Passivhaus housing scheme using an offsite system at Dormont Park in Dumfriesshire. Called iQ, this system can be specified to conform with Building Regulations or to meet the much more demanding Passivhaus standard, depending on the width of structural studs - a Part L compliant scheme uses 140mm-wide studs but the scheme built to Passivhaus used 260mm-wide space studs. The studs are assembled into panels up to 10m long and 3.2m high in CCG's factory and can be supplied with plasterboard, external sheathing board and doors and windows already installed. CCG also installs the system to ensure that quality is maintained. The Dormont Park Passivhaus scheme also featured 70mm of internal wall insulation with the joints taped up to ensure an airtight structure.
The UK Passivhaus Conference includes more information on both systems featured here. It is being held on 7-9 November at the University of Nottingham. For details, go to www.ukpassivhausconference.org.uk