Oceans of plastic waste are created each year by the construction industry, and the public is calling for action. So what are construction firms doing to reduce their discarded plastic, and what more could be done?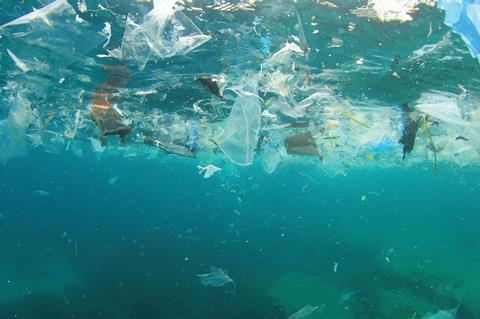 Construction has a problem with plastic. The sector is understood to be second only to the packaging industry as the UK's biggest producer of plastic waste; through a combination of litter generated by staff and the discarded wrappings of building components, it generates an estimated 50,000 tonnes of plastic packaging waste each year. This is a substantial chunk of the 3.7 million tonnes of plastic believed to be chucked away in the UK every year – into landfill, into the oceans and exported to countries like China.
As shocking images of indestructible waste filling our oceans enter into the public consciousness, and the need to tackle the problem becomes an international talking point, construction businesses have become increasingly conscious of pressure to clean up their act. But the industry is also heavily dependent on plastic: durable and long-lasting, it's still the go-to option when it comes to packaging and protection for many items. So can construction kick the plastic habit?
There is not a huge drive to tackle single-use plastics in the construction industry. It can be a difficult sell

Alan Sandilands, Resource Futures
Waste
Allan Sandilands, principal consultant at waste reduction non-profit consultancy Resource Futures, points out that the problem with plastic is not so much the material itself – it is still invaluable as a part of the building process when used in permanent form. Rather, the issue is any plastic – and indeed any non-biodegradable items – that gets thrown away.
He believes that, when it comes to replacing, reusing and recycling plastic, the construction industry has not yet got to grips with its problem because it lacks the financial incentive to do so. "From our experience, there is not a huge amount of drive to tackle single-use plastics in the construction industry in the same way that we're seeing elsewhere, for the simple reason that it's insignificant in terms of tonnage in comparison with other waste streams [in the sector] and so doesn't have a huge impact on the contractors' bottom line," he says, adding that, at present, the issue generally falls into the realm of corporate social responsibility, rather than core business strategy. "It can be a difficult sell."
But as society as a whole – and therefore construction employees and clients too – becomes increasingly attuned to the issue, it's inevitably rising up the corporate agenda and feeding into practice. The growing profile of the problem has led such major real estate companies as Canary Wharf Group to commit to addressing it. The company announced last year that it would become the world's first "plastic-free commercial centre", working with local businesses and retailers to eliminate or replace single-use plastics across its estate.
Contractors are following suit: Mace, for example, launched a campaign last year to reduce its disposable plastic use after realising how much its staff cared about the issue and finding out that it generated 3,000 tonnes of it in 2017. Part of the effort involves soft measures, such as internal campaigns to encourage change and point out that more sustainable practices such as reducing, reusing or recycling plastic don't necessarily need cost more. This year, it's expanding this outside the company, building on a recent event where it presented a "call to arms" to 200-odd clients and suppliers to motivate them to do the same, including putting on a screening of the 2016 documentary A Plastic Ocean.
The question remains: where are you shifting the problem? Is it an onsite problem becoming an offsite problem for manufacturers?

Simon Tranter, Willmott Dixon
Campaigning on plastics
The Considerate Constructors Scheme (CCS) has launched the "Spotlight on … plastics and packaging" campaign to raise awareness and showcase best practice in how the construction industry can reduce, reuse and recycle plastics and packaging. The campaign has highlighted that:
23%
of plastic produced in the UK is consumed by the construction industry
25%
of construction packaging waste by weight is plastic
3x
more packaging waste is produced by construction than all UK households combined
Reduce
Central to Mace's campaign are practical measures to reduce two sources of plastic waste: corporate activities and construction practices. Tackling the first has been a relatively simple case of switching to cardboard and biodegradable materials in catering, eliminating plastic cups, cutlery, containers and the like. On sites, Mace also looked into non-plastic alternatives to things such as the covers you put over your shoes to walk around fit-out sites.
But 90% of Mace's plastic footprint came from construction activities, which is much harder to bring down after the low-hanging fruit of improving waste separation and other such measures have been taken. In an effort to make a bigger difference, Mace changed its procurement specifications for suppliers towards the end of last year, mandating a reduction in plastic packaging. But the impact of these kinds of actions can be slow, says Isabel McAllister, the contractor's director of sustainability. "You can change a spec today and go out to tender with it, but you might not start to see single-use plastic savings for several months," she explains. Moreover, while oversized packaging, void fillers, additional shrink wrapping and excessive amount of transport protection and strapping can be mitigated, when it comes to transporting some hardier or cheaper items, it's not always viable for high-value, breakable products such as certain types of cladding.
That's why, McAllister says, Mace has not made plastic reduction compulsory among its suppliers. Instead, it put out a call to find out what suppliers thought they could do differently and how Mace could support them. "We have some great responses and we've had a couple of suppliers who completely overhauled the way they work, creating closed-loop systems [such as returning waste polythene back into its raw pellet form] and or hugely rationalising the amount of plastic they were using for particular approach."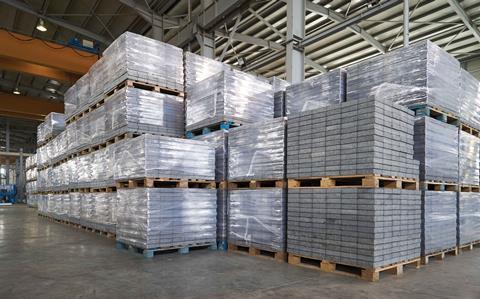 Reuse
Willmott Dixon, which has been working since 2012 to reduce its overall waste intensity by 60% by the end of 2020, is also asking for better practices in relation to plastic. "We take a reverse logistics approach, so rather than something being thrown away, we ask our suppliers to take it back and reuse it," says the contractor's head of sustainability Simon Tranter. On its Kings Dock car park project in Liverpool, Maple Sunscreening, a provider of architectural facades, was going to use 5,000m2 of polystyrene to transport cladding to site. The team suggested reusing the polystyrene – taking back the first load of packaging when the second delivery arrives, then using it to package load three – resulting in only two rather than 20 loads of waste packaging.
But Tranter points to the barriers that remain until the industry works together to integrate thinking about waste from the very start of the process. "As a contractor, we are somewhat between a rock and a hard place – we still have very limited opportunity to mitigate the impact in the design, as we're somewhat reliant on designers and material engineers to drive a lot of thinking forward."
From a design perspective, the arrival of modular construction is often hailed as the future of the industry, with particular benefits when it comes to reducing waste – the argument is that prefabricating elements for a rationalised design means that only the material and energy needed to actually build the structure needs to be expended. In theory also, if more components are assembled off site, fewer bits need to be individually wrapped for transit. However, there are mixed views about the effect of a move to more prefabrication, as each of these modular components are likely to be of higher value than the sum of its parts, and therefore might need more protection. Could demanding that suppliers eliminate packaging from site simply be a case of out of sight, out of mind? "The question remains: where are you shifting the problem?" Willmott Dixon's Tranter asks. "Is it an onsite problem becoming an offsite problem for manufacturers? It's a bit too early to tell."
But Mace's McAllister is optimistic about the role of prefabrication in reducing waste. "Moving towards more prefab can only be good," she says, arguing that the key is to find non-plastic alternatives to the packaging. Indeed, innovative design is crucial to moving this conversation forward – finding ways of replacing not just things like cups with non-plastic alternatives, but also current construction materials and packaging with biodegradable alternatives, and developing reusable crates and pallet take-back schemes.
Recycle
Indeed, plastic need not always be the villain – in fact, it can be part of the solution. For example, Wilmott Dixon says it is trialling resilient and weatherproof recycled plastic alternative to throwaway timber hoarding, while Mace used K-Form, a 100% recycled uPVC product manufactured from plastic waste, on a data centre project in Denmark to replace 7 tonnes of timber shuttering for concrete pours, which was left in-situ to form part of the building structure. Elsewhere, specialist manufacturers are employing waste plastic in developing new products – for example, road maker MacRebur uses the equivalent of 77,000 plastic bottles of waste plastic in each tonne of its asphalt.
All these measures are steps forward but as Willmott Dixon's Tranter points out, it's difficult to gauge their impact because the industry has so far not paid enough attention to measuring the scale of the problem. "I don't think we've done a particularly good job of quantifying these impacts. There's a lot more work that needs to be done in improving the data that we capture around these sorts of issues."
And ultimately, this issue is just one part of a wider ecological problem that as an industry and as a global species we are only just starting to get a handle on. As Tranter says: "Plastics are only a part of the overall picture, but it's one small tick, which is helping to solve a much, much bigger problem."
What you can do
CCS best practice advice includes:
Create a site waste management plan
It can reduce financial costs alongside protecting the environment
Introduce circular economy principles
To design out waste, reduce the volume of unsustainable materials consumed and maximise the value of materials used
Use sustainable materials
Supplier should provide contractors with packaging that has a high recycled content
Use alternatives to plastic packaging
Avoid consuming single-use plastics
Provide the workforce with sustainable alternatives
Educate the workforce
Inform workers about site environmental policy
Set a good example
Encourage employees to participate in environmental campaigns and change lifestyle choices and reward them for their contributions