Are construction bosses any good at building? Kier MD Graham Howe volunteered to spend time on site to find out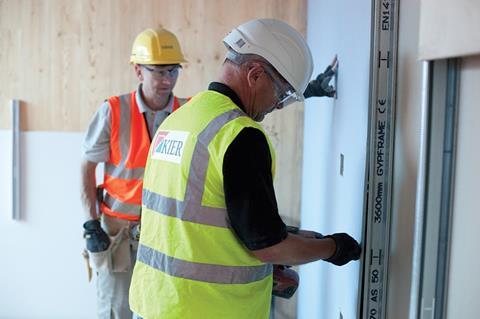 The gap between the people who run the nation's biggest companies and those at the coalface has never been greater. While once an industrious employee could start at the bottom and climb right to the top, today's boardrooms are increasingly stuffed with people who started their careers with MBAs under their belts and a distinct lack of oil under their fingernails.
With this in mind, Building decided to find out whether it was possible to reconnect the manager with the workers on the ground, by asking a senior executive to do a few hours' work on a busy building site. Would they learn more about their business? And would the site workers welcome the presence of a not-so-undercover boss?
Of those companies asked, Kier seemed by far the most keen to give the experiment a try. Graham Howe, managing director for its eastern region, volunteered to spend a day working on site in Norwich, on a teaching facility the contractor is building for the University of East Anglia (UEA). Howe was, Kier's PR said, "up for it" and looking forward to the experience. So, how did he get on?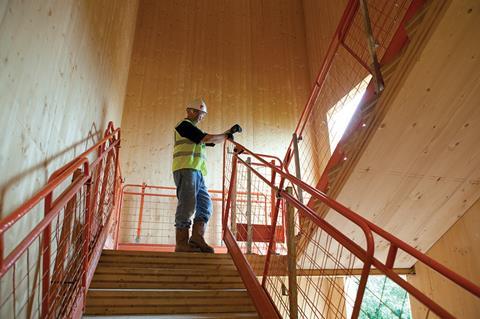 A model project
Norwich's most famous fictional son, Alan Partridge, may be one cultural influence putting the city on the map in recent weeks with his film premier, but it is one of the East Anglian city's real-life historical giants that provides the inspiration for the building Howe is to help build. While the structure is currently known as Building 57, when open it will be named the Julian Study Centre, a reference to Julian of Norwich, a 14th-century female city resident, who apparently experienced a series of visions of Christ. Her account of her experiences is believed to be the oldest surviving text in the English language written by a woman.
It's an unusual project. I want to get a better feel for how the components come together [and] I knew Adrian wouldn't drop me in it

Graham Howe, Kier
Marrying historical allusion with contemporary concerns, the Julian Study Centre is intended to be a model of sustainable design. The building's structure, erected in just eight weeks, is made from cross-laminate timber - the 12th project Howe's division of Kier has built using the material. More unusually - Kier says it is a first in the UK - each floor is divided by TermoDeck concrete, which allows passive cooling of the building in summer. In the winter, says project manager Adrian Cooper, the entire four-storey building will be heated by just two domestic boilers. In short, it will be the greenest building on the UEA's substantial campus.
"It's an unusual project," Howe says, and one he was keen to see up close. "I wanted to get a better feel for how the components come together. I've also worked with Adrian for many years and I knew he wouldn't drop me in it too badly, although he's had a go."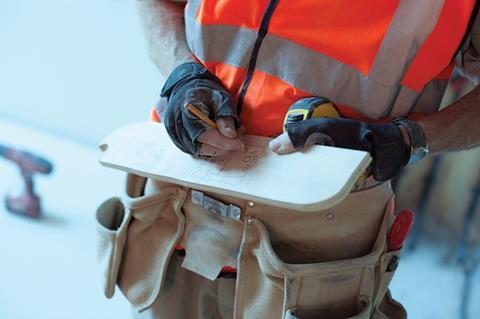 On site
It is 1.30pm and, while Building has just arrived on site, it turns out that Howe has been in situ since 7.30am. While it's hardly a secret that construction workers and journalists keep rather different hours, this comes as a surprise. After all, we had only asked Howe to give up an afternoon. To have already put in six hours, albeit with breaks to keep up with his emails, Howe had gone above and beyond the call of duty. "I've been working with the plasterboarders and dryliners all morning," he says. "I've learned quite a lot about health and safety and how complicated and manual a lot of the jobs are. Ever since I graduated, my mantra has been, 'don't ask people to do something you wouldn't try to do yourself'. You need to understand exactly what it is you're asking people to do."
But enough of the morning - it's time to see how Howe performs in the media spotlight, so we boot up and don high-visibility vests, hard-hats and goggles.
First up is a return to installing plasterboard, where Howe is placed under the direction of Dean Sutton, the foreman from subcontractor Great Yarmouth Ceilings, a specialist in drylining and ceiling installation. As Howe cuts the board neatly and efficiently and handles a power drill with ease, it soon becomes clear that this is an executive who doesn't mind getting his hands dirty.
"Graham is very hands on," says Sutton. "He's really willing to try things."
"I think I may have set the programme back by two weeks," says Howe, with a self-deprecating smile. "I'm not going to give up the day job."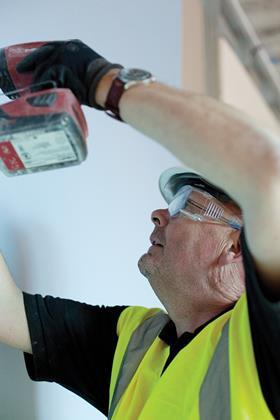 Mucking in
In fact, this is not the first time Howe has got his hands dirty. He used to work as a labourer on construction sites when he was at college, before going on to do an engineering degree at Brunel, and rising through the ranks at Kier and gaining a directorship at Willmott Dixon at the age of 32. He re-joined Kier in the mid-noughties, rising to his current position about eight years ago.
Having a managerial position inevitably ties Howe to an office most of the time, though he has tried to keep up his interest in the practical side of the building trade, albeit in a domestic environment. "Now we're in a nine-month-old house, but we had a 250-year-old house before and it needed a lot of work," he says. "I tend to get people in to do the work now that I've got older, but I used to do everything myself. When you're in the trade, you can't help but see stuff that needs doing."
At this point Cooper announces that it's time for Howe to move on to his next task. "We're going to do some plumbing now," he says, before hesitating. "I mean plumbing in its loosest sense - we don't want any leaks." We move up a floor and Howe is placed under the tutelage of subbie Sean Clifford.
As Howe saws steel and builds up quite a collection of pipe brackets, the pair chat away like a couple of old mates. Clifford examines the work, as Howe downs tools. "It's all been done to a very good standard," he pronounces.
With that, the day is over, and Howe offers us a lift back to Norwich station in his Mercedes, still dressed in paint-splattered work jeans and a company branded polo-shirt. "The most important thing about what I've done today is understanding how hard it is for those guys to meet the standards we set," he says on the way. "It's been really good."
So Howe has benefited from his day on site - but what did his fellow workers think? Reflecting on the day 48 hours later, Cooper praises Howe's performance and says he gained the respect of the workers. "The feedback I got from the guys was that he was keen to do what he was asked to do. He didn't refuse to do anything and did it in a competent manner."
Cooper also believes that Howe's day on site did a lot to persuade subbies that their management understood the challenges asked of them. "They were impressed by the fact that a director could see the difficulties they have on site," he says. "A manager can just sit in their office, divorced from the actual workings on site. It's not that [this experience] will change anything, but it did open his eyes to what people have to put up with on site."
Given the mutual appreciation when management engages with tradespeople, perhaps it is something that should be encouraged more widely.