Here's the tale of a struggling M&E firm that couldn't keep track of its nationwide force of mobile engineers and as a result found itself drowning in a sea of paper, none of which was legal tender. We found out how it solved its problems.
It was all going a bit pear-shaped at M&E firm Rosser & Russell. The company had been part of the construction scene for about 150 years, but unless its maintenance arm's financial situation changed, it was doubtful that it would be around for much longer.
The problem was that the firm was struggling to cope with its administration. It was employing more than 100 maintenance engineers, many of whom were based out of the office, as part of a national network. "We are a national organisation, we don't see our mobile engineers from one year to the next," says systems manager Richard Thomas. These engineers were communicating with head office by post.
Every week, sacks of timesheets and job details would be delivered – all of which needed to be collated, checked, verified and reconciled. It was obvious that the administrators were slowly disappearing under a rising tide of paper.
And the firm's customers were not happy, either: it was taking up to four weeks for for them to receive reports on what had been done and data input errors were creeping into the accounts. "As with any paper-based system, the process was prone to errors and delays," says Paul Ryder, operations director for the maintenance division. "It was affecting our image."
Worse than that, it was affecting Rosser & Russell's bottom line. Until the documentation had been put on the system, customers could not be invoiced. And no invoices meant no payment. "The paperwork was getting in the way of us getting any money," explains Thomas.
It was time for a strategic change. This was three years ago, and Rosser & Russell decided to invest in an IT-based mobile communications system. The idea was to dispense with the snowstorm of paper and give the engineers the technology to communicate instantaneously with head office. Ryder initiated the changes; Thomas implemented them. "By using mobile technology, our engineers can keep in touch with our database," says Thomas.
It took a year to research the best system and two years to implement the changes. Having looked at the what was available, Rosser & Russell replaced their back office system with software developer FSI's facilities management software to allow their administrators to manage their workflow electronically. This took a year.
Next came the mobile revolution itself, which took another year. For this, Rosser & Russell turned to mobile data solutions provider Cognito. This firm supplied the field engineers with the Seimens SX45, a radio-enabled personal digital assistant. This allows data to be input using a pen or buttons and has a three-hour battery time. The old paper forms were now accessible on the PDA's screen. Completed forms could be sent from the mobile phone network to the database.
To implement the system, the field engineers were given two hours' training each. Thomas says that to make it work "people have to understand that it is a change in culture – engineers now need to record everything as they go along and not at the end of the week".
The administration staff needed more training – but there were less of them to train. Initially this was done by the solutions provider. However, it was found that training was more effective if it was given by the engineer's contract supervisors rather than IT trainers.
"We started with a pilot scheme about a year ago and then we progressively rolled the system out so that 80 out of 100 engineers are now fully equipped," says Thomas. "Our aim is to roll this out to all 100 engineers in due course."
The mobile system appears to be working well – it has certainly enabled Rosser & Russell to speed up the process of maintaining buildings. Unlike the old paper-based system, the engineer's attendance and the duration of the work are recorded in real time, so an engineer will record the time he arrives on site, explain the problem, order spare parts and move on to the next job. The database is updated on the same day. Jobs are now allocated on a weekly basis (rather than monthly) so that response times have improved, administration is reduced, fewer processing errors occur and – most importantly – cash flow is improved. "If a job in finished on a Tuesday, we can invoice on a Tuesday," Thomas says.
The system has been so successful that administration work has decreased, even though the number of contracts handled by field engineers has increased. The firm estimates that once their entire workforce of engineers are using the electronic system, time saved in the administration department could be as much as 450 hours a week.
The system has also brought Rosser & Russell an unexpected bonus – it helped the firm increase its business. There is a lot of what Thomas calls "churn" in the fiercely competitive world of planned maintenance contracts. He says that when a contract has run out, a client will often transfer its business to another maintenance firm. So as fast as Rosser & Russell was picking up new clients, it was losing its existing ones. However the mobile IT improved the firm's efficiency, which impressed existing clients and helped draw in new ones. "As soon as we started this project we started to gain customers by cutting out the churn so our business grew," says Thomas.
The total cost of this mobile revolution was £148,800. On top of this, it costs £72,300 a year to run. However, the firm estimates that the set-up cost will be recouped within a year. Not only that, turnover has doubled in three years – and the division is now profitable.
How Arup is instigating a revolution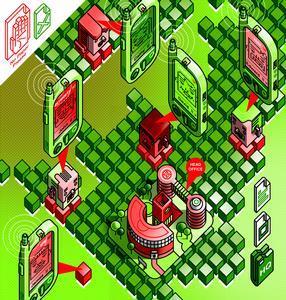 The Rosser & Russell case study is part of a DTI-funded Partners in Innovation scheme called COMIT – Construction Opportunities for Mobile IT – which aims to improve productivity and quality in the UK construction industry through the benefits of mobile technology.
The project is led by Sarah Bowden, senior project manager at Arup's Enterprise Systems Group. She recognised that mobile point-of-activity tools are a significant factor in improving project performance. But, reckons Bowden, many construction companies are reluctant to take up mobile solutions because there is limited information about the costs and benefits involved. "Mobile technologies provide the industry with the opportunity to include everyone in electronic information flow and increase efficiency on site," she says.
This project is aimed at providing a single source of information to both construction companies and those supplying the technology and software. A forthcoming Business Case Toolkit is being developed to assist companies in formulating their own mobile IT objectives.
To find out more about the benefits this technology could bring or to join the comit community, log on to www.comitproject.org.uk.