The Nightingale hospitals, built in record time, were a proud moment for construction. But with just 150 covid patients treated in the English Nightingales in the first wave of the pandemic, Elizabeth Hopkirk asks why they never fulfilled their original promise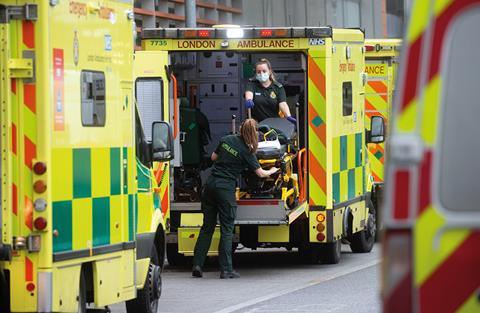 On Boxing Day morning, while many of us were blearily contemplating the prospect of turkey sandwiches for lunch, paramedics were responding to the first of nearly 8,000 emergency calls they received that day in London alone.
It was a day when England and Wales recorded 34,693 new cases of covid-19 and more than 20,000 people were being treated in hospital, worse than in the April peak. The figures were alarming, but this was still only the beginning of a second wave of infections that went on to bring hospitals to their knees and frightened a reluctant government into imposing another lockdown four days later.
That same morning, down at the ExCeL exhibition and convention centre in east London, a team of contractors, architects and engineers were gathering in the vast, hangar-like building, their Christmas break brought to an abrupt halt. It was nine months almost to the day since many had first met there, wide-eyed, to try to turn the exhibition centre into the UK's first coronavirus surge hospital. They did it in 10 days and it was rightly hailed as a magnificent achievement.
This time the task was to reconfigure one of the halls into a step-down and rehab facility for patients recovering from covid and other conditions. Adding ward kitchens, showers and toilets, they were essentially converting the makeshift intensive care unit (ICU) into a community hospital. Again with help from the army and working punishing hours, it took them just two weeks. The other hall was converted into a mass vaccination centre and administered its first shots on 11 January.
Never in a million years would they have been able to staff a unit of that size, even if you took the staff from every intensive care unit in the country

Glynis Meredith-Windle, ArcHealth
James Hepburn, principal at BDP, said his company was "proud to have been part of the team remobilising the Nightingale NHS London hospital. The huge efforts of everyone involved will help relieve the current pressure on the NHS." He added: "While in a normal design and construction process different parties would become involved at different stages of the project, at the NHS Nightingale hospitals all key stakeholders were on site together working in parallel. This highly collaborative working style was key to the successful delivery of this approach – people left their company badge at the door and became one team."
It is undoubtedly another impressive feat, but why was it necessary? Sir David Sloman, regional director for the NHS in London, told journalists: "Unfortunately, given very high levels of infection driving very high hospital admissions, we do need to reopen the Nightingale once more." In fact, the Nightingale didn't just need to be reopened, it had to be repurposed. As our screens filled with images of ambulances backed up outside hospitals and of nurses in tears, pressure mounted on politicians and health bosses to show that the Nightingales were not expensive white elephants. In a 20 December interview with Sky News, health secretary Matt Hancock was forced to deny they were being dismantled after beds and ventilators were seen being removed from the ExCeL.
We are now hearing plenty about the London Nightingale's new life administering vaccines, but with patients being treated in ambulances as hospitals in the South-east struggle to cope with a new admission every 30 seconds, and with worst-case projections suggesting London could be short of between 1,932 and 5,422 beds this week, why are critically ill covid patients not being delivered direct to its doors?
Half a billion pounds well spent?
Earlier this month health minister Lord Bethell told parliament, in a written answer you have to hunt for, that while the set-up cost of the seven English Nightingales was the widely quoted £220m, the total bill including running costs, stand-by costs and decommissioning is expected to reach more than half a billion pounds by 2022. Yet, according to analysis by Building, only around 150 covid patients were ever treated in the English Nightingales during the first wave.
The ExCeL shut its doors to patients after six weeks and started offering its space to filmmakers desperate to create fresh drama for locked-down Britain. Many of the Nightingales were used for outpatient services and some have now reopened for covid patients, but two – including the most expensive one, in Birmingham – have never been used and remain on standby (see "UK covid field hospitals", below, for more details).
So, did we build the wrong things, and if so why? As the second wave reaches its peak, Building talks to some of the people involved in the Nightingales' creation and other specialists, and asks how the hospitals came about, whether mistakes were made and what the industry can learn from one of the most extraordinary episodes in Britain's peacetime history.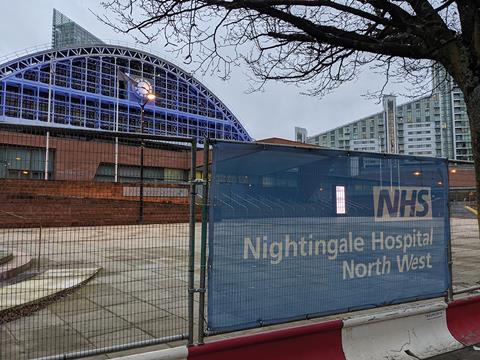 Beds but no staff
"The first thing to say is the architects and engineers and everyone did a fantastic job to get it up and running in such a short period of time. Credit where it's due," says Glynis Meredith-Windle, executive director of clinical planning consultancy ArcHealth and a former nurse.
"But the whole concept has been very problematic," she continues, as she prepares for her first volunteer shift at her local vaccination centre. "The biggest issue for me was how they got to the number of 4,000 intensive care unit beds." That is the number originally planned for the ExCeL centre, although only 500 were completed. "Never in a million years would they have been able to staff a unit of that size, even if you took the staff from every ICU in the country," she adds.
That view is shared by Nicki Credland, chair of the British Association of Critical Care Nurses, who has said that number of beds was "never going to happen" and only existed on politicians' crib sheets. Each critical patient arriving at a Nightingale by ambulance would need to bring a dedicated specialist nurse with them.
People involved in building the London Nightingale point out that the alarming modelling coming out of SAGE (the Scientific Advisory Group for Emergencies, which provides scientific advice to government decision-makers) back in March showed that thousands of extra beds were needed to stop the NHS being overwhelmed. That is why the ExCeL was picked, BDP's Hepburn told Building at the time. "It's the only one that's big enough," he said, memorably describing it as "a shed for lots of intubated patients". People close to the project also point out that staff-to-patient ratios at the worst-affected hospitals are now nearing the 1:6 that people said would be unacceptable at the Nightingales.
Meredith-Windle, who has spent four decades advising architects and clients on hospital projects around the world, suggests a little less haste early on would have saved a lot of money that could have been used to buy PPE.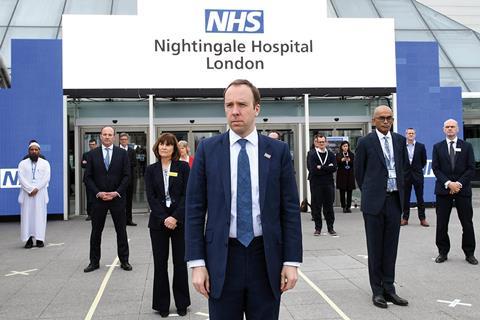 The success of a normal hospital project turns on the quality of its brief, which begins with a business case from the trust and, she says, should be informed by extensive consultation with future staff, as well as demographic modelling. Almost inevitably with a project of such urgency some of those steps were missed, with procurement rules relaxed by emergency legislation. That did not affect the quality of what was delivered and, in Scotland at least, as Colin Carrie – recently retired director of Keppie Design, the architect on Glasgow's Louisa Jordan Hospital – argues: "There were no obvious short-cuts." All the mandatory NHS guidance was followed and everyone involved in the project was already part of the NHS supply chain, he says. "The base rates had previously been agreed so there was no open chequebook – and in fact everyone was working on a not-for-profit basis."
Even the epic speed of the design stage was not that much faster than some regular clients demand, he says. What was exceptional was the collaboration and the timeframe in which each project was completed because there was none of the stop-start, "Oh, we've run out of money" that delays public-sector projects in normal times.
Meredith-Windle's other main criticism is why intensive care units were created in England instead of step-down care, as happened in Scotland. Better to keep the sickest patients close to the array of other services they require, she argues. "I never understood why they wanted Nightingales for ventilated patients. To my nurse brain it never seemed logical."
But adding thousands of intensive care beds to existing, often crumbling, hospitals is not something that can be pulled off in a fortnight. Apart from space – which some hospitals have been creating by discharging less-sick patients and hurriedly repurposing wards – treating covid patients requires vast quantities of oxygen. Southend Hospital in Essex was reduced to rationing supplies this month as patient numbers spiked. Health policy analyst Roy Lilley, a former NHS trust chair, says antiquated gas facilities is an issue at a lot of hospitals. "If you do a £50m hospital makeover, you paint it and do infection control but a lot wouldn't have thought of increasing their oxygen capacity because it involves the pipes – you'd have to rip the whole lot out," he says.
Increasing ICU capacity
This was one of the dilemmas facing the people who devised the Nightingale concept. "If you add to an existing hospital but don't upgrade the infrastructure you are not helping," says a source who worked on the project but who asked not to be named. "We did talk about how do you expand ICU capacity. We were talking about hospital car parks for that reason – but you wouldn't want to be in a car park now," he says.
An exhibition hall closer to central London was considered but ruled out because it was too small. Building's source reflects on whether repurposing four of these smaller buildings might have been more effective. Each could have been twinned with an NHS trust to give a sense of ownership, he says, acknowledging that being "shipped out" to the ExCeL, an alien setting with unfamiliar colleagues – even if you could recognise them behind their PPE – was not an appealing prospect.
It's a neat idea, but the reality of London's multi-trust structure and the nature of those frantic, uncertain days back in March would have left the four mini-Nightingales competing against each other for scarce equipment. "It would have been a total nightmare," says the source. "Maybe you could have centrally co-ordinated it but the trusts were all completely swamped by covid, so you would have had to create this second team to deliver it. It would have been an insane project. The only reason it happened so quickly is because we were all in the same place, all pulling in same direction. In hindsight you can say a lot of things, but the reality is it was a moving challenge."
Until the current crisis there was a view that the fact the Nightingales had barely been used was something to celebrate. That hospitals were not overwhelmed in April was credited partly to higher than expected compliance with distancing rules that tamed the R rate and partly to the heroics of NHS staff.
When all is said and done, we will find things we might have done better. But it doesn't matter: this is a once-in-100-years thing

Roy Lilley, former NHS chair
Lilley, a former Tory mayor, says there is a huge amount to be proud of: "We faced the biggest logistical challenge the nation has faced since the war. No one could have prepared us for this. When all is said and done, we will find things we might have done better. But it doesn't matter: this is a once-in-100-years thing. I don't think people could have worked any better or harder."
But Building's source believes that narrative is not quite right. "They keep saying hospitals are coping. We really need to question what coping means," he says. "ICU nurses in tears. Is that coping? Stopping cancer surgery. Is that coping? I'm not sure it is. Last time, they said the NHS coped, but it didn't: it stopped doing everything else. It fell over! But it's a really challenging thing to say the NHS is failing because it's so dear to everyone's hearts. It almost feels like you're saying the people have failed – when they're working so incredibly hard."
He and Meredith-Windle lay the blame ultimately at the feet of the government, accusing it of both poor planning and years of underinvestment. "Everything has been cut, cut, cut to the bone so we're 40,000 nurses short," says Meredith-Windle.
Our source questions what the government was doing during the summer when it could have been upskilling non-ICU nurses to better stand in for their sick and isolating colleagues in critical care. It could also have taken time to prepare the ExCeL for its new use instead of making panicky phone calls over Christmas.
"It's hugely frustrating," he says. "It's the fact we did something that's possibly not quite right but then there were six months of inaction despite lots of discussions about the Nightingales. The government was insisting hospitals got back to normal but you can't expect an organisation to do that and prepare for a second wave. We knew this was going to happen, but it seems we didn't learn anything from the first time around."
NHS England and the Department of Health and Social Care did not respond to requests for comment.
UK covid field hospitals
In total there are seven Nightingale hospitals in England, one in Belfast and two further large field hospitals, one in Cardiff and one in Glasgow.
NHS Nightingale Hospital London
Used in the first wave? Yes, a total of 51 covid-19 patients requiring mechanical ventilation were treated during the first wave. This peaked on 19 April when there were 33 patients in MV beds.
Current status Reopened after reconfiguration as community rehabilitation centre and mass vaccination centre.
The temporary field hospital at the London ExCeL centre began accepting patients for the first time since April 2020 last week as the capital's hospitals struggled under the weight of incoming covid-19 patients. It was recommissioned in the second half of December and took two weeks to get ready. The facility originally opened on 3 April but closed just six weeks later. Around a third of the 51 patients treated during the first wave died.
It has initially reopened with two wards totalling 32 beds – just 0.8% of the 4,000 beds it was initially designed to provide. And, far from providing the overflow treatment of emergency covid-19 patients it was planned to be used for, the facility will now be for patients recovering from both covid and other conditions. This means it will be operating more as a rehab unit than a makeshift intensive care unit as it did during the first wave.
NHS Nightingale Hospital North-west
Used in the first wave? Yes. Around 100 covid-19 patients were treated there during the first wave, although it did not offer respiratory support beyond continuous positive airway pressure.
Current status In October the facility, which had been dormant for months, was reopened to care for non-covid patients only. It is now being used for treating covid-19 again. All 36 beds are full, with more beds being added.
At the start of this month Sir Richard Leese, leader of Manchester council, said: "I have to say that the optimistic end of the scale is that, if our hospital system does not fall over in the next couple of weeks, then we will have done well." Since then, the regional situation has only deteriorated.
As of 10 January, hospitals across the North-west of England had just under 1,200 people with the virus in beds outside intensive care, a 30% increase on a week earlier when Leese gave his dire warning. Unsurprisingly, all 36 initial beds opened at this Nightingale back in April are now full.
An additional 36 beds were due to come into action this week, while another 72 are expected to be added in the near future. However, there are concerns about staffing for these beds.
NHS Nightingale Hospital Exeter
Used in the first wave? Yes, but initially for other medical uses.
Current status Has been used to treat patients with covid-19 since November.
Just before Christmas it was announced that the Exeter Nightingale hospital was one of just two original field hospital sites – along with one in Belfast – to be taking covid patients. The facility, which aims to bolster capacity across the South-west of England, has a capacity of 166 beds, though just 27 of these are being used, according to the latest NHS England figures.
The facility received its first covid patients in November, having been used for diagnostic testing between its opening in July and that point. It reached its peak number of beds occupied by covid patients on 18 December, with 36 beds in use.
NHS Louisa Jordan, Glasgow
Used in the first wave? Yes. Initially for orthopaedic and plastic surgery outpatients.
Current status About to become a mass vaccination centre, with its hospital licence extended to July.
Glasgow's NHS Louisa Jordan was always meant to be a step-down facility not an ICU ward but is now set to be used as a mass vaccination centre. The Scottish government has confirmed that the field hospital, located in the converted SEC exhibition centre, will be used as one of six such centres across Scotland.
The overflow facility, which was originally built to provide 300 beds for covid patients, was being used for orthopaedic and plastic surgery outpatient consultations from the start of July last year until being reassigned. The facility was initially due to be decommissioned by the end of April, but the Scottish government has now extended its licence to be used as a temporary hospital until July.
Dragon's Heart Hospital, Cardiff
Used in the first wave? Yes. Treated patients with covid-19 during the first wave. Had 46 patients in its beds at its busiest time.
Current status Being decommissioned and returned to sport.
The first patient was admitted to the hospital, located at the Principality Stadium in Cardiff, on 28 April 2020. While it was initially used steadily, by 4 June it had no remaining patients and on 8 June was put on standby.
Although most staff were redeployed elsewhere, it was announced that the stadium would remain out of use for sport indefinitely. But in September it was confirmed that decommissioning of the facility would begin, with the stadium due to host Six Nations rugby union games next month.
Belfast City Hospital Nightingale
Used in the first wave? Yes. Took in covid patients but stood down in May.
Current status Reopened to covid patients in October. Earlier this month 20 of 24 ICU beds were in use, with plans to expand to 32 ICU beds
NHS Nightingale Hospital Yorkshire and the Humber, Harrogate
Used in the first wave? Yes. Used for the first time in July when it began outpatient radiology for non-coronavirus patients. It has been running a clinical imaging service, with more than 3,000 patients having received a diagnostic test or CT scan there.
Current status Continues to be used for diagnostic tests. On standby for covid-19 use if necessary.
NHS Nightingale Hospital North East, Sunderland
Used in the first wave? No. The facility has taken no patients.
Current status On standby.
NHS Nightingale Hospital Bristol
Used in the first wave? Yes. So far the hospital has not admitted a single patient with covid-19, but has been receiving non-covid patients since November.
Current status Used by the Bristol Royal Hospital for Children for daytime paediatric services, and by Bristol Eye Hospital for patient assessments.
NHS Nightingale Hospital Birmingham
Used in the first wave? No. The facility has taken no patients.
Current status On standby.
Costs
The seven Nightingale sites across England were built at a cost of around £220m. The unused Birmingham facility was the most expensive, costing £66.4m, while London came in at £57.4m and Manchester cost £23.4m. The temporary hospitals set up in Harrogate, Bristol, Sunderland and Exeter cost £27.3m, £14.2m, £20m and £11.1m respectively.
According to the Scottish government the NHS Louisa Jordan cost almost £31m to set up. Balfour Beatty was paid £4.8m, Kier £4.4m, RMF Health almost £7m and Graham £909,000 for their roles in setting up the project. Keppie, the practice behind the Scottish scheme, received £70,000.
Meanwhile, Official Journal notices reveal details of the contracts awarded to build the Dragon's Heart Hospital in Cardiff and for the alterations and conversion of Bay Studios in Swansea into a surge hospital. ES Global was handed £25m for the former, while between £10m and £15m was given to Kier and TRJ for their work on the latter.
Reporting by Jordan Marshall