The chair of contractor Midas and the CBI's Construction Council has a smile on his face. What does he know that we don't?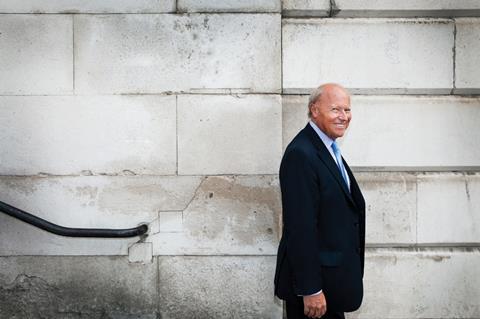 It seems it's impossible to wipe the grin from Steve Hindley's face. Having his photo taken, he refuses to countenance the idea that he could be snapped with anything other than a broad smile. "The person that sold Midas [Len Lewis] to me told me to always smile," he says, looking cheerful, "particularly on camera. But I think sometimes when I turn it on I frighten people with it!"
A look at the newspapers will tell you there's not much to be happy about at the moment. The economy is back in recession, because of a collapse in construction output in the first half of the year, and the government's efforts to spawn growth seem to be struggling. But Hindley, chair of regional contractor Midas, remains optimistic, despite the relentless diet of bad news, capped most recently by ONS figures showing output down 7.4% in the three months to May on the year before. He thinks he's got a plan to get the economy out of this dire situation, and, in the form of the CBI, an organisation with the ear of government in order to get the changes made. So what's his prescription?
It starts with an acceptance of how bad things have got. Mark Farrar, Construction Skills chief executive, predicted this month that more than 45,000 jobs in construction will be lost this year, and output is already down 5.3% from the first four months of the year. With Midas based in the West Country, it's a reality not lost on Hindley, though, as we see later, he seems to be steering his firm safely through the worst of it. "This is my fourth recession - though clearly the worst by far. It's extremely tough," he says.
It tends to be in the public sector that the people doing the procurement are judged on their ability to procure - not on the outcome of the job
The CBI though, for whom Hindley chairs the Construction Council, has stood behind the coalition's austerity measures, despite the cuts to construction programmes to get the UK budget deficit under control. This leaves the body without much wriggle-room in terms of its message to government for how to get the sector moving. Nevertheless, I meet Hindley at a jobs summit in central London where he's launched a roadmap to boost jobs without - quite - asking for a Plan B from chancellor George Osborne.
The plan does, however, involve the CBI for the first time acknowledging that the government's focus on bringing private investment into infrastructure is not going to be enough on its own. The government, it says, needs to bring forward money from later in the parliament to spend on repair and maintenance work, the part of the industry where it is quickest and easiest to turn on the spending tap.
It's also the part of the sector which is most employment intensive, generating twice as many jobs as infrastructure work for every pound spent. "We're not asking for extra money - it's bringing stuff forward that is in the pipeline already. The Homes and Communities Agency has made its agreement with housing associations for the next year - let's find a way of accelerating it. There are [councils] that are sitting on funds that could be brought forward in to individual projects."
While he won't say exactly how much spending should be brought forward, it's not the only thing he's asking for. The public sector should be using this spending to encourage training, and make sure that the industry isn't left with a skills gap when the economy turns around. Contractors should be told that their bids for public sector work will be judged on their commitment to creating opportunities for employment and training young people, particularly apprenticeships. He supports the government's procurement reforms but says further reform is needed to stop large national-level frameworks from cutting out the SMEs.
"There is a need with frameworks, and I think governments understand it, to make sure there are some bandings so that it gives some of the smaller companies opportunities," he says.
Our ambition is growing at the rate that our customers want to give us the work
Hindley also believes people responsible for procuring a project should be responsible for seeing its outcome. "It tends to be in the public sector that the people doing the procurement are judged on their ability to procure - not on the outcome of the job," he says.
Another of his frustrations is the failure so far to find a way to inject private funding into infrastructure projects. Chancellor George Osborne finally addressed this issue with a new strategy announced this week, and while it has been a long time coming, Hindley nevertheless resists the temptation to be too critical.
His instinct is clearly to gain influence by being seen as helpful to government, rather than barracking from the sidelines. He says: "It's very easy to be critical but we're essentially looking for new solutions to the same old problems and whatever comes next will have to be different."
"I can't think of a time when I have not been frustrated with the speed at which governments react. But things are changing, things are moving."
There's another reason for Hindley's cheer. Midas, which has over 400 staff and is set to report turnover of £200m this year from its Bristol base, is on the up. A long-time Mowlem employee who started his career building Spaghetti Junction in 1971, Hindley jokes he arranged to buy Midas from founder Len Lewis in 1998 because "myself and a colleague decided that they didn't pay us enough of a bonus each year for the results we gave." It's now 10 times the size and growing.
"Am I happy being in the mid-size? Yes I am. Our ambition is growing at the rate that our customers want to give us the work," he says. But? "I suspect that long after I've gone, Midas will be an international contractor and the next generation in that business will take it on to greater things."
It is ambitious. And maybe a bit optimistic? "Yes I'm an optimist," he says, chuckling. "I'm a contractor, you have to be." For the sake of the industry, let's hope his optimism about Midas and the sector is justified.