The devastating chemical blast in a Beirut warehouse last month was one of the biggest non-nuclear blasts in history. It killed 180 people and destroyed a large part of the city. Now work is under way to assess the appalling damage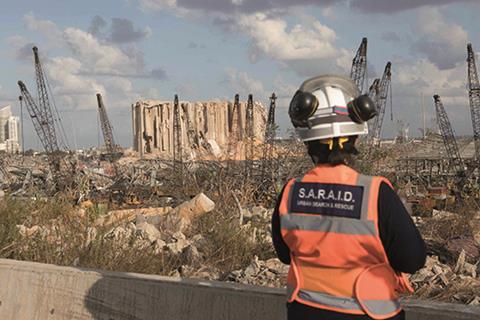 Four days after the catastrophic explosion that shocked the world and destroyed a large part of Beirut, Suzie Cooper was on a flight to Lebanon mugging up on blast loads. Final sign-off for the trip had come only 12 hours earlier, around midnight, but by then her bag was already packed.
Tens of thousands of buildings in an area the size of central London were destroyed or damaged by a supersonic blast wave on 4 August that was triggered when 2,750 tonnes of ammonium nitrate negligently stored next to fireworks at the port caught fire.
Experts have described it as one of the largest non-nuclear explosions in history, with the blast heard 160 miles away in Cyprus. It killed 180 people, injured 6,000 more and left 300,000 homeless. Hospitals, schools and 70,000 homes were damaged.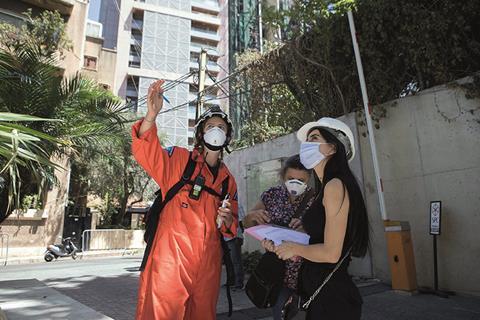 Cooper, a 26-year-old structural engineer, was in the Lebanese capital for five days helping to co‑ordinate the immediate recovery and assessing the extent of the damage, before returning to 14 days of quarantine and some pressing deadlines in her day job. It was an intense experience of long days, demanding work and heart-rending scenes, yet it was also the chance to put some of her professional expertise to critical use. How did it come about?
After graduating with a masters degree from Birmingham university four years ago, Cooper joined Elliott Wood. Her manager there, knowing of her interest in humanitarian work, introduced her to Saraid (Search and Rescue Assistance in Disasters), a small UK charity set up in 2003. It mainly helps in the aftermath of earthquakes but its first mission was to the tsunami in the Indian Ocean on Boxing Day 2004.
After 18 months of fortnightly training on everything from how to use concrete disc cutters to how to open up rubble safely to search for casualties, Cooper's first deployment was to Albania in November last year, where an earthquake had left 14,000 people homeless.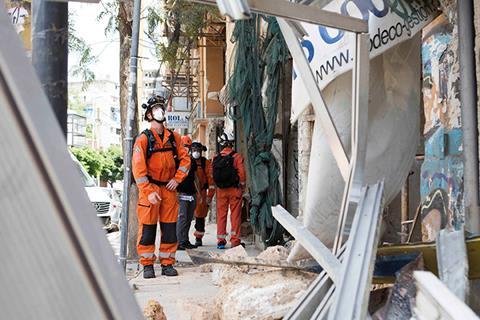 "I was insanely nervous on the flight out because you don't really know what you are going to see," she says of that initial trip. "But, having done one deployment, this time I was more confident in my ability."
I needed to brace myself for what I was going to see. I had seen pictures but it doesn't quite put it into perspective

Suzie Cooper
It was a Tuesday afternoon and she was working from her flatshare in Camberwell, south London, on a West End office project when a BBC news alert flashed on her phone. An hour or so later, as more details emerged and images showed that the damage was similar to that caused by an earthquake, it dawned on her that this might be not just a horrendous headline but also a job for Saraid. "I thought, 'We can be of use here. This is what we are trained for.' "
Indeed the next day the charity's trustees took a call from the British embassy in Beirut asking for help. "Quite a few search and rescue teams had gone out, so that was covered, and now they needed help with structural assessments. Someone had recommended Saraid because of our engineering capacity," she says.
The first six Saraid volunteers were on a flight within hours. Cooper and three others followed as soon as some pressing commitments allowed. Dropping everything for an unspecified period is a big ask, but her employers are supportive. "I think they also see what they get out of it because I'm learning so much," she says.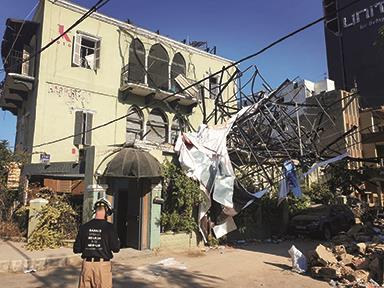 Deployments usually involve camping in the disaster zone, with tents for sleeping, meetings and equipment, but in Beirut they were able to stay in a hotel on the edge of town. "It was 6km from the blast but you could see structural damage and, for example, broken glass in the doors of our hotel. It was quite shocking to see that far out," she says.
The next morning they were driven to the port, with Cooper all the while absorbing information about vernacular construction and building typologies. As it turns out, Beirut's commonly used concrete and masonry structures survived better than lightweight steel frames. The glass and steel facades of the city's commercial towers were eviscerated.
As they neared the site of the explosion – a warehouse reduced in seconds to a 140m-wide crater filled with seawater – the scene became more sobering still. "We hadn't even got to the port and a lot of buildings were completely collapsed, entangled in themselves.
"I felt I needed to brace myself for what I was going to see," she recalls. "I had seen pictures but it doesn't quite put it into perspective.
"As we reached the port, you almost don't see anything because it's just flattened. That was quite a hard-hitting moment."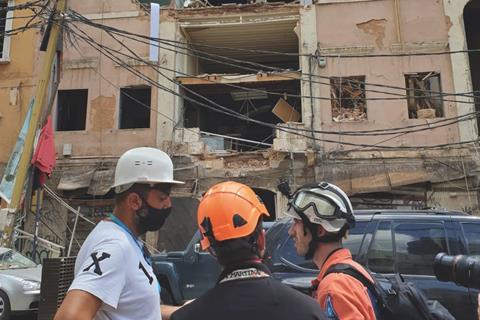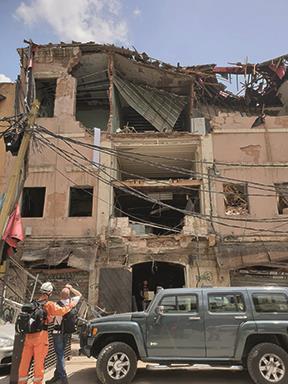 Then it was straight to work. Her colleagues had established a damage assessment co‑ordination centre (DACC) in a municipal building half a mile from the port, where they sectorised the city using highlighters on printed-out maps and worked with the local authorities to standardise the building inspection forms.
With engineers from all over the world volunteering, it was essential that any given building could be assessed identically. Protocols included checking floors and columns on a couple of storeys – but not all the way up. They allowed 20 minutes per building.
Beirut is a city full of high-rises so they have very proficient local engineers with a wealth of experience – but not necessarily in blast damage
In this rapid assessment phase, buildings were classified as either beyond repair, okay or requiring further assessment at a later stage. The work was carried out by pairs of local and international engineers. They assessed more than 600 buildings in three days.
"Beirut is a city full of high-rises so they have very proficient local engineers with a wealth of experience – but not necessarily in blast damage, so we were there to offer guidance," says Cooper.
Her days started at 7am, briefing international engineers and dispatching them to areas of the city with a local colleague, meeting UN and EU officials and then carrying out inspections herself. Evenings at the hotel were spent collating that day's data and writing reports.
"You're running on adrenaline because it's so fast-paced," Cooper says. "You are seeing people whose lives have been devastated and hearing awful stories. It takes a physical and emotional toll, but I feel humbled and thankful I am able to help them in some way."
She hopes to go back in a few weeks' time to continue the assessment, but all Saraid's work relies on public donations. To contribute, go to justgiving.com/fundraising/saraid-beirut.