Who are the clients, contractors, designers and manufacturers leading the way in boosting green construction? Well, many of them are right here. Here we list the winners and runners-up in this year's Sustainability Awards
Good news: the downturn hasn't killed innovation if this year's Sustainability Awards are anything to go by. There were a high number of good-quality entries and plenty of superb projects for the judges to choose from.
The winners were announced on Tuesday during a ceremony at the Royal College of Physicians in central London, hosted by Building in association with the UK Green Building Council and in partnership with Arup.
Record numbers of buildings were constructed to Passivhaus standards in both the housing and project under £10m categories. There were plenty of innovative projects, including
the Arup Associates-designed Harlequin 1, a naturally ventilated television studio for BSkyB, which won the sustainable project over £10m category. Sustainable innovation of the year, a new category for 2010, also drew plenty of entries.
If you would like more information, the Building Centre in London's Store Street is showcasing the winners in a display that runs until the end of the year.
Sustainable project of the year (over £10m)
Harlequin 1, BSkyB, entered by Arup Associates
This will be the world's first naturally ventilated television studio. It is part of client BSkyB's ambition to go carbon neutral.
TV studios must be ultra-quiet, which isn't easy to reconcile with the need to get fresh air into the building. The location made the job even more challenging as Harlequin 1 sits under the flight path into Heathrow and next to the A4 trunk road. The solution is to pass warm air out of the building up through big chimneys. This process pulls in fresh air through sound attenuators below the studios.
Energy to power the studios comes from a biomass-fuelled combined heat and power plant, which reduces the building's emissions by 20%. Forest Stewardship Council-certified timber was specified and cement replacements were used to keep down the embodied energy in the building. All this adds up to a BREEAM Excellent rating and a commendable energy performance certificate rating of A.
The judges described Harlequin 1 as a world-class project and said the natural ventilation strategy was an amazing achievement in such a noisy area. It also had a completely integrated renewable strategy and was a well-rounded scheme.
Highly commended
Capgemini Merlin, entered by Red Engineering
Runners-up
Loxford School of Science and Technology, entered by Aedas
Kew Herbarium, Royal Botanic Gardens, entered by Atelier Ten
John Hope Gateway, Royal Botanic Garden Edinburgh, entered by Edward Cullinan Architects
7More London Riverside, entered by Roger Preston & Partners
Sustainable contractor of the year
Skanska
This was a much debated category, but Skanska triumphed because the judges felt sustainability "ran in the company's blood".
Internally Skanska does all the right things. It has waste management plans in all its offices, transfers usable equipment between offices and checks energy performance certificate ratings before signing leases. On site it diverts an impressive 86% of waste from landfill, uses rainwater for dust suppression and wheel washing and is improving the insulation levels of its site cabins. It has a sustainable procurement policy that includes procuring stone under the Fair Stone standard.
The judges said Skanska was a clear example of a sustainable leader driving the industry and praised its clean, fresh image with a Scandinavian influence. They liked the fact that it incorporates measurable factors that allow it to demonstrate its continued high performance.
Runners-up
Balfour Beatty
BAM Construct UK
Bovis Lend Lease
Bryne Brothers
Kier Regional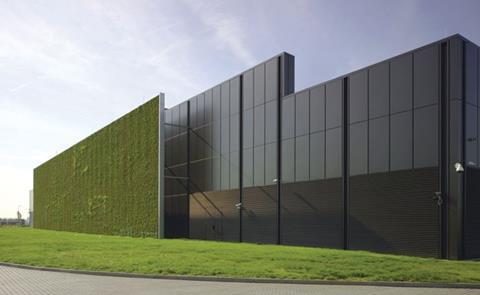 Sustainable designer of the year
Arup Associates
What marked out Arup Associates was the potentially industry-changing level of innovation in its projects. It designed this year's winner in the sustainable project over £10m category, the world's first naturally ventilated TV studio (left), and the world's first LEED Platinum data centre, in Frankfurt.
The data centre is said to use 72% less energy for its infrastructure than a standard centre - a big achievement given the huge amounts of energy consumed by such operations.
Another key scheme is Ropemaker, one of the greenest office schemes in the City of London, which was highly commended in last year's Sustainability Awards. The latest project under Arup's belt is a zero-carbon, air-conditioned football stadium in Qatar.
In-house, the firm does well too: it has a formal sustainable procurement plan, ISO 14001 certification and it minimises office waste. The judges said they were impressed by Arup's robust processes and commercial awareness, with some fantastic case studies to back this up.
Runners-up
Atelier Ten
Cundall
Jestico + Whiles
HOK International
Purcell Miller Tritton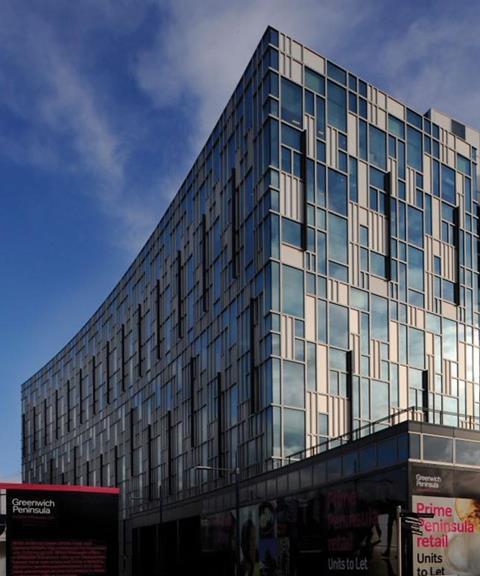 Sustainable client/developer of the year
Lend Lease
This was another hotly debated category, with Lend Lease pipping the Olympic Delivery Authority to the post. Lend Lease has stringent, no-nonsense targets including building
to BREEAM Excellent and Code for Sustainable Homes level 4 standards as a minimum for all its developments.
It brings rigour to its sustainability strategy by employing a sustainability consultancy, Upstream, to help identify and set the objectives and targets. These are audited externally. There is a responsible sourcing framework including selecting suppliers that are aligned with Lend Lease's sustainability objectives. Internal processes are good too. They include a 90% recycling rate for waste from the London headquarters responsible for Europe.
The judges were impressed by the company's use of a third party for setting objectives and targets, and also praised Lend Lease for looking at the wider agenda.
Highly commended
Olympic Delivery Authority
Runners-up
Berkeley Group Holdings
Crest Nicholson
Land Securities
London School of Economics
Sustainable consultant of the year
Cundall
This multidisciplinary engineering consultancy is marked out by its thorough approach to sustainability. It has a comprehensive staff training programme including a sustainability handbook. There's a home energy challenge where 70 households report their monthly energy consumption and share ideas on how to reduce it.
Each office has a team of volunteers who want to make a difference to the firm's environmental impact. The team leaders meet every two months via video conference to share ideas.
Some of the more radical approaches include trialling worm farms in two offices to reduce kitchen waste. The teams found 50% of energy use was outside office hours so put in place a strategy to tackle this.
The firm's projects are clustered at the top end of sustainability ratings such as BREEAM, LEED and Green Star. The judges liked Cundall's enthusiasm: it practises what it preaches, they said, and made "an excellent contribution to the industry".
Runners-up
Atelier Ten
Atkins / Faithful + Gould
BRE
Jones Lang LaSalle
WSP Group
Sustainable innovation of the year
Datum phase change ceiling tile
There were plenty of good ideas in this category, sponsored by Ecobuild, including a rainwater harvesting system that does away with the need for an underground tank, a low-water, low-energy site toilet, and an internal carbon trading scheme for a company's employees. But Datum's phase change ceiling tile was the winner because the judges thought it had the potential to make the biggest difference.
Phase change materials store heat or cool by changing from a solid state to liquid and back again. Datum installed the tiles in a meeting room and asked a third party to monitor energy use compared with an identical room next door. Because the tiles were soaking up heat, the air-conditioning in the room fitted with Datum's tiles only came on for seven hours over 45 days. In the standard room, by contrast, the air-conditioning was on for 257 hours.
The judges were particularly impressed that a phase change material had been turned into a retrofittable, easily installed product. They said it was a fantastic innovation that could become a standard household item.
Runners-up
Arup
Balfour Beatty Plant and Fleet Services
Knauf Insulation
Lafarge Readymix
WSP
Sustainable champion of the year
Nick Peel, Land Securities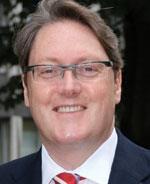 Reducing energy use in shopping centres is not easy given the need to attract shoppers with a warm and bright environment. As head of retail operations for Land Securities, responsible for 25 shopping centres and 18 retail parks, you'd think Nick Peel had enough on his plate, but he decided to tackle carbon emissions and waste in his portfolio too.
He has made an excellent start, reducing waste sent to landfill from 80% to 34%, and six centres send nothing to landfill. Peel is already nearly halfway to hitting Land Securities' 2020 target of reducing carbon emissions from the common parts of shopping centres by 30%.
Initially Land Securities set up a carbon offset scheme, hoping to encourage centre managers to invest in energy efficiency to cut their carbon offset bills. When this failed, Peel suggested investing the money in on-site carbon reduction projects. Managers responded enthusiastically, as every centre came up with a scheme. In the first year £151,000 was invested with predicted annual savings of £100,000 on bills. In the second year Peel allowed centres to bank their allowances, so they could invest in bigger schemes in year three.
The judges thought Peel was doing a good job in a tough market, particularly in tackling the tricky issue of shopping centre lighting. They also liked the fact that he was communicating this message to the general public using displays in the centres.
Runners-up
Emma Marchant, Atelier Ten
Robin Nicholson, Edward Cullinan Architects
Allan Thompson, Gentoo
Elizabeth Green, Mott MacDonald
Sarah Edwards, Sheppard Robson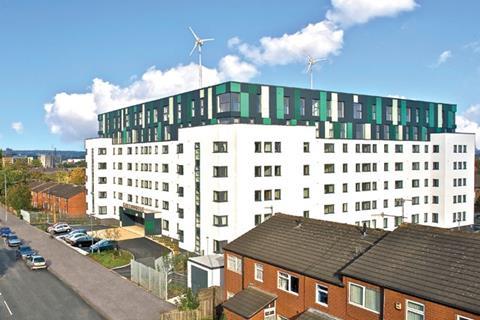 Sustainable refurbishment of the year
Greenhouse, Leeds, entered by Citu
Developer Citu has turned a boarded-up 1930s hostel known locally as the "dustbin of Leeds" into an exemplar low-energy housing scheme.
Building performance is 65% better than required in Part L, which adds up to an energy performance certificate A rating - impressive for a refurbishment. This is achieved using high levels of insulation for the envelope, solar panels, rooftop wind turbines and a ground source heat pump. A sophisticated building management system helps minimise energy use by moving air from areas that are too hot to those that need heating, and using summer heat recovered from the apartments for water heating.
Materials were carefully considered - for example, the acoustic insulation is made from old car tyres. But the clincher for the judges was the holistic approach to sustainability; the scheme includes a car sharing scheme, a free bike club and electric car club. Residents can view live bus and train times on their TVs, and are able to monitor their electricity and water use with the idea that this will encourage behavioural change.
Runners-up
Brittany, Ward & Elkington Points, London, entered by Breyer Group
St Paul's Place, Sheffield, entered by Mott MacDonald
Whitfield First School, Hexham, entered by Newton Architects
Medieval & Renaissance Galleries, Victoria & Albert Museum, entered by Arup
Notting Hill Low Carbon Refurbishment Initiative, entered by United House
Manufacturer/supplier of the year
Aggregate Industries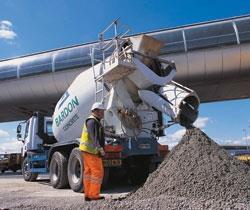 All the entries in this category were impressive but Aggregate Industries is really pushing the boundaries of what can be done. It achieved a Global Reporting Initiative rating of A+ and is the first company to have all its products certified to new environmental standard BRE BES 6001, which demonstrates to specifiers they have chosen a responsibly sourced product.
For example, an ethical trading policy means less than 1% of the company's operations are from the sale of imported natural stone. The firm is working towards a target of zero waste to landfill by 2012. Last year it reduced waste to 52,000 tonnes, down from 63,000 tonnes in 2008.
Aggregate Industries is reducing its large spoil heaps in Cornwall by actively marketing this as stent, an aggregate replacement. This year the firm also launched a process that reduces carbon emissions from asphalt production by 45%. The judges liked the "excellent" embedding of systems and operations, the responsible sourcing of materials and continual landfill reduction.
Runners-up
Caledonian Building Systems
Tata steel Colours
Kingspan Insulation
ICI Paints Akzo Nobel
Marshalls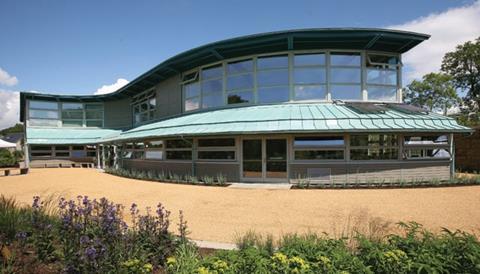 Sustainable project of the year (under £10m)
Bramall Learning Centre, Harrogate, entered by the Royal Horticultural Society
It was the thorough and comprehensive approach adopted for the Bramall Learning Centre that pushed it to the top in this fiercely competitive category.
You name it and this building has got it.
On the energy side the highly insulated, naturally ventilated building has a shape optimised for solar gain with energy provided by 15kW peak output wind turbine. This powers a ground source heat pump and provides all the building's electrical needs. As a small amount of power is exported the building is slightly carbon negative, which means it achieved an energy performance certificate rating of A.
Materials were carefully selected. Unfired clay blocks and locally sourced recycled aggregates make up the dense concrete blocks used for internal partitions. Recycled glass was substituted for sand in the floor screeds. As this is a Royal Horticultural Society building, biodiversity is second to none with extensive planting in the grounds plus a sedum roof. Along with rainwater harvesting and sustainable urban drainage systems, the initiatives added up to a BREEAM Excellent score of 88.5%, the highest ever for a bespoke public building.
The judges said this project was a fantastic piece of architecture that pushed up standards. The approach to energy was thorough and integrated.
Runners-up
Graham HQ, Hillsborough, Northern Ireland, entered by BDP
Rural Regeneration Centre, Hadlow College Kent, entered by Eurobuild
Inverdee House, Aberdeen, entered by Keppie Design
Centre for Disability Studies, Essex, entered by Simmonds Mills architects
Woodland Community Centre, Hill
Holt Wood, Lincolnshire, entered by Simons (Design)
Housing project of the year
Threshold Centre, Dorset, entered by Bruges Tozer Partnership Architects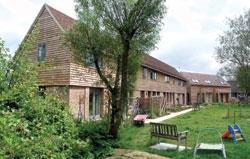 Zero-carbon homes and Passivhaus standards are hardly big news these days, so how does the industry up the sustainability stakes?
The Threshold Centre could be the answer, as it is one of the UK's first co-housing schemes. The idea is to further reduce carbon emissions by tackling the way people live. Here residents share communal space and white goods such as washing machines and freezers so the homes can be smaller, cutting energy use.
The communal living ethos extends to car sharing and growing food, further reducing carbon emissions. To get this scheme off the ground, residents invited Synergy housing association on board to help raise the money. The homes are converted holiday accommodation and a farmhouse has been turned into communal facilities including a kitchen and living space, offices and a laundry. As this was a conversion the homes have been completed to Ecohomes Excellent standard.
The judges were enthusiastic about this approach, saying it took sustainability to the next level as it addressed behaviour issues. They felt it could be a good model for new schemes and could also work in urban areas.
Runners-up
The Larch House, Ebbw Vale, entered by bere:architects
Denby Dale Passivhaus, West Yorkshire, entered by Green Building Store
Mendip Place, Chelmsford, entered by Ingleton Wood
Miller Zero, Merton Rise, Basingstoke, entered by Miller Homes
Temple Avenue Project, entered by Richards Partington Architects
Sustainability leader of the year
David Adams, Zero Carbon Hub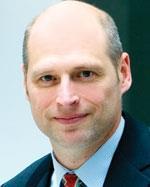 David Adams is working out how to turn zero-carbon homes from an aspiration to a deliverable reality. As co-director of the the Zero Carbon Hub, he is leading the work on defining how the industry can deliver zero-carbon homes and getting the government to establish mandatory targets. Right now, Adams is working out how much energy use can be mitigated and generated on site and how much should come from off-site sources. He's got just three months to do this and has to get about 40 stakeholders, from the Home Builders Federation to committed greens, to agree on a standard. Adams was also instrumental in informing the pay-as-you-save policies of Labour and the Conservatives, which will become the Green Deal.
His contribution to the Callcutt Review led to the formation of the Zero Carbon Hub. Underpinning all his work is the belief that these targets must be realised on the ground. His work on making SAP - the Part L calculation tool for homes - fit for future purpose is a good example of this. The big task left in Adams' intray is coming up with a definition of zero carbon. And this is all on top of his day job at contractor Wilmott Dixon …
This article was originally published with the headline SustainabilityHeroes.