Construction is booming in India, but what chance is there the country can build sustainably?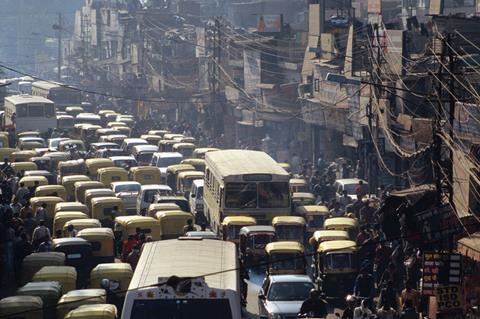 For several days in early November the distinctive features of the Indian city of Delhi were obscured by an exceptionally heavy white fog. It made headline news in the Indian press, with some blaming it on the remnants of cyclone Nilam, others putting it down to paddy straw burning in states north of the city. But the Centre for Science and Environment, a Delhi-based research group, blamed rising traffic levels for the problem, saying particulate and nitrous oxide levels were the worst ever recorded despite the government forcing all buses, taxis and auto-rickshaws to run on clean burning compressed natural gas 10 years ago. The problem is that the roads are jammed with private cars, with more than 1,000 new vehicles joining the queues daily.
The packed roads are symptomatic of India's rapid economic growth of 5.5%. And the growth in private motor vehicles is being matched by the built environment. According to the ClimateWorks Foundation, the area occupied by buildings in India is expected to quadruple from 25 billion ft2 in 2011 to 100 billion ft2 by 2030. At present, most of India's buildings are residential, with only a minority having power-hungry air-conditioning, a situation that is likely to change as people aspire to higher standards of living. The risk is these new buildings will be inefficient, leading to a big rise in India's contribution to global warming. What is India doing to make sure the environmental impact of this projected development is as small as possible?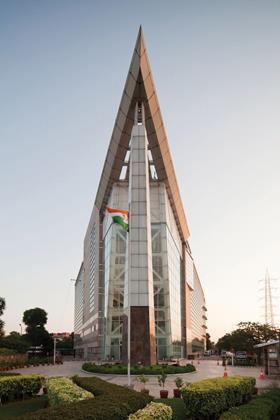 Most of India is very hot, which means new buildings tend to be air-conditioned. It is also very dry, so water use is a big issue. Meanwhile, the market for retrofitting rooms in existing buildings with air-conditioning is growing by 10-15% a year. According to Ashok Lall, an architect specialising in low-energy design, a home fitted with two air-conditioning units will use 2.5 times more energy. "If there is an area that needs addressing, it is homes that will become air-conditioned in the coming decade," he says.
Unfortunately there is little to compel developers to deliver energy-efficient buildings. Although there are national building codes covering safety critical elements including structure and fire, the only energy-related instrument is the energy conservation building code. This only applies to buildings of more than 1,000m2. "It is so complicated that people don't follow it," says Indian Green Building Council (I-GBC) and Aecom chairman Prem Jain.
Despite the lack of compulsion, the number of green buildings in India is rapidly growing. Environmental assessment method LEED is used in India and the I-GBC has developed an India-specific version too. According to the I-GBC, there was just 20,000ft2 of buildings registered with the council in 2003 compared with 1.25 billion ft2 today. Although many of these are not yet complete and some may never be certified, it does indicate growing interest in developing more sustainable buildings.
A big driver for better buildings is international clients who have minimum sustainability requirements in their corporate social responsibility policy. This has rubbed off on Indian clients, too. "Indian corporates are internationally mobile so their awareness is no less on this subject," says Anit Grover, national director for offices at developer DLF. Clients also like the reduced energy bills. Jain says one Indian client, IT specialist Wipro, constructed a one-off green building as an experiment. "The chairman said green buildings were a fad and would die out, but let's try it out," says Jain. "After it was finished, productivity increased by 10% and he said all [Wipro] buildings must be green in future."
Green shoots
DLF's Cyber City in Gurgaon, just outside Delhi, illustrates the way green building has matured in India. In 2000, Gurgaon was little more than a village. It is now one of India's largest business districts with the same amount of office space as Canary Wharf. The first Cyber City buildings weren't LEED certified, but Grover says LEED Platinum is targeted for all new buildings and some early buildings are being retrofitted to LEED standards. DLF has invested in a 100mW co-generation plant that supplies Cyber City with all its power. This is an electricity generation technology that uses waste heat to drive absorption chillers, and cuts carbon emissions in half, according to DLF.
Cyber City is the first non-industrial development in India to feature co-generation. Parts of India suffer regular power cuts of up to four hours a day because of a lack of power-generating capacity, so many buildings include back-up power as standard. The lack of co-generation seems like a massive missed opportunity, but it is largely down to the Indian development model. DLF's business model is relatively rare in India. Like western developers, DLF develops buildings and leases these over the long term so is prepared to pay a premium of 10-15% for a LEED-certified building. According to Grover, most Indian developers are only interested in selling their schemes on and in some instances will sell shares in individual buildings. This means making any improvements is almost impossible. "If there is a problem with the building, you may need agreement from 100 owners to get it fixed," he says. Grover says this model loses these owners money: "The challenge will come as sustainability awareness increases; buildings that can't be improved will be worth less as the market matures."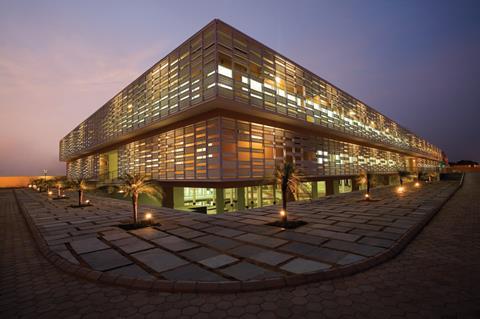 Is DLF a glowing beacon of sustainability best practice? Some think it has taken the western influence too far. Cybercity could be anywhere in the world and is stuffed with glass buildings constructed to LEED standards, which is an American method despite being adapted for India. "The Indian green building system should not ape the west," warns Srinivasan Padmanaban, director of the South Asia Regional Initiative for Energy Integration at the US Agency for International Development. "If it includes a lot of steel and glass as opposed to local materials something is going wrong."
Manit Rostogi, managing partner of Delhi-based architect Morphogenesis, says LEED doesn't recognise local climatic conditions and construction methods. "LEED brought in an emphasis on the efficiency of equipment and interior climate, but devoid of where the building was located," he says. "The emphasis is, you can have an all-glass, west-facing building in a hot climatic zone if it has efficient, mechanised services." Rostogi says comfort levels are too regimented. "The other aspect is maintaining a relationship with nature; if it's hot outside you should feel a bit hot, if it's raining you should feel cold."
There is a long and noble tradition of Indian passive cooling techniques for designers to borrow from. The Mughals, who built the Taj Mahal and Red Fort, used water features to cool incoming air, and shaded courtyards and perforated screens to provide solar shading. "These techniques were known by the Mughals, not as engineering principles but best practice," explains Padmanaban.
Morphogenesis has designed several buildings that borrow from these ideas. It designed the Pearl Academy of fashion in Jaipur, one of the hottest parts of India where summer temperatures regularly top 45ºC and don't drop below 25ºC. The building is sunk 4m into the ground and has courtyards and water features that are shaded by the surrounding blocks. The partial earth sheltering helps reduce temperatures; air is drawn into the courtyards and cooled further by evaporative cooling from the water features. The cooled air is drawn up into the classrooms before passing outside. The building is shaded by perforated screens, a feature common on buildings in the state of Rajasthan, where the academy is located.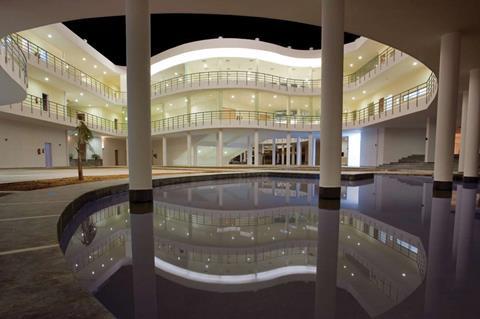 The building is built using local stone and features traditional ideas such as covering the roof with earthenware pots to reduce heat absorption.
Rostogi says these strategies add up to a temperature of 29ºC inside the building when it is 45ºC outside. The only air-conditioned areas are the library and dean's office, and this is needed for just two months of the year. Rostogi says such projects save clients money too. "A green building should not cost more - it should cost less and be cheaper to run," he says. "Saying a building will cost 10% more for a saving three years later is a hard sell." He says the Pearl Academy cost €25/ft2. A mechanically cooled building would have cost nearly double due to all the HVAC equipment, back-up power, high-performance glazing and insulation.
This approach has been recognised in an Indian-specific assessment method called Green Rating for Integrated Habitat Assessment (GRIHA). This recognises the five different climatic zones of India and introduces the notion of comfort relative to external temperatures. It also emphasises on local materials. GRIHA is now compulsory for all government buildings and is gaining acceptance in the private sector too.
Unfortunately these voluntary rating systems are unlikely to have much impact on the bulk of the almost 5 billion m2 of new housing predicted to be built by 2030. The I-GBC recognises this, and has been working on an addendum to the national building codes that introduces sustainability standards for all buildings. The addendum is a short cut, as the national building codes are only revised every 20 years. "The mission is to get the 90% of buildings that don't have ratings to become green," explains Jain.
A consultation on the addendum is about to be launched. It introduces minimum U-values for the building envelope and maximum window sizes to minimise solar gain. It also contains commonsense design guidance including the need for cross-ventilation in homes and insect screens so windows can be kept open at night, reducing the need for air conditioning. Low flow water fittings are stipulated and larger developments must include blackwater recycling plants.
There is a major downside to the addendum - it isn't compulsory, although Jain says local municipalities can make it mandatory. He adds the measures are simple and cheap and that people will adopt the guidance as it will save on energy bills and make developments more attractive to potential purchasers.
Driving change
These measures are worthwhile, but a fourfold increase in buildings by 2030 means India's carbon emissions are bound to increase. The country also lacks a joined-up approach to the built environment, so green buildings are located miles from public transport links. This means LEED Platinum-rated buildings tend to have basements full of cars. DLF is building a 16-lane expressway to link Cyber City to the nearby national highway taking most Cybercity commuters to and fro from Delhi.
To its credit, DLF is also funding an extension of the Delhi metro to Cyber City - it reckons this will encourage 50% of commuters to leave their cars at home. But the developer is planning more Cyber City-type schemes further out from Delhi. Quite how the national highway will cope with traffic from the 16-lane Cyber City expressway and yet-to-be built developments remains to be seen. The chances are that the Delhi fog is likely to remain a regular phenomenon for some time.
What makes an Indian LEED Platinum office?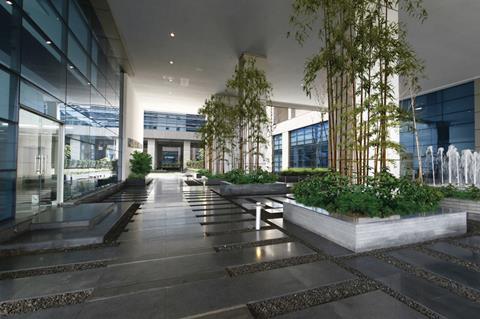 The Green Boulevard in Noida claims to be the world's largest LEED Platinum-rated building in the shell and core category. Developed and designed by The 3C Company, it also incorporates many of the traditional features espoused by critics of the LEED rating system.
The development comprises three blocks arranged in an east-west orientation. This means the narrow plan blocks take advantage of sunlight from the north, with the sun easily shaded on the south side. The service cores are on the east and west to limit the amount of glazing, as the low, hot sun associated with these orientations is the most difficult to control. The entrance is on the north side and includes water features to cool the air that passes into the public space between the blocks (right). This area also includes sunken courtyards that get natural light into the basement. The architect Design & Development, part of The 3C Company, says the public areas are 5-6ºC cooler than the outside.
The building is air-conditioned, but makes use of free cooling during the winter. Extract air passes through a heat exchanger to pre-cool fresh air, which helps reduce energy demand. There is a minimal amount of glazing to reduce solar gain. Internally, energy efficient T5 lamps and occupancy sensors are used. The solid elements on the facade feature insulated cavity walls. All water is heated by solar panels. The 3C Company says the building is 40% more energy efficient than an average Indian office.
One of the most impressive aspects of the scheme is the approach to water conservation. The developer has permission to extract water using boreholes, which is treated before being used. The permeable green areas around the blocks help with rainwater harvesting and there is a wastewater treatment plant with cleaned water used for toilet flushing.
International sustainability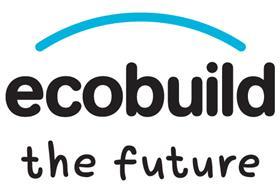 The Ecobuild event in London includes discussions of developments abroad on Wednesday 6 March 2013. To register to to www.ecobuild.co.uk/register and for more details of the seminar programme click here
Ecobuild India
Ecobuild is launching in Mumbai India, where the event will take place from Tuesday 16 April 2013 to Thursday 18 April 2013. For more details and to register go to www.ecobuild-india.com