Ten years ago the world watched two of New York's most iconic towers come crashing to the ground. Since then the industry has changed the way tall buildings are built in an attempt to make them terror proof. Building takes a look
The shocking images of the twin towers collapsing in a cloud of dust made it inevitable that tall building design would never be the same again. The emotional response was to make post-9/11 towers resistant to this threat. Inevitably the disaster prompted a deluge of investigations, reports and recommendations into how tall building design could be beefed up. But has it made much difference?
"We all expected that codes and standards would be changed all around the world in response to the attack," says Barbara Lane, director of Arup's fire engineering division. "This hasn't happened."
But there have been changes to tall building design says Lane, although this has been driven by clients rather than by legislation. "If you have clients who consider themselves a target they will go well above the regulatory requirements," she says, a sentiment echoed by Colin Morison, the technical director of the security division of TPS Consult. "It wouldn't be professional not to consider the risks," he says. "How much further you go is how much the client is prepared to pay for it." This means there has been a piecemeal approach to tall building design depending where in the world the building is located and what it is used for. There have also been some regulatory changes although on a very limited scale. So what impact has the disaster actually had on tall building design 10 years on from 9/11?
The targets
Any high profile, iconic tall building is potentially a target for terrorist attack whether it is in the States, the UK or the Middle East. That means most high profile buildings in key locations have been beefed up to resist attack. Buildings including the Heron Tower and the Shard (left and overleaf) contain measures to make them more resilient. High risk sectors including banking and sensitive government departments will bomb-proof their buildings as a matter of course. Clients are coy about saying what sort of attacks their buildings are designed to resist but these will include vehicle- and people-bomb attacks as a minimum. Some of these buildings are designed to withstand the impact of a plane, including the Barclays Bank headquarters at Canary Wharf, which was being designed at the time of the attack on the twin towers.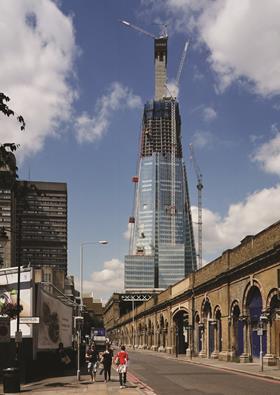 Structural design
The day after the attacks on the twin towers, work started on improving the structural design of tall buildings so these could withstand the initial impact of a plane and stand up long enough to get everyone out safely. "We had many projects at different stages of design so that was the moment to go back to the drawing board and see how these would perform post 9/11, then see how these could be improved," says Ahmad Rahimian, chief executive of structural engineer WSP Cantor Seinuk. WSP is responsible for the structural design of the Shard and the Freedom Tower in New York. "We got a phone call from [Barclays Bank] Canary Wharf asking us to find any way to make the building as robust as possible," says Rahimian's colleague Kamran Moazami. The firm was also asked to do the structural design for the replacement of 7 World Trade Center with the requirement that this had to be as resilient as possible.
The problem was that no one had done this before, so WSP had to work out how to make tall buildings resilient without it costing a fortune. Rahimian and Moazami worked for six months on the best way to do this. They decided the answer was to model buildings in 3D to see how they perform as a whole. The idea is to see how many structural elements can be taken out before the modelled building collapses. Enhancements include stiffer floors, better connections between structural elements and selectively fortifying structural elements so the building can deform but still stand up.
Concrete cores featuring thicker walls were another key step in making tall buildings more robust. Many buildings in the States, including the twin towers, featured steel cores because union rivalries meant that steelworkers refused to work with concrete workers. "Because using concrete wasn't straightforward, you had to have compelling reasons to do it," says Rahimian. "As concrete provides a lot of value to building performance it now makes it much more economical."
In New York, WSP's approach is now enshrined in legislation. New building codes were introduced two years ago and include requirements to improve the structural integrity of buildings, including structural strengthening and built-in redundancy. This is much more onerous than in the UK where the only change to Part A of the Building Regulations, which covers structures, is a requirement for a risk assessment.
High profile buildings in the Middle East are also designed to resist terrorist attack. Most are built from concrete which is inherently robust and fireproof. Some buildings go even further, such as the 1,000m high Nakheel Tower that is on hold. WSP did the structural design and the building consists of four interconnected quadrants. If one of these suffered a major collapse the other three quadrants would stay up and allow people to escape.
How much does this all cost? WSP says beefing up a building's structure is more about intelligent design than adding lots of extra material. It can add up to 2.5% to the cost of the building structure but this does depend on where the building is. Many buildings constructed in seismic zones already have to include built-in redundancy and be more robust, which means these cost very little more to make terror-proof.
Fire safety
According to Arup's Lane buildings should never rely on fireproofing the structure as a means of staving off premature collapse. "We don't support the contention that if the fire protection had stayed on the steelwork in the twin towers the buildings wouldn't have collapsed," she says. "Relying solely on fire protection isn't appropriate; the structural system must have some robustness." The National Institute of Standards and Technology's report into the twin towers collapse recommended that a denser fireproofing material should be used and this should stick better to the steelwork. This has been incorporated into new US fire codes.
There haven't been any 9/11 related changes to UK fire regulations. However fire engineering has taken off since 2001. Instead of a blanket application of fire proofing to a building structure, it is applied selectively where the building elements are most at risk. This means fire protection can go well over regulatory requirements in high-risk parts of the structure without adding to the overall cost of fire protection.
Wider and additional stairs is another specification that is now enshrined in US fire codes. Many UK clients also specify this "so they can carry out a total, rather than a phased, evacuation," says Lane.
Relying solely on fire protection isn't appropriate; the structural system must have some robustness

Barbara Lane, director of Arup's fire engineering division
Firefighting lifts have long been used in the UK and are now a requirement in the US. These can be used by firefighters to get quickly up to the fire site with their equipment, freeing up escape stairs for use by occupiers. Since 9/11 work has been concentrated on developing lifts than can be used by occupiers in fires. This takes the pressure off stairs and means people can be evacuated more quickly. The stumbling block to adoption has been drawing up relevant standards so these lifts can be used with confidence, an issue that is close to being resolved.
In the US buildings must also have separate water risers serving alternate floors to ensure there is always a water supply for the sprinkler systems.
In the Middle East tall buildings are built with the same features as those in the US.
Bomb resistance
Bomb attacks are far more likely than an aeroplane attack. Al Qaeda only resorted to planes on 9/11 because an earlier truck bomb in the basement of the World Trade Center failed to topple the building. The likelihood of a plane strike is even less now plane cockpits are locked off from passengers. Even though the UK had suffered from IRA bombs long before 9/11 the twin towers attack meant suicide bombers were a threat for the first time. "We had to completely reassess the likelihood of suicide bombs from pedestrians," says TPS Consult's Colin Morison, adding that 9/11 woke the Americans up to the risk of bomb attacks on their mainland.
Changes include moving building reception areas away from the main building where possible, X-ray screening of bags and access gates that only allow one person through at a time so terrorists can't follow members of staff through barriers.
Blast-proof facades of laminated glass bonded securely to a strengthened framing system are included on most high profile buildings to reduce the risk of injury from flying glass shards. Morison says going for a blast-proof facade, high level security and access control systems can add up to 2% to building costs but blast-resistant facades are only needed up to the 10th storey.
Why the twin towers collapsed
Although the risk of a plane hitting the twin towers would have been considered at design stage, the buildings weren't designed to withstand the impact of a Boeing 767 loaded with passengers and fuel. Structurally the buildings performed extremely well as both towers stayed standing after the initial impact. Each tower featured closely spaced perimeter columns with a large amount of built-in redundancy, which is the reason the towers stayed standing.
The impact dislodged fire protection which left steelwork exposed to the heat of the fire. Additionally the building was subjected to a fire load - hundreds of tonnes of jet fuel - which it wasn't designed for. The impact of the planes severed the pipework supplying the sprinkler systems. The heat of the fire significantly reduced the load-carrying capacity of the structural steelwork which meant the columns in the steel core were crushed by the weight of the building above. The floors sagged as they were attached to the perimeter columns and pulled these inwards, causing the building to collapse. Once the collapse started the huge dynamic loads involved meant it was unstoppable.