With 25-year leases expiring all over the City, this was meant to be a boom time for commercial development in central London. So why are so many of the most prestigious schemes either on hold or sitting empty? Building reports
It is now 25 years since the "big bang" City reforms that prompted the financial services explosion of the eighties and nineties. So with up to 70 million ft2 of office leases due to expire within the next five years, central London ought to be in the midst of a development boom. And to glance at it, it is - over the last year, work has started on the Cheesegrater, 5 Broadgate and the Walkie Talkie, as well as numerous less high-profile schemes. The Shard too is nearing completion, and the Heron Tower is open for business, with more than half of the space under offer.
But, alas, this is not the whole picture. The shock announcement last week that blue-chip developer Hammerson is leaving the office market, just weeks after the loss of a key tenant for Principal Place on Shoreditch High Street, has capped a run of depressing news stories for the epicentre of UK commercial construction. With Arab Investment's iconic Pinnacle development back on hold, and lauded completed schemes such as Minerva's Walbrook development sitting empty, the verdict of consultant EC Harris last week was no surprise - that expectations of an office building boom must be deferred. It said that growing caution means there is a "very real prospect that the lease-break driven redevelopment cycle could fall away very quickly". So what is at the root of this, and how bad will it be?
A bad time to move
The dip in confidence has been most obviously prompted by the ongoing euro crisis, with the market wary and beginning to doubt that the predicted rush of new lettings will materialise. Minerva's difficulties at the Walbrook have made it clear that even with a great product in a great location, long lets at good prices can't be guaranteed in the new age of austerity. Not only do big potential tenants see an uncertain economic environment, making them less likely to move, but finance houses such as Schroders, which reportedly pulled out of signing a lease at the Walbrook in December, are thought to be wary of how a big move to swanky new offices might be seen by the wider public. Neill Morrison, construction partner at Drivers Jonas Deloitte, says: "If there was an announcement tomorrow that RBS or Barclays had taken a huge new office, there would be an outcry, people would say that bankers are out for themselves again.
"There's a sense that even if there's a solid business case for a move, that it's just not good to be seen to be doing that right now."
If there was an announcement tomorrow that RBS or Barclays had taken a huge new office, there would be an outcry

Neill Morrison, Driver Jonas Deloitte
The consequence of this lack of confidence is that it is virtually impossible to find funding for any development of significant size - say of more than 200,000ft2 - without a reliable pre-let. Peter Rogers, a director at both Chelsfield and Stanhope, says: "The issue is money. There's plenty around but it's very risk-averse. You can fund things if you've got a good deal, but that means you need a pre-let, with a solid tenant, and in a prime area just in case something goes wrong."
It is not only banks that are being cautious. With the exception of a small minority, including Land Securities and Argent even those listed developers with money to build are not starting any new speculative schemes right now.
EC Harris' Richard Taylor says that despite a theoretical central London construction pipeline of £12bn over the next four-to-five years, all of these factors add up to fewer projects than had been expected. A potential pipeline of 53 million ft2 of space will end up more like 37 million ft2 over four years - which is no more than the long-term average. "The 2015 opportunity is not going to be of the same magnitude. The projects aligned to that huge turnover in leases now can't come through in the deadline originally planned."
His view is backed by Mark Castle, construction director at Mace. "The market has changed in the last six months, there's been a loss of confidence… The developers are taking their foot off the pedal."
A different kind of office
However, there are opportunities. Instead of big flagship lets, the market is now expecting demand to come through primarily for smaller projects and refurbishment schemes. Half of all schemes in the central London pipeline are now under 250,000ft2 in size. With just 12% of the city construction pipeline in refurbishment schemes, Taylor says those quick to bring forward intelligent refurb schemes could be very successful.
Those firms that may be looking to move are often wanting to reduce rather than increase their floorspace requirements, in order to trim costs and adapt to the decreased office needs of a more mobile workforce. Gerry O'Brien, partner at engineer AKT II, has been working with architect AHMM and developer Derwent on a "white collar factory" concept - a much more basic, flexible design of office space. "It's about identifying the key things you need and giving the client the bare bones, so they can make it whatever they want afterwards."
The pessimism should not be overdone - compared with the rest of the UK, the central London construction economy is still buoyant, with the capital seen by foreign investors as a safe haven in difficult political and economic times. "It's been said that whenever there's a mortar fired somewhere in the Middle East, then there's another person investing in property in London," says Rogers. "There's some truth in that."
100 Bishopsgate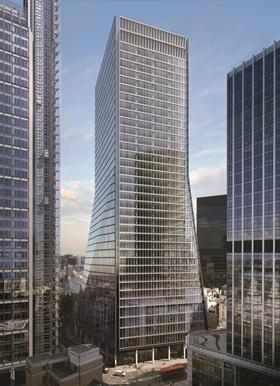 What is it? 40-storey office tower
Client Great Portland Estates (50%), Brookfield Office Properties (50%)
Architect AMWB - a collaboration between Allies & Morrison and Woods Bagot
Status GPE originally won planning for the scheme in May 2008, but the developers will not begin work without a "significant pre-let".
100 Bishopsgate is a classic case of a scheme conceived pre-recession that has gone nowhere fast since - despite a prime location in the heart of the City and a boxy design that consciously and economically maximises floor space.
The project first won planning in May 2008, but demolition of the pre-existing low-rise office buildings only began last spring. The developers are currently understood to be constructing up to the groundworks phase of the building, but will not continue construction beyond ground level until they secure a pre-let.
GPE is not holding its breath. Its chief executive Toby Courtauld told Reuters in November that securing a sufficiently large pre-let would "be a tall order in the near term […] by near term I mean in the next six to 12 months."
GPE originally owned the whole project, but sold half its stake to Brookfield Office Properties in March 2010. GPE said last month that it was in talks with potential investors again with a view to once more halving its stake in the scheme.
Bishopsgate Tower (The Pinnacle)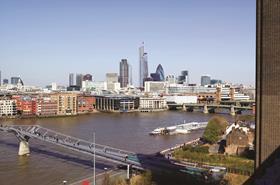 What is it? £800m 63-storey tower including more than 90,000m2 of office space and 2,500m2 of retail units on the ground floor
Client Saudi Economic Development Corporation (Sedco)
Development manager Arab Investments
Architect Kohn Pedersen Fox
Contractor Brookfield
Status Construction on what would be the tallest tower in the City has been on hold since January, when Arab Investments closed the site due to a lack of development finance.
This is the second time construction on the 288m Bishopsgate Tower has been put on hold. In 2011 work stalled while Sedco tried to secure the next stage of funding for the scheme. It injected new equity and agreed a deal that included a £500m debt facility from a group of lenders including HSBC and HSH Nordbank. But the deal was reliant on the developer pre-letting a large part of the tower to lower the scheme's risk, which it has not yet done.
Sedco has now decided to bring further equity into the scheme in a bid to shore up its financial position and bring forward development finance. Talks have been ongoing between Sedco, Arab Investments and HSH Nordbank over the best way to find the funding to resume, with a decision expected shortly.
An Arab Investments spokesperson said the project still faced the "same problems as last year".
"They still need a pre-let in order to unlock the development finance," the spokesman said. He could not say how long the project would be on hold.
Initially the tower was expected to be completed in 2013, but that has now been put back to 2015.
Principal Place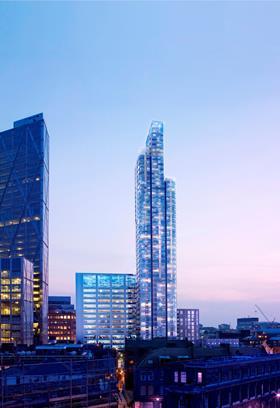 What is it? £290m office-led scheme, including a 16-storey office building, 243-apartment residential block and 56 affordable housing units
Client Hammerson
Architect Foster + Partners
Status Construction has been put back by at least eight months after proposed anchor tenant, law firm CMS Cameron McKenna, pulled out of the scheme in January.
This year looked set to be the one in which Principal Place finally got going. The scheme, over four years in the making, had a substantial pre-lease heads of terms in the bag with CMS - for 200,000ft3 of the scheme's 591,000ft3 - and work was pencilled in to start on site in the spring. The firm was also at an advanced stage of procuring a contractor - with the shortlist down to Skanska and Sir Robert McAlpine.
Then CMS terminated its pre-lease negotiations, citing the "current uncertainties in financial markets". It has opted instead to sit tight on its existing lease - which expires in 2015 - before reassessing its options. According to Hammerson's subsequent City updates, this has put construction back by at least eight months. However the developer has continued the procurement process for a contractor - with a preferred bidder set to be appointed soon.
The Principal Place setback marks a turning point for Hammerson. The developer announced last week that it intends to leave the office market entirely to focus on the retail sector and will look to sell its office assets over the medium term. This means Principal Place will be its last office-led scheme for the foreseeable future. But a Hammerson spokesperson argued this decision "was not a call on the office market", but rather a choice in favour of greater specialisiation. The spokesperson added that the developer was hopeful the residential element of Principal Place could get moving more quickly as there was "a lot of interest" from housebuilders and residential developers.
Follow Building at Mipim
For more updates on the London and international property markets, follow the Building team out at Mipim next week
Emily Wright @emily39
Joey Gardiner @JoeyGardiner