When it comes to school building work, the construction industry has been tasked with doing 'more for less', but as the economy picks up is it time for a rethink?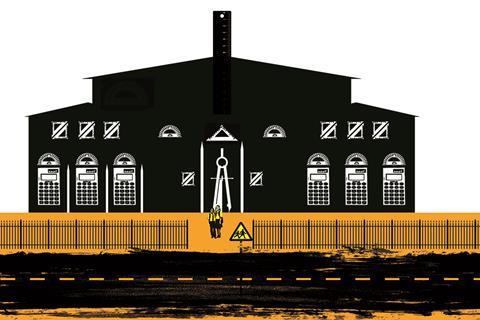 The shortfall of school places in England, and the thousands of school buildings in stages of disrepair, are twin problems that the country has faced for over a decade. And despite the billions of pounds that have been ploughed into trying to address this crisis, the problem is far from being resolved.
When the previous government's £55bn Building Schools for the Future programme was cancelled, back in 2010, two thirds of the UK's secondary schools were without investment - a fact that has led to a deluge of applications for its much smaller-scale replacement, the Priority Schools Building Programme (PSBP). In addition, population expansion means there is a dire shortage of school places, particularly at primary level. Estimates produced in 2012 indicated that an extra 800,000 primary places would be needed by 2020.
These pressures, combined with an agenda to cut public spending, were behind the current government's radical approach to school building - a target to cut 30% from the capital costs of schools by using a greater level of standardisation in both design and procurement. But although those pressures have not gone away since the new approach was announced three years ago, the economy is changing rapidly. And there are signs that this is leading to fresh problems in the drive to replace and expand the country's schools.
Some contractors - who were prepared to invest in schools solutions at cost in the early days of the programme - are beginning to claim that the tight margins are no longer viable given price rises. The highest profile example has been Bam, which handed back a package of around £50m worth of schools to the Education Funding Agency (EFA) this spring after failing to reach an agreement on price.
At the same time, suggestions are emerging that the standardised techniques intended to bring down cost are not being fully exploited in practice.
So what is the reality behind this supposed new era of school building? Here we investigate whether it is working as its advocates intended, or whether revision is needed to deliver the schools the country urgently needs.
Rates of change
Concern over the viability of the cost of building schools centres on the main contractor framework being used by the EFA, the government's delivery agent for schools and the biggest single client for school building work.
Firms were appointed to the framework, which is worth up to £4bn and succeeded a previous deal, in November 2013. Some contractors are now complaining that prices for materials and suppliers have risen so steeply since the original bids that the rates they bid at are untenable for carrying out work.
"We did bid those rates, and we thought they would be viable", says one contractor, who does not wish to be named. "But the reality now is very different."
The situation is being exacerbated by the fact that other sectors in the building industry, such as commercial and leisure, are starting to offer higher areas of return. According to some sources this can cause reluctance from parent companies to bid for too much schools work.
They fiddle with the PSBP batches, and it may make them slightly more attractive. but in the end, the problem comes down to the rates

Contractor
This appears to be borne out by the number of contractors bidding for some of the recent batches of capital funded PSBP work released to market through the framework. Building understands that three batches failed to attract any interest when put to the contractors on the framework. Two of the batches covered work in Lambeth and Havering, the third could not be confirmed as Building went to press. Some other recent batches are understood to have been awarded to the sole bidder.
In cases where batches have failed to attract interest, the EFA has usually taken them back and repackaged them in consultation with contractors to make them more appealing - by grouping the schools differently, or adjusting the timing of the release to market. But this inevitably slows the programme down, and even then does not necessarily yield an appointment, as the Havering example shows.
One contractor says: "They fiddle with the batches, and it may make them slightly more attractive. But in the end, the problem comes down to the rates."
The rates offered under the framework track inflation in the form of the public sector index, so in theory prices can be adjusted to take account of rising costs. However, some contractors argue that the market is moving so rapidly that even when rates are adjusted, these are being outpaced. One says: "There's always a lag. The rates go up, and then the index goes up."
Contractors argue that the viability of the rates being offered is also being affected by the growing disparity of costs between building in London and the South-east, and elsewhere. The EFA applies a "location factor" to work to take account of regional price differences, but these rates were set several years ago and contractors argue they now do not reflect market realities. An example given by one source was the difference between the London location factor, approximately a multiple of 1.2, and outer London, a factor of 1.11, which the contractor argued makes the outer London schemes unfeasibly tight.
"The difference on the ground is between the South-east and elsewhere, not inner and outer London," they said. "There might be a slight difference, but it's not 9% cheaper to build if you're near a different part of the Thames."
Mike Green, director of capital at the EFA, says that he hears "a mixture of things" about rates from the framework contractors, and points out that the EFA has already made some adjustments. However, he says that he does want "to maintain a bouyant market" and is always looking into the rates offered. He says: "My job is to get value for money, so it's a question of finding the bite point; I don't believe we're a million miles off."
There are several other factors which some contractors say are hitting margins on schools work, which have only emerged through experience of delivering to new schools standards.
One is the demands of the EFA's facilities output specification (FOS), which details the new standards to which schools must be built. One framework contractor says: "You only realise the impact when you start to build. The FOS is more demanding than standards we had before, and some specifications - particularly on daylight and ventilation, for example - are incredibly precisely modelled.
"Our concern is that they only lead to a marginal difference in experience, which can be disproportionate to what you need to do to meet them - like allowing a fraction more daylight by raising the height of the whole building."
There is also a need to factor in the additional cost of meeting the London Plan requirements for energy efficiency on some schools in the capital, which go above the EFA's own requirements.
Standardisation, not as standard
Despite these concerns, there is emerging evidence that one of the central tenets of the new school building approach designed to drive down costs - standardisation - may not be being used to its full potential.
The use of standardised approaches – for design, procurement, and materials selection – was a key recommendation of the James Review into school building, and one on which the government argued the logic of its "more for less" school programme.
Although there was vociferous criticism of the principle – particularly on design – from some outspoken critics, large parts of the industry embraced its potential, investing in developing standardised models and processes in the hope of winning a pipeline of work.
The impact of standardisation on costs in practice was established by EC Harris and Mott MacDonald in a study on the first 20 schools on PSBP to reach commercial close. The study, findings of which have been seen by Building, shows a trend for costs to go down with an increased "standardisation factor" – calculated by assessing the degree of standardisation used in building blocks and components.
Marcus Fagent, head of education at EC Harris, says: "When we plotted standardisation against price, there was a very strong correlation. This assessment was made on a relatively small sample set and the PSBP contractors have developed the art of standardisation to different degrees, but it remains our view that the best performing contractors are driving efficiencies from applying standardisation."
There are also examples in practice of a standardised approach making it possible to achieve a large-scale school building programme. Steve Cummings, an associate architect at Pick Everard, which is working on a huge £250m programme to build and renew schools in Hounslow, won through the Government Procurement Service framework, says standardisation is central to the scheme's delivery. "We worked very hard with the borough over 18 months to standardise as much as we could to deliver economies of scale," he says.
However, large scale programmes from individual local authorities such as this are relatively rare. Cummings' colleague, partner Alastair Hamilton says that, although there is steady demand for standardised approaches in relation to design, it is not what you would expect given the pressure to deliver places quickly. "Clients still want some elements of bespoke design, but what they may not realise is with standardisation you can personalise buildings."
I don't want 500 or 600 identical schools. I've always said i don't want standardised schools, but I do want standardised design components

Mike Green, EFA
When it comes to the EFA's procurement, the market expectation was that having a single, central client would help drive take up of standardisation, not only because the EFA itself was advocating standardised principles, but also because standardised solutions developed with one batch in mind could be rolled out across other batches.
There is evidence of standardised approaches being employed on EFA projects, albeit not to the degree that led some to fear "identikit" schools. The EFA's baseline designs, issued as examples of designs that would meet its specifications, have often been taken as start points by contractors, but they have layered their own approaches on top of this.
Michael Buchanan, education director at Galliford Try, says: "It's not to say we're not using standardisation, but sometimes its difficult to use more rather than less, because of site constraints. So people are often reverting to a design that looks bespoke but has standardised components, and where supply chain agreements are in place."
The EFA's Green says the level is broadly what he expected. "I don't want 500 or 600 identical schools, and anyway, the sites are too difficult. I've always said I don't want standardised schools, but I do want standardised design and components."
However, these approaches appear to be more in evidence on capital funded schools than on PF2 batches. The North-east batch, recently awarded to Miller, for example, was won by a traditionally constructed two-storey brick design.
One source working on PSPB says that they believe the nature of PFI deals – whereby the contractor is responsible for ongoing maintenance costs – is leading bidders to rely more on traditional solutions because they fear cheaper approaches will lead to greater risk of liability for repairs further down the line. Contractors on PFI projects have more freedom to spend more on initial costs, as the price they give is assessed on its value over the life of a contract, not just on the capital element.
Green acknowledges capital cost is "more of a primary factor" in selection on the EFA's capital batches than the PF2. He says: "It will be really interesting to see the difference in the two approaches, particularly if you have the same contractor."
Mark Roberts, education lead at Interserve Construction, which has been appointed preferred bidder on the Herts, Luton and Reading PF2 batch, says that the contractor's FM team's knowledge of the components and materials which are "resilient enough" to be used in schools has informed its choices on HLR, and says that this will be "repeatable and scalable across all of the schools in the batch". In terms of wider application, he says: "We also take that knowledge and use it to bring a standard kit of parts approach to all schools, using them as long as there's not a significant cost premium in doing so. It's not quite as clear-cut as saying we would on PFIs and not on others."
Spare parts
However, Roberts adds that he believes education could get a greater degree of standardisation by learning from Procure 21+, where contractors were consulted by the Department for Health to come up with standardised, volumetric procurement across all projects under the framework. "It's the next stage in getting value out of standardised components," he says.
Even with the market apparently favouring standardised components more than whole standardised solutions, the take up may increase during the second wave of the programme (PSBP2), on which schools are currently bidding for inclusion. This wave is likely to be based more around block replacements or extensions rather than whole new builds.
Alan Coole, head of service at East Midlands Property Alliance (EMPA), which manages the Scape framework, says most of the demand he has seen for standardisation is for extensions, particularly in primary schools where there is a pressure to add places quickly. "Generally we are adding between two or four classrooms," he says.
Using standardisation in this respect could also help PSBP2 stack up better financially for contractors - there is already concern in the light of the current pricing issues, that smaller projects, with more refurbishment, will be even less attractive to market.
Green says: "There is still more value to be driven from standardised approach. We're all in this together."
The EFA is currently finalising its procurement route for PSBP2, and is likely to consider approaches which favour this kind of component standardisation. But in doing so, and in considering whether or not to increase its costs for work, some in the sector believe it should also take heed of the early warning signs that, taken too far, the extremely tight costs on schools might be storing up a costly maintenance burden for the future. "Quietly, there are many of us who fear that these new schools are not as solid, and there may be a bill to pay in 10 years' time," says one project source.
Given that the government is already grappling with a huge cost equation on schools, that's an extra headache it should be keen to avoid.