As businesses globally gear up to invest hundreds of billions in artificial intelligence and machine learning, what are the opportunities for construction? The industry's largest consultancies tell us how they think the technology will help their business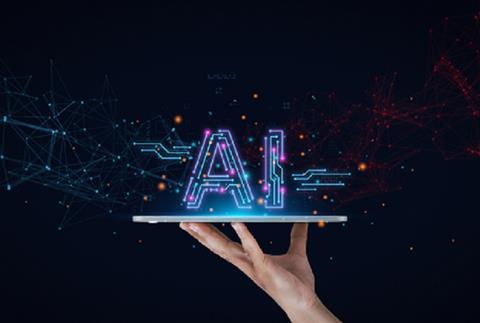 Nobody will have been able to ignore the buzz about artificial intelligence and machine learning over the past few months.
The emergence of AI into the mainstream, due to heavy media coverage and the availability of free generative tools such as Chat GTP and Google's Bard, has naturally made business leaders think about its potential to improve their organisations.
With the computational power of AI doubling roughly every three and a half months, many of the world's largest firms are keen not to be left behind. Indeed global spending on AI, including software, hardware and services, is forecast to more than double over the next three years to over $300bn, according to the International Data Corporation.
But where is construction on this journey? What are the potential advantages of the AI boom for the industry? As part of Building's annual Top 150 Consultants survey, we asked the industry's largest consultants for their views.
>> CLICK HERE FOR THE TOP 150 RANKINGS AND FULL DATA
>> Analysis: The choppy economic waters may be calmer but we are still far from dry land…
A total of 125 firms, including engineers, project managers, architects and cost consultants, told us how important they consider AI and machine learning to be for their business transformation, and explained how they think it could help.
The first thing to note is that the firms are taking it all very seriously. Three in four respondents (75%) say they think AI and machine learning will be "extremely" or "very" important to the transformation of their businesses over the next 10 years. More than one in four (28%) think it will be extremely important.
How important do you think AI and machine learning will be to the transformation of your business over the next 10 years?
Just under a quarter (24%) were less enthusiastic, saying it would be "slightly" important, while only 1% (two firms) say they do not think it will be important at all.
So, in what areas exactly are firms eyeing AI-driven change? We asked our pool of consultants "in which areas of your business do you think AI and machine learning will have most impact?" Again, we had responses from 125 companies.
To give a quick idea of the breadth of responses we generated a word cloud showing the frequency of words in the responses (see below), the bigger the word type the more frequently it was mentioned. Design was clearly the word most frequently mentioned.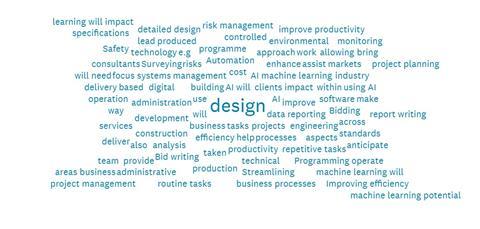 Below are some of the responses from firms grouped into major areas of impact:
Design
Arup: "The potential of AI is huge, and it is experiencing exponential growth, with significant impact anticipated in engineering design and advisory services."
Pick Everard: "AI and machine learning have potential to positively impact design coordination. The introduction of BIM has set the industry on the right path, however growth and improvements in AI and machine learning are likely to further enhance the efficiency of design – helping to reduce/remove clashes, identify and mitigate safety risks and more accurately programme and cost schemes at early stages in the project lifecycle."
Scott Brownrigg: "Architecturally the most benefits we perceive are in the ability to optioneer very quickly and provide design protoypes that can be reviewed more efficiently."
Ward Williams Associates: "Generate optimised designs, evaluate different scenarios and simulate construction processes. This can lead to improved design efficiency, cost reduction and better resource allocation in construction projects."
Bid writing/bidding
Frankham Consultancy Group: "AI and machine learning have the potential to revolutionise bidding, accountancy and surveying within the business. These technologies can improve bid accuracy, automate financial processes, enhance financial risk management, streamline surveying tasks and ultimately drive efficiency and productivity."
Modus Construction Consultants: "Bid writing, cost planning, quantification of works, preparing client reports."
Automation of tasks /efficiency
CPC Project Services: "There are two key areas for our business where AI and machine learning will be having an impact: 1. Internal operations - we are utilising AI to bring in more automation to our internal processes, eg our financial processing systems. 2. Product development - we are developing apps to support our clients to maintain and operate their infrastructure needs."
Gleeds: "AI will automate mundane tasks and facilitate data-driven decisions, helping the business to achieve a data-driven approach and allowing clients to deliver projects faster, cheaper and more efficiently – that's the impact it should have."
Gardiner and Theobald: "We believe that AI and machine learning have the potential to augment and expand traditional consultancy services as well as improve productivity and efficiencies of administrative and repetitive tasks."
Surveying
Meinhardt UK: "Producing specifications and coding tools for feasibility surveys."
Frankham Consultancy Group: "AI-powered drones and tools may assist in surveying by collecting and analysing data, enabling precise land surveying, mapping and site inspections, saving time and providing valuable insights for project planning and design."
Data gathering and analysis
Thomson Gray: "Gathering and usage of data for future projects for designing, costing and delivery."
Hilson Moran: "We are using the technology in our emerging data analysis of operating buildings to improve energy efficiency and reliability."
Artelia UK: "We are now starting to leverage AI developments across service delivery using the power of data capture and analysis to predict project cost, risk, programme, carbon emissions. AI will undoubtedly transform our business and we are rapidly upskilling people to capitalise on the opportunities."