London developers are, says the world-renowned architect. But that's not going to stop her increasing her presence in the UK and following up her aquatics centre success with tall buildings in the capital. She talks about work, high points and low - and why her clubbing days are over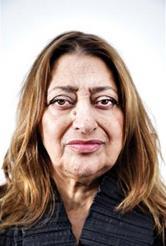 'I know people are scared of me," says Zaha Hadid, leaning forward and avoiding eye contact. "But I don't want them to be."
Then she turns with a look that is both deadly serious and mischievous. "No one will ever come to me and say 'I don't like you' or 'We are scared of you because of x, y and z'. I have asked people so many times what it is about me and they won't say. But I think it's because they are scared they can't control me. Developers can deal with a man like me, but not a woman. If you are a woman and you are strong, you are difficult. And men don't listen to me. It's genetic, I think. Men don't listen to women."
So how does Hadid get over this problem? She breaks into a rare smile and her eyes brighten for just a second: "I shout at them. I give them hell!"
Of course she does. Intelligent, ruthlessly honest, direct and to-the-point, Hadid is not afraid to give one-word answers, she smiles sparingly and laughs only when she is really amused. Her sense of humour is desert dry, her own jokes so deadpan, it is almost impossible to tell whether she is being funny or utterly serious.
Today, the 60-year-old, Iraqi-born, world-renowned architect is sitting in the centre of her critically acclaimed Chanel Mobile Art pavilion in Paris, the day before its opening. She is wearing a black, ruffled, structured dress and is surrounded by two matching Prada handbags, three mobile phones and a half-metre long roll-out makeup case. "I buy these things in America," she mutters, flinging open the case and fishing out one of five Tom Ford lipsticks for a last-minute touch-up. "They are so
useful for organising cosmetics and things like this."
A quick hair brush later and Hadid is ready to share her thoughts about moving into the London commercial market, her career highs and lows, and how, over the years, she has given up "everything I enjoyed".
London calling
The last six months have been mixed for Zaha Hadid Architects. Although the firm posted a pre-tax profit of £4.1m in February - triple what it was the year before - it
was badly hit by the downturn in Dubai and, more recently, the political unrest in North Africa. Millions of pounds worth of schemes in Dubai have been halted, as have three projects in Cairo, and the practice's conference centre scheme in Tripoli, worth £250m.
Clearly, something had to give: "In architecture in this day and age you can't predict what will happen. We have to be very careful and we have a lot of work finishing up at the moment. Then, with what happened in the Middle East and North Africa, it might take a while to pick up and I can't wait. It would be different if we were 20 people. I can take a risk and wait. Maybe wait for a year. But 450 people - no."
So the practice cut the workforce by 100 last month and now Hadid has 350 staff, all of whom have been working on huge commercial projects and skyscrapers across the world - China, Singapore, Egypt, Dubai … The question now is where to direct the talent. While China is high up on Hadid's list - "I may think about reorganising people by setting up an office there" - London is at the top. "Yes, I am looking at London," she says. "I have lived there for 40 years. There needs to be a development strategy in London to make sure there is a successful juxtaposition between the old and new stuff. We need masterplanning and I think tall buildings should be part of that."
Patrik Schumacher, partner in Zaha Hadid Architects, says: "I think the UK is ready for this. Look at what's going on now in east London, in particular beyond Canary Wharf and Poplar. These are all the sorts of projects we have thought about experimenting with and creating, the sorts of things we have been doing in Singapore and China and Dubai. We know London and how to deliver projects that will work with the landscape with an added twist. We will be looking into commercial and residential tall buildings with lots of amenities."
If you are a woman and you are strong, you are difficult. And men don't listen to me. It's genetic, I think. Men don't listen to women
Hadid doesn't agree with recent arguments from people such as Ken Shuttleworth, the architect behind the Gherkin, that we are about to see the death of the tall building: "No," she says simply. "No. We haven't even seen the start. There needs to be a strategic decision because there is so much pressure to have high density in London and if you don't build tall, then buildings are very low and dense on the ground and you have no open space and less air. Personally I think it's better to grow tall but there needs to be a masterplan so it works with the skyline."
So does she think London is ready for the Hadid treatment? "Oh, well, I don't know. There are lots of great developments in London. I think the Shard is fantastic. But we don't do anything the same so everything would be a surprise." As to where she would be looking to work, Hadid shrugs before saying that the south and the east of the City might be a good place to start: "There are lots of areas of London that need attention. Southwark is still not properly developed and it should be. That area, I think, has so much potential. Even London Docklands. That could be a fabulous place to live."
However, her reputation precedes her, which is a problem for her London plans: "I think developers in London are scared of me," she says. "But why? They should be able to deal with it."
The good and the bad
Hadid is best known in the UK for her aquatics centre for the Olympic Games, (she hates the temporary stands but "on the inside it will look beautiful"), and the design she has come up with for the Central Bank of Iraq in Baghdad. But her press coverage hasn't always been favourable. She certainly doesn't cherish the memory of Cardiff Bay Opera House, her 1995 project that collapsed after failing to gain support from local councils, and after a media battering that she still resents. "It was a very bad time," says Hadid. "It wasn't our fault, it was the nature of the work and I thought it was a very unfair, unjust experience. I remember very clearly that I had to make a conscious decision afterwards not to let it all get to me to the point where I couldn't move on. Because that could have finished us. We had no work, no money. It was an awful time."
She did move on, of course, and one high point has been winning the Stirling prize last year for the Maxxi national museum in Rome - after three years of being shortlisted but failing to triumph. Hadid was described that night as the "Meryl Streep of architecture": always shortlisted, always worthy, but never a winner - until now. "It was very exciting to win. I had no idea and it was a huge surprise and very, very important to me. And as for Meryl Streep - I have seen Mamma Mia and she is a great actress, though I prefer some of her earlier work."
All smoking, all singing, all clubbing
Hadid doesn't really do "relaxed" but she does open up and she softens slightly. "Not everyone has to like what I do but I think at this stage of my career, for someone to dismiss it is wrong. I am always irritated by fellow architects who say bad things about me as I think it is unprofessional. I learned when I came from Iraq to the UK that, as a foreigner, you have to wait for people to accept you and then you have to accept them back. People need to be more flexible generally."
And what about an insight into the life of Zaha? What's the first thing she does when she gets up in the morning? "I pick up the phone. I call the office. Just in case." Really? "OK, I have a tea sometimes maybe. Only ever peppermint. I don't drink coffee any more. Coffee and cigarettes were my biggest vices.
I gave up 10 years ago. There was a period, though, when I was in the office drinking cappuccinos and smoking all night long because I wouldn't sleep until 5.30am. I used to call my friends in New York and when they went to sleep I would call my friends in California. And I used to sing. I loved it. I don't even sing in the shower now. I used to go clubbing and dancing all the time but I stopped that too. I stopped everything I enjoyed. I think I just got too serious."
Inspiration
Hadid may still find it a struggle at times to get men to listen to her but her success, and world-wide recognition, means she is an inspiration to many young women, especially those who want to be architects: "Someone said to me years ago: 'You realise you are a role model?' And I didn't. I think that now it's becoming more clear when I go to give a lecture and I have a huge number of women coming to me for assurance that it can be done."
Is she proud to have such an influence on young women's lives? "Yes, I am. It's fantastic. But I want to be seen as an architect - hopefully a good one - rather than as a woman. If people say to me: 'You're OK for a girl', I reply with something rude. Always."
Quickfire questions
My most prized possession is … I have no idea. I suppose all my drawings
My last meal would be … Peking duck in Beijing
I love … beauty
I hate … lazy people, hypocrites, opportunists
I will always regret … not driving. It would have liberated me. People say: "But you would have such bad road rage you would be killed"
Favourite film … I have a lot. Blade Runner
I wish I had invented … something. Anything. Something useful so I could retire