The latest cost overrun in the construction of nuclear reactors at Hinkley Point in Somerset, and fears of a delay in commissioning, have led to questions being asked about the viability of this and future projects.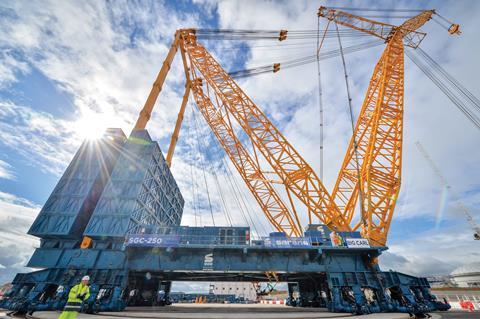 Yes folks, it's Groundhog Day. Weary observers of the international nuclear industry could have been forgiven for feeling an uncanny déjà vu at the late September announcement by French power giant EDF of a near £3bn cost overrun on its two huge under-construction reactors at Hinkley Point, Somerset.
Why? Each of EDF's four attempts at building similarly designed reactors have been delayed and over-budget, with its plants in Finland and France not yet operational more than a decade after work on each began. This project has a similar history: when EDF first started promoting this scheme in 2008, the government priced it at around £4bn, for completion by 2017. After last month's announcement, the price tag is up to £22.5bn.
"The French tried to design out safety risks by building this hugely complex machine. The upshot is it's generally understood to be too complex to build"

Dr Paul Dorfman, UCL
However, this time, says EDF, it'll be different: lessons have been learned, particularly from the construction problems besetting the French reactor at Flamanville. While there are increasing risks of a delay, the firm says it is still on schedule for Hinkley to generate power in 2025. Meanwhile, it says the cost increases are due, primarily, to unforeseeably difficult ground conditions rather than design or build problems.
Unsurprisingly, many in the industry remain sceptical about delivery of this undeniably impressive megaproject, amid signs the economic climate could be turning decisively away from the technology. Despite this, the government has pushed ahead with a consultation, closing this month, on how to fund further projects. So, what is really happening down at Hinkley, and what do these cost increases do for the chances of further nuclear power projects once Hinkley is done?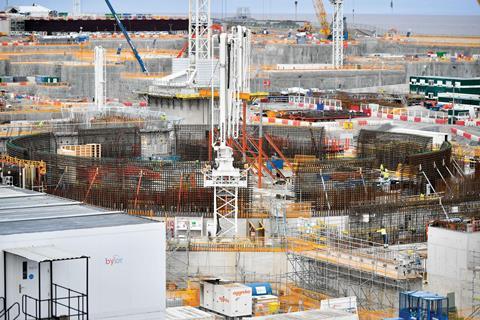 Shaky ground
EDF's statement laid most of the blame for forecast cost rises of £1.9bn-£2.9bn on "challenging" ground conditions "which made earthworks more expensive than anticipated". But it also said revised targets and the design tweaks required by the UK nuclear regulator had contributed. Clearly, ground conditions can be a huge issue in a scheme requiring the excavation of 2.3 million m3 of rock across a site the size of 240 football pitches.
A statement by EDF said faulting in the mudstone and limestone rock underlying the site was "more extensive than originally envisaged", requiring "additional excavation, additional ground nailing and additional concrete".
"Baseload or firm power remain the fundamental of the energy network. We have a fleet of nuclear power stations which are all going out of service – they need replacing"

Tom Greatrex, Nuclear Industry Association
Notwithstanding all this, EDF said, it had hit its June target for completing the foundation (or "common raft") for the first reactor, and remained on course to complete foundations for the second by its June 2019 deadline. Tom Greatrex, chief executive of the Nuclear Industry Association, says the cost rises, while challenging, should be seen in a wider context. "When you're doing these huge projects there is always a big difference between the desktop exercise and the reality that you can't exactly predict," he says. "These challenges exist in all infrastructure projects."
Of course critics say the relevant context is actually EDF's other power station projects. The reactors planned for Hinkley will be the fifth and sixth built by EDF to a pressurised water design known as EPR. Only two, both in Taishan, China, are operational, and even these took twice the expected time to build. Nuclear critic Dr Paul Dorfman, senior associate at UCL's Energy Institute, says the problems are simply "part of a pattern of increasing delays and cost overruns that happen in all EPRs. "The French tried to design out safety risks by building this hugely complex machine," he says. "The upshot is it's generally understood to be too complex to build."
EDF of course rejects this, as does the NIA's Greatrex, pointing to the fact the Taishan EPRs are operational. "It's not uncertain and unproven," he says, "we've got two generating power stations".
EDF also denies any implication Hinkley is suffering from the same problems that hit the yet-to-open plants at Olkiluoto and Flamanville, both of which suffered from faulty parts and construction failures.
A spokesperson said: "This is very very different indeed from Olkiluoto and Flamanville. We've learned those lessons."
The spokesperson cited as an example the planned extensive use of factory prefabrication in the project of large and critical elements designed to avoid quality problems stemming from on-site construction exposed to the elements. To this end, EDF last month brought in the world's largest crane – the 250m tall "Big Carl" – to lift in to place large modularised elements such as the reactor domes. "It's entirely different," he said. "We're not going to make the same mistakes."
Certainly, the project hasn't got far enough along to have encountered the same problems as Flamanville, which suffered faulty reactor pressure vessels, concrete quality problems and faults with vital welds in the reactor cooling circuits. Hinkley, by contrast, has only just had the foundation laid. "It's still relatively early in the process," says the NIA's Greatrex. "But we've hit milestones so far. It's better than a lot of naysayers would have predicted."
Either way, one former industry insider finds the idea that groundworks are responsible for the bulk of a near £3bn cost overrun unconvincing. The former contractor, who bid for and worked on Hinkley contracts before leaving his role, says EDF's ownership of the site for around 10 years prior to start on site makes it hard to credit that it didn't have time to do extensive ground investigations prior to commencement.
The bulk of the groundworks was contained in a single "earthworks" contract, let to a Kier-Bam joint venture for a price of just £203m. While it is rumoured that costs on the job subsequently rose to nearer £300m, and while there was additional groundworks activity wrapped up both in the main civils job undertaken by Bouygues-Laing O'Rourke and the large "marine works" given to Balfour, the source says it is implausible that just groundworks problems could have led to a £3bn cost rise. "The entire civils package was only in the region of £3bn," he says. "You'd have to double that. It must be more than groundworks."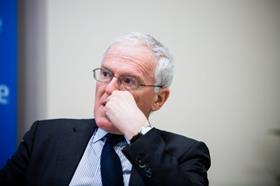 Impossible?
Instead, he blames general construction cost inflation and high labour costs alongside a failure to take account of the specific requirements of nuclear construction – such as the high grade of concrete. Cost-reimbursable contracts mean any additional spend flows to EDF's budget directly.
"There are very few people in the industry who've worked on nuclear power station projects before," the source says. "And everyone was warned repeatedly it was going to be much more difficult, but nobody believed us."
There is also scepticism as to whether EDF can hit its 2025 deadline to start commercial generation. EDF's statement admitted that the risks of a delay of up to 15 months had risen since its last update, but that so far it was sticking to its target. But UCL's Dorfman says other EPRs have taken at least 10 years to get from construction start to generation.
"It's completely impossible," he says. "Everybody knows this. It's like a kind of Trump dream."
Even EDF itself doesn't sound totally sure. Paul Spence, strategy director for EDF's UK arm, told BBC Radio 4's Today programme at the end of last month that it was currently on track but that "I can't say today what will happen over the course of the rest of the construction."
Uneconomical
Whatever the reason for the cost increases and potential delays, the wider question is whether they reduce the chances of any further power stations being built. While projects by rivals at Moorside and Wylfa have been mothballed, EDF still plans to build another power station, Sizewell C, immediately after Hinkley, with its joint venture partner China General Nuclear lined up to build Bradwell B.
Under the deal EDF agreed with the UK government in 2013, which guaranteed it receiving £92.50 per MWh – index linked – for power for 35 years, there will be no effect upon bill payers of Hinkley's higher construction costs.
But this kind of deal, at twice current wholesale prices, is widely regarded as too expensive an exercise to repeat. In recent years the cost of renewable power projects has been falling precipitously, with offshore wind schemes last month agreeing deals based on a guaranteed energy price of less than £40 per MWh – pricing nuclear out of the market.
Unsurprisingly, perhaps, solar and wind generation capacity grew by 35% and 17% respectively in 2017, while nuclear grew by just 1%, according to the International Energy Agency. "Everything has changed in the last 10 years," says Dorfman. "Investing in nuclear is uneconomical."
In this environment, any increases in cost make it ever-harder to make nuclear schemes viable. But nuclear's promoters argue that its ability to provide low carbon "firm" generating capacity makes it worth paying more for than intermittent renewables. The NIA's Greatrex says: "Baseload or firm power remain the fundamental of the energy network. We have a fleet of nuclear power stations which are all going out of service – they need replacing."
Hence the government is exploring whether a different financing system, known as the Regulated Asset Base model, can get nuclear projects built. The problem is that under this system – essentially that which UK water companies operate under – consumers would foot at least part of the bill for cost overruns. In fact, they could even end up paying if a project was started, then abandoned.
Suddenly, therefore, construction costs could become a big political issue affecting voters' energy bills.
Alasdair Reisner, chief executive of the Civil Engineering Contractors Association, says: "The government won't want to expose consumers to uncontrolled cost escalation. There's no getting away from the fact the cost is piled on to the consumer."
Likewise, Stephen Thomas, emeritus professor of energy policy at the University of Greenwich, says the cost increases just make the RAB deal harder to pull off.
"This demonstrates to investors how risky these projects are economically. If virtually all the risk isn't landed with the taxpayer or consumer, then you're not going to find anyone to fund it."
For those hoping for a steady flow of nuclear projects into the foreseeable future, this may be a big hurdle to cross.