New York is a city at the crossroads of global influence. How can it translate its economic and political strength into investment in infrastructure and affordable housing for its population? Ciara Walker, Peter Glus, Sarah Halle and John Braley of Arcadis explore New York's challenges and strengths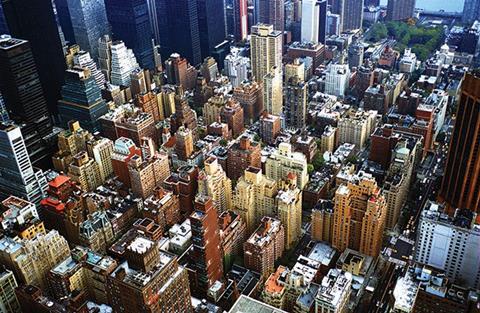 01 / Introduction
New York is not only at the centre of global finance, global tourism, and global influence, but is also where people from all over the world coexist in the same dynamic and metropolitan space. Its demography is defined by the ebb and flow of people; 37% of the population is foreign born (the same proportion as in inner London), and 49% speak a language other than English at home (compared to 22% in inner London).
The industries that call New York home are another aspect of the city's diversity: not only a global financial powerhouse, home to the world's two largest stock exchanges by market capitalisation, but a strong and growing technology sector (which now leases more than 27% of office space in New York), and a global leader for media and advertising, as well as a centre for diplomatic power, with the seat of the United Nations.
Culturally, New York is a centre for museums and tourism, with more than 50 million tourists a year and one of the most important capitals for the fashion and luxury industries. With international political, business and cultural presence, New York is at a crossroads for global influence.
But this diverse and dynamic city faces significant challenges over the coming years. The first is partially a product of its success at attracting people from all over the world; there is a strong need for affordable housing. In all aspects, from existing communities to new influxes of people, having the required quality and quantity of affordable housing will be key for the city; 60,000 people were homeless in March 2015. Another challenge is infrastructure. Demand for public transit grew 150% between 2002 and 2013, and much of the city's infrastructure is more than 50 years old, past its intended useful life, and susceptible to breaks and malfunctions. To maintain its safety and efficiency £31.2bn is required and with a £22.6bn funding gap the sustainability of the city is a real challenge.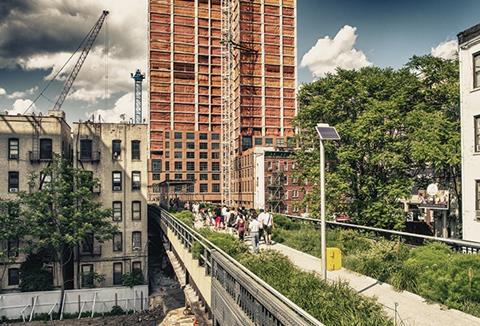 02 / Economic and political overview
New York is a booming, almost trillion-pound, economy, outpacing the recovering US national market with 3.4% growth compared to a national 2.4%. It is the largest economy in the US, and would be ranked as the 13th economy in the world if treated as a country, ahead of South Korea, Spain and Mexico.
The government of New York provides for a mayor-council system: the mayor is elected to a four-year term and is responsible for the administration of city government. The government is more centralised than that of most other US cities, with responsibility for public education, prisons, libraries, public safety, recreational facilities, sanitation, water supply and welfare services.
Mayor de Blasio has been in office since January 2014. An updated city plan, OneNYC, was announced in April 2015 with a strong focus on resilience and economic sustainability, including a focus on poverty reduction and income equality. Mayor de Blasio campaigned on progressive issues such as affordable housing and stopping the "stop and frisk" policing programme in the city with a slogan of the "tale of two cities" in New York, highlighting a racial and income divide in the city.
The mayor aims to build 200,000 affordable homes by 2025. The Housing New York report lays out how the homes will be delivered, by preserving the affordability and quality of existing stock and building new affordable housing. There are challenges in funding the city's infrastructure, with a spending review and potential cuts of projects being undertaken by one of the main infrastructure delivery bodies, the Port Authority of New York and New Jersey (PANYNJ).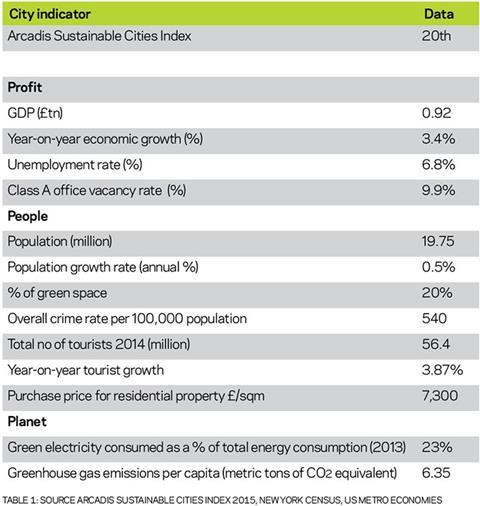 03 / Construction sector
An unprecedented surge in high-end residential construction, and the continued investment in the commercial and government sectors are driving current growth in the construction industry, forecast to receive more than £66bn spending during 2014-2016. The market will continue to grow into 2015, but growth will flatten out in 2016 after the explosion of residential building has flattened out slightly.

The city is now approaching pre-crash heights in the residential sector, with spending numbers not seen since peak levels of 2007. When inflation in construction costs is factored in, 2014 spending was about 17% below the 2007 peak.

Construction costs in New York are significantly higher than the US average, almost twice the construction costs of some major cities such as Portland and Las Vegas. Costs are growing; the overall construction industry has shrunk post-recession due to the lower availability of work, and as activity picks up this now smaller-sized supply side is under pressure to cope with the demand.
Foreign Direct Investment (FDI) in real estate is high: government supported alternative financing options such as EB-5 have been used to fill the debt position left by banks unwilling to lend, with many foreign investors taking advantage of these schemes. Investment by sovereign wealth funds, increasingly from Asia but also Canadians and Europeans, is growing and influencing prices. Chinese investment in New York real estate reached £2bn in 2014 and is predicted to continue to grow.
Overall, the dynamism in the New York market is easily visible, whether by the number of cranes on the city's skyline, or by the innovative projects constructed, for example the High Line (inset), a public park on a historic freight rail line elevated above Manhattan's streets, completed in September 2014 at a cost of £180m. The Hudson Yards redevelopment, the largest private real estate development in the history of the US, expecting to cost more than £13.2bn, is being built "on stilts" and will be fully completed in 2024.
04 / Residential and mixed use
Residential and mixed use development is driving the construction market. The NYC Department of Buildings authorised 20,329 residential units in 2014, an 11% increase over 2013, the fifth consecutive increase. In particular the luxury residential market in Manhattan has contributed to this, driving average prices in Manhattan to £10,365 per m2 (2014).

In 2014, the target for affordable housing was exceeded, with 17,300 affordable units created or preserved versus a projection of 16,000. The majority of these (11,185) were preserved units (refurbished from old buildings to meet current need), with 6,191 new affordable units: the mayor may have challenges hitting the targets in the future unless larger numbers of preserved units can be relied upon to support new units. Fulfilling the mayor's affordable housing targets could prove challenging; land costs are expensive and continuing to accelerate (buildable price for land in Manhattan jumped 30% in 2013/2014 alone) and construction costs remain an issue. These are making it much harder for the developer to get within a cost range which makes construction of "enough" affordable housing viable.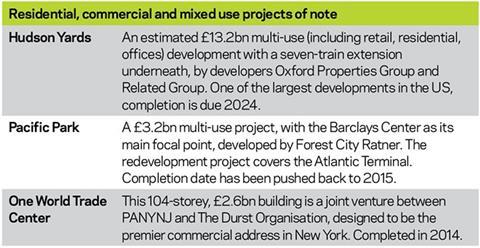 05 / Commercial
New York set a record for new office construction in 2014, with about 557,000m2 of new offices planned. This jump in office space is due primarily to the new towers at One World Trade Center (280,000m2), Hudson Yards (900,000m2 when complete) and 1 Manhattan West (186,000m2).
The rezoning of Midtown East, where the ageing buildings are no longer proving attractive for New Yorkers to live or work in, was not successfully passed by the Bloomberg administration in 2013. The understanding of a need for rezoning is growing however; and if passed in the future could provide plenty of opportunity for new office development in this prime location.
06 / Infrastructure
The US has an infrastructure deficit which needs to be filled: in 2013 the US was graded a D+ for infrastructure by the American Society of Civil Engineers (ASCE) and it is estimated that a £2.4tn investment in infrastructure is needed by 2020. This deficit is increasingly seen as a constraint on US growth. The PANYNJ holds an ambitious portfolio of infrastructure projects to be developed, however, there have been issues in delivery, with delays in the procurement process for major projects like the LaGuardia Central Terminal Building (now at 30 months in the procurement process, with no nominated preferred bidder as yet). An upcoming spending review in 2015 could see some of the major projects cut due to funding constraints and reprioritisation.
Hurricane Sandy (October 2012) highlighted the need to develop resilience to flooding across the city after the storm surge cost New York an estimated £12.5bn. The Special Initiative for Rebuilding and Resiliency (SIRR) report outlines 257 separate projects of which at least 200 have started and 29 are complete. The Housing and Urban Development competition "Rebuild by Design" was won by a team including Arcadis with a design concept intended to protect Southern Manhattan in a severe storm event, and Arcadis has been involved in many resilience development projects for the city, including those for the subway and city hospital systems. Last year around £43.6bn was spent on flood defences for the borough of Queens alone, but the challenge remains in a city with more than 500 miles of coastline.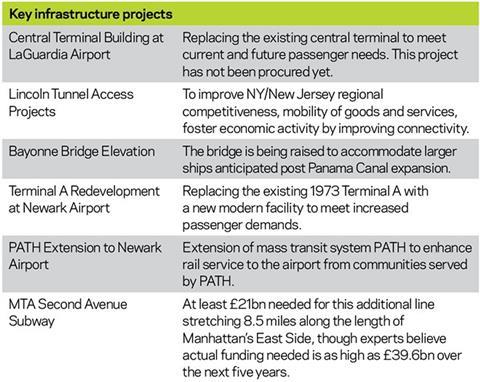 07 / Social
New York has more institutions of higher learning and more students than any other city in the US, and universities are leading the way in investment within the social sector. Columbia, New York University and Pace University all have active construction projects to accommodate growing campuses and student populations. A current construction project is the Cornell Tech (a graduate school of Cornell University) building, an 186,000m2 new campus on Roosevelt Island. To realise this project, the city will provide much of the land and about £66m funding.
Across the US, changes to healthcare legislation in the Patient Protection and Affordable Care Act, and uncertainty around this legislation, have contributed to delayed investment and uncertainty in the healthcare market; investment has slowed in this area. In addition, hospitals are the most costly buildings per square metre, requiring a stronger future return on investment in order to build. However, the state's budget includes £0.66bn in construction aid, which officials have said could go towards building a new hospital in Brooklyn, which would be a break from this trend.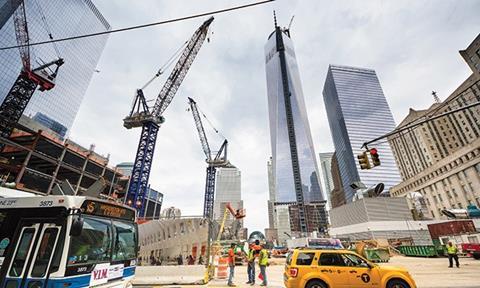 08 / Outlook
The population will continue growing, stretching the resources of the city further if the need for infrastructure and affordable housing is not met. Infrastructure needs are recorded and debated, as are affordable housing needs; New York needs to continue to work to find solutions, but resources are a challenge.
Making the city resilient will be a long and expensive process, but the government has already made a good start, showing a clear dedication to building New York's resilience. City government needs to ensure federal funding is put to use rebuilding storm damaged neighbourhoods, and leverage this funding into city defences; a good start needs to be translated into continued progress.
New York has the economic, political and cultural power to remain a global city to aspire to, and will continue to attract talented people to drive its growth. Housing, protection from severe weather and climate change, and ensuring the City's infrastructure functions to its utmost capacity for its citizens, across income divides, is essential and will define the city either as one united city or as de Blasio's "tale of two cities" in years to come.