This central distribution centre for the Suffolk-based brewer is the first commercial building in the UK to use lime hemp construction - just one of the innovative methods used to minimise its environmental impact
Sunk into the ground with a roof carpeted in grass, this distribution warehouse was one of the first of a new era in green industrial buildings.
Innovative material use includes glulam roof beams, first large-scale use of lime hemp walls, hemp insulation and lime render in an airtight construction.
Active environmental measures on the 4400 m2 building, such as a solar collector gas boiler system, were installed in a fast-track programme of only 42 weeks.
Detailed info on the physical and performance data of hemp lime construction.
In a disused gravel pit on the outskirts of Southwold in Suffolk, the finishing touches are being made to a groundbreaking building. Sunk into the surrounding landscape, it might only be a humble warehouse but this 4400 m² structure has been designed to have minimal environmental impact and is the UK's first commercial building to use lime hemp construction.
Designed by architects Aukett Fitzroy Robinson and M&E consultants Hoare Lea, the 90 m long, 45 m wide building is the new central distribution centre for local brewer Adnams. It will be used to store bottled and casked beers brewed at its facility in the centre of Southwold before they are trucked out to pubs and retail outlets across the country.
According to Alex Fawcett, M&E engineer with Hoare Lea, Adnams already had planning permission for a conventional warehouse 'shed' before it decided to go for something a lot more progressive. "Right from day one, they wanted to minimise the building's impact on the surroundings through the embodied energy of the construction materials used and also the energy required to operate the facility".
Hoare Lea has worked hand in hand with Aukett Fitzroy Robinson to tailor the design and is striving for a BREEAM Excellence Rating. As warehouse layouts go, it's relatively conventional. A large central store is flanked at either end by bays where articulated lorries deliver the incoming beer, while running along the entire length of one side is a marshalling area and loading bay from where the pallets are loaded onto smaller lorries for distribution.
The main driver for the building design was a need to provide substantial thermal mass to smooth out daytime temperature peaks and provide a consistent temperature inside. The aim was to minimise temperatures inside the store – ideally Adnams wanted as close to 11ºC as possible throughout the year.
"In the original design, we had cooling," says Fawcett. "We've managed to work away from that and come up with a design with no cooling or mechanical ventilation and remain confident that it's going to be a reasonable temperature."
Innovative use of materials
The biggest influence in achieving this will be the thick, dense lime hemp walls. Project architect Nitesh Magdani recalls the search for materials with low energy credentials: "We looked at a whole array of options including earth rammed walls and straw bale construction. Straw bales have good insulating properties, but are vulnerable to rodent attack and rot – so we began looking at lime hemp."
While lime hemp construction has found favour in France, it has generally been limited to a handful of small domestic schemes in the UK. Adnams is the first large-scale project and the first commercial building to use it here. The advantage of using lime hemp is its low embodied energy compared to conventional concrete and its high thermal mass.
The 480mm thick walls for the warehouse are built of two skins of blocks, rather than panels or casting it in-situ – which allowed traditional bricklayers to carry out construction. The blocks were manufactured off-site using a machine imported from the US and are laid in a similar fashion to conventional concrete blocks, using a lime-based mortar. Instead of using wall ties, the two skins are interlinked by laying blocks crossways every metre. The completed walls are then finished with a lime render.
Although the blocks aren't load bearing (the roof is supported on steel columns), they still need a high percentage of lime and a stone dust aggregate to give them the necessary strength, which makes them less effective when it comes to thermal performance. To counteract this the cavity is filled with fibrous hemp insulation, giving a wall U-value of 0.18 W/m²K.
Airtight construction was another aim of the team. "We wanted to encourage the contractor to be thinking about airtightness and really try their hardest to make it comply," says Fawcett. Main contractor Haymills employed a specialist to look at the construction detailing to try and achieve the 3 m³/h/m² at 50 Pa specified by Hoare Lea – but as Fawcett explains, it is difficult when using an unknown construction method to gauge how well it will perform. Ultimately, Haymills will carry out an airtightness test to demonstrate compliance. "It has to be said that we don't expect the building to achieve the airtightness specified, but it has had the desired effect of ensuring the contractor pays careful attention to the construction of the building to prevent excessive air leakage."
Haymills' specialist advised that it should be possible to achieve an airtightness of between 4 and 5 m³/h/m² external facade at 50 Pa pressure.
Column-free space
To create column-free storage space, the designers have used Glulam beams. Chosen for their low embodied energy compared to steel, the beams are manufactured from wood sourced from sustainable forests which is laminated and glued together. The beams are the longest ever installed in the UK, measuring 41.6 m in length and were shipped over from Esberg in Denmark via Harwich before travelling by road to Southwold.
The Glulam beams create an overhang on each side and either end of the building, providing shading which in turn helps to maintain a consistent internal temperature. In addition to this, the first floor offices at the south end of the building are shielded by 'solar sails'. Manufactured from sail cloth – and used to advertise the Adnams brand – the vertical sails will provide shading from direct sunlight during the summer and from lower morning and evening sun during the winter months.
The insulating properties of the roof are given a boost by using a green roofing system. A liner tray supports a thin layer of topsoil planted with sedum, grown locally at Mildenhall. "The layer of topsoil provides less heat loss in winter and less heat gain in summer," says Fawcett. "The plant cover helps to shade through the summer and also softens the building's visual impact."
While the core of the building's design is about passive measures to reduce energy use, there are a number of active systems which also aim to reduce energy use and environmental impact. Domestic hot water for the main building and the workshops is provided by a Rotex solar collector gas boiler system. The integrated unit uses solar collectors mounted on the roof of the main building to gather energy to heat the water. This can then be topped up by a 30 kW gas-fired boiler as and when required. "Hopefully the boiler won't need to operate that often," says Fawcett. "Rather than trying to cobble together your own system, getting a packaged system with controls done by the manufacturer is a much more efficient way of doing it".
Suffolk is one of the driest counties in the UK and so rainwater is collected from the green roof system and stored in a 35,000 litre underground tank for toilet flushing, irrigation and to supply the vehicle wash.
The vehicle wash – used to keep the Adnams lorries spotless – is a prodigious user of water. Each wash consumes around 180 litres of water, but to minimise the supply, 60% of the water is reclaimed, pumped through sand filters and used again. The remaining 40% comes from two feeds, one from the rainwater collection tank and a mains supply.
The build programme for the warehouse has been squeezed into just 42 weeks. Completion is being driven by the arrival of new brewing equipment, due to be installed at the vacated storage facility in the centre of Southwold at the end of September. Then Adnams will have a warehouse fit for its state of the art brewery.
A first for lime hemp construction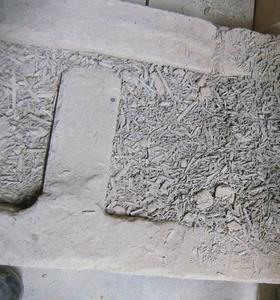 The new Adnams warehouse uses lime hemp construction on a scale never before seen in the UK. Lime hemp construction has been developed in Europe over the last 15 years and offers extremely low embodied energy when compared to other construction methods.
The solution used at Southwold uses Sumatec blocks from Lime Technology. The decision to go for blocks was mainly down to the size of the building and the fact that when the design was first created – two years ago – the design codes of practice suited block construction. "If we did the same building today, we'd probably opt for cast in-situ construction," says Ian Pritchett, managing director of Lime Technology. "It would speed up construction."
The unfired blocks, each weighing about 19 kg and measuring 100 mm x 254 mm x 356 mm, are produced by compressing a mixture of limestone quarry waste (to provide strength), hydrated lime, blast furnace slag and hemp. In CO2 terms, each block produces around the tenth of a conventional concrete block.
Between the internal and external blockwork, Tradical Hemcrete – a fibrous hemp material – is used as an infill to provide insulation. The hemp used for construction is a by-product of the process used to produce paper, clothing and even interior panels for cars from the material.
The hemp construction locks CO2 up in the finished structure – partly because hemp absorbs carbon dioxide as it grows and also as the lime mortar and render (used to face the lime hemp blocks and provide long term durability and weather protection) absorbs carbon dioxide as it sets. In total over 150 tonnes of CO2 are locked up in the walls of the warehouse. A building constructed using more traditional methods would typically have generated around 600 tonnes of CO2 emissions.
Professional team
Client: Adnams
Architect: Aukett Fitzroy Robinson
Services consultants: Hoare Lea
Structural Engineer: Faber Maunsell
Contractor: Haymills
Cost consultant: Northcroft
Source
Building Sustainable Design
Postscript
Original print headline: "Adnams new bottle bank" (Building Services Journal, September 2006)