In November 2009 Linden Homes decided to embark on a radical growth strategy. Three years later, its profit is up 140%. MD Ian Baker explains how the company pulled it off
Linden Homes is without doubt one of the success stories of the housebuilding industry since the credit crunch. Having achieved a near doubling of output since the depths of the recession, it has led its parent company, Galliford Try, to more than double its share price since November 2009, a bigger rise than even its strongest rivals, such as Berkeley Group. Its results for the 12 months to June, published last month, confirmed Galliford had delivered on its three-year growth plan, with year-on-year profit up 80% to £63m.
A situation that you'd think would leave its group managing, Ian Baker - at 42, one of the youngest listed housebuilder bosses in the industry - wanting to shout from the rooftops about its success. Well, up to a point. He's happy to talk - just don't ask anything about him. "I don't want this piece to be about me. This isn't the Ian Baker show. It's Linden that's important," he says firmly.
Baker's success has been in delivering the expansion strategy devised by Galliford's overall chief executive, Greg Fitzgerald. The next three years will, however, provide him with a whole new set of challenges. The headlong expansion has now ceased, and Baker has a new focus: to ramp up the profit margin in the business he has built and invest in long-term land. Achieving this in a flat market where construction prices have nowhere further to fall is not going to be easy.
Baker characterises this next phase as "back to basics" for the business. It is natural, he says, for a business that is expanding rapidly to have taken on some inefficiencies. "Any business that's expanded that much will have created some bad habits. And despite the fact we've got good return on capital, and good margins, we've grown and expanded, and there'll be a few sticking plasters that have been put on, and we actually need to go back and address those," he says. So Fitzgerald has set Baker another seriously stretching target: to increase the housebuilding operating profit margin by 3%, largely without taking into account the natural growth in margins that comes from building on land bought since the credit crunch. This means cutting out costs, to which effect he has launched a wide-ranging business improvement plan, named the Linden Way.
As well as looking at the whole sales and marketing process, where Baker thinks small efficiencies could go a long way to reducing costs, Linden will also look at "tweaking" the design of schemes to see whether the return can be increased by more efficient use of space, allowing more homes, or creating higher sale prices for the homes planned. He also has central control of procurement for the group, so want to make sure all of the company's 10 regional businesses are getting the best price for everything, from paperclips to concrete.
There were times in the market where sales ebbed and flowed, and I'd be lying if it wasn't a real concern. [But] we do peddle hard
One thing he says that he won't do, though, is squeeze subcontractors further. "We've tended to work with a core of well-known and trusted subcontractors, and we think our costs with them are already pretty keen. I'd be terribly disappointed if I thought we could get seriously better prices," he says. "But we want to drive down cost through efficiency rather than by trimming the margins of our trades. It's got to be sustainable."
Baker may not want the interview to be about him but fortunately he's a naturally open character who can't prevent himself revealing a few details, and he has a great story to tell. He grew up in Newton Abbot, Devon, where his parents ran a fish and chip shop and instilled in him a formidable work ethic ("I always say the greatest thing they did was teach me the value of a pound"). One of the founders of Midas was a regular customer, and through this connection he joined the firm as a youth training scheme trainee in 1986. It is this experience that drives his "passionate" advocacy of apprenticeship programmes - he has committed to employing 500 apprentices at Galliford Try, a programme he says is "going great guns", with over 110 taken on so far.
After a few years at Midas, he gave up his job to study surveying ("My dad went nuts"), before returning as a junior development assistant and working through the ranks. Midas was bought by Galliford in 1998, with Baker becoming group housebuilding managing director at Galliford Try in 2009, before the firm's game-changing acquisition of Linden in late 2007. In 2008 the recession decimated the whole housebuilding sector, but it was Galliford's response that has marked the firm out.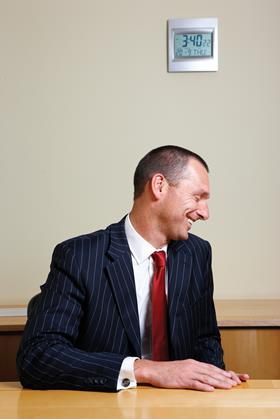 Baker says it was a Thursday in the early summer of 2009 that Fitzgerald came into the office at Newton Abbot, and told him he was thinking of raising money to put into the housing business - £119m in the end through a stock-market rights issue. "Greg said: 'Right, what if we raised a bit of money with the objective of doubling housebuilding? How would you go about it, and can you let me know by Monday?' It was one of those conversations where you say: 'Er, ok, right.'" The plan Baker forged to focus on the South-east, create new regions, springboard further growth from the firm's existing businesses and, ultimately, merge Galliford's historic brands including Midas and Stamford under the Linden Homes name, has defined his time since.
With listed housebuilders now back showing healthy profits, it is easy to forget the fragility of the 2009 market, with Taylor Wimpey posting a £682m loss weeks earlier. "We had to convince the city, shareholders, that there was a land market," Baker says. "Because for a number of years they'd been told by other housebuilders that there wasn't one. Investing in new sites - that was very radical at the time. It was a big call."
From building 1,700 homes in 2010, Linden built 3,039 this year, with profit 140% up on two years earlier. It has benefited from the fact that its schemes, all individually designed, are relatively up-market, meaning it has had less reliance on struggling first-time buyers. But did Baker ever doubt he could pull it off? "The driver was always not just achieving profit or growth, but sustainable growth. There were times in the market where sales ebbed and flowed, and I'd be lying if it wasn't a real concern. [But] we do pedal hard. People do put in a good shift, and fair play to them for it. The good thing is we've not just delivered record profits, we've built a business."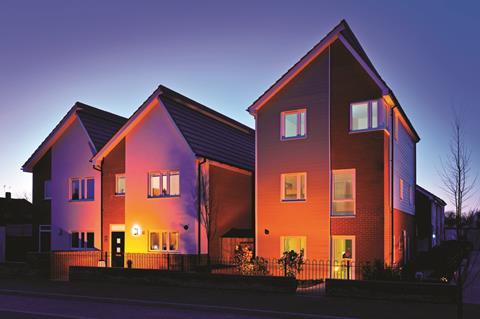 While Baker is passionate about his apprenticeship programme, it seems to be planning, red tape and politicians that get him most exercised. He welcomes the government's recent housing and growth announcement, particularly the idea that local councils "get their arses smacked if they make planning decisions based on local prejudice". The imposition of the community infrastructure levy, though, is still a "very big concern" for the industry, and could have a serious impact on viability. But overall he says it is politicians, not planners, that need to take more responsibility.
"What would help overcome the nimbyism, is a few people with the balls to stand up and say we're speaking for the silent majority, we need some development here. [If] you've been voted in to represent, it's your job, right?
"Often planners are vilified. [Prime minister David] Cameron's saying we've got to get these planners off our backs. Potentially he's picking the wrong target here. It'd be very refreshing if MPs were supporting planning applications in their constituencies, rather than avoiding these local planning issues they don't want to get involved in."