With two investors behind it and the recent purchase of upmarket housebuilder Banner, Cala Group has come a long way from its precarious refinancing in 2009. Alan Brown talks about delivering volume at the top end of the market, and plans to treble turnover to £800m a year
Every housebuilder chief executive bears the scars of the 2008 recession, and Cala Group chief executive Alan Brown, appointed to the role that year in the depths of the crisis, is no exception.
His scariest moment came in July 2009 in the middle of the painful negotiations to refinance the then ailing housebuilder, when the bankers stopped talking to him. For five days. To make matters worse he was cut off from the business on holiday, desperately trying to find out what was happening from the side of a pool in a holiday house in Ronda, Spain. He feared the worst for the 400-strong Aberdeen-based firm.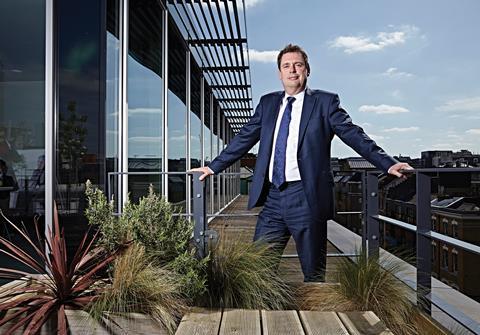 "I found out afterwards they were taking us to the bank's credit committee," he recalls, "and they genuinely didn't know which way it was going to go. When I got the call that it had gone our way, well, it was amazing."
For Brown, as for many housebuilders now basking in the sunny climes of the post-Help to Buy market, such traumas seem a distant memory. But while Cala was one of many whose destiny ended up in the hands of the banks, the scale of its transformation since is extraordinary. With turnover of £241m last year, Cala is a firm whose roots as a regional Scottish housebuilder have previously kept it a relatively minor player in the national housing picture.
But last month the firm pulled off a deal to buy upmarket southern housebuilder Banner. In an instant this turned it into a top 10 national housebuilder by turnover, rivalling the likes of Crest Nicholson for size. And more than that, its sale in 2013 to investors Patron Capital and Legal & General gave it the firepower to fuel an ambitious growth programme to treble turnover to £800m a year. But with other housebuilders of comparable scale - Countryside, McCarthy & Stone - also embarking on growth programmes in advance of a further sale or flotation, Cala will have to make a strong case to the City that it - not them - is the place to invest money.
In his first interview since the Banner acquisition, Brown outlines his plans for the combined business - and what he thinks will make Cala stand out from the crowd.
Expansion plans
When Patron and Legal & General bought Cala in spring last year, it was predominantly still a Scottish business, with revenue weighted 60-40 in favour of its three Scottish divisions. But the acquisition of Banner and the planned expansion will change all of that: Brown says that by 2017, 70% of turnover will hail from England. It has always specialised in selling to the well-to-do in affluent parts of Scotland, so Cala's upmarket product looks suited to the southern English home counties where most of the expansion is planned.
Even by the scale of housing market growth seen in the past year, Cala's plan looks ambitious. "It's a huge growth strategy we've set in place," Brown admits. "The purchase by Patron really took the brakes off. The first board meeting we had the board basically said 'assume you have unlimited funds - tell us what would you do with it?' The only restriction they put on that was what we thought we could manage."
He insists it is realistic. "We have 95% of the land in place for this year. We have 87% of the land under our control to hit our 2017 targets. We're in the strongest land position we've ever been in, despite the fact we have a massive growth plan." In 2013 the firm's revenue slipped back while it got the land in place needed for expansion, ending the year to June working across only 25 sites. But this year is already seeing a radical shift. Brown says the firm will be operating from 50 sites by Christmas, and even before the Banner acquisition, the firm was heading toward a 45% leap in turnover in 2014, and estimated its land bank at almost 11,000 plots, harbouring a development value of more than £3.5bn.
Last month's purchase of Banner, thought to have been in the region of £200m, massively accelerates this growth programme. The South-east-based builder reported revenue of £111m in the year to May 2013 from the sale of 235 homes. Both housebuilders have an average sale price far above that of most volume players - Banner selling each home for more than half a million on average. "In terms of where they were located and the market position they had, [Banner] was the absolute sweet spot for us. Banner gave us a good land bank, all in the exact geography, all in the exact market position that we want to be. It also gave us a great team of people," Brown says. With a combined average sale price of over £400k, and plans to build 2,000 homes a year, there will never have been an upmarket housebuilder of such scale before.
Challenges
But it is not without challenges. Brown makes it clear that the Banner brand will go as part of the sale, despite the value the Banner name has in specific local markets, maintaining that Cala's brand "has equal value". Banner's long-time chief executive Richard Werth has also departed with the deal. And there will be some re-organisation: Banner's Redditch office will be merged with Cala's Henley office. "Surveyors in one team will have to work with surveyors in the other team - that's a challenge," he admits. But overall, he says, there will be no redundancies - in fact bringing the businesses together still leaves him with the challenge of recruiting 60 staff to meet the growth plan.
His strategy will be to expand Banner quickly by putting its product alongside Cala Homes on the kind of large "backbone" sites Cala owns, which are far bigger than the typical Banner site. "If you buy small sites you probably need to run 15-20 in a region, where we probably need to run 10-12, so the overheads are much more efficient with Cala. Banner's current model is not scalable, and we need to scale it up."
But delivering high-end homes at a large scale also presents other problems: there are fewer purchasers at higher prices so sales are less frequent in any locality, making big sites harder. But Brown rejects the idea Cala will have to move down market to get to 2,000 homes per year. "I don't think it [finding buyers] is a challenge at all. Imagine Sussex, Surrey and Hampshire - how many people at that end of the market are going to be looking for a home - compared to that, 250 units from one Cala region is a drop in the ocean. Particularly for a brand that has genuine value."
It was like a deep sea diver becoming an astronaut. How on earth should I talk to a bank about a debt for equity swap? It was mindblowing
Tall, besuited, in his fifties and with a mild northern accent (he was born in Newcastle), Brown looks and sounds every bit the classic housebuilder chief executive. But he's open and still retains a disarming disbelief that he's reached this position - a reward for nearly an entire career spent at Cala. He joined the firm in 1986 after training as a QS at Ideal Homes, where he had become the firm's youngest ever chief surveyor.
"When I joined Cala I wanted to be on the board by the time I was 30 - I wasn't close! - but I never imagined I'd be chief executive." Indeed such was his disbelief that when the founder of the modern firm Geoff Ball decided to step down as the recession hit, Brown initially turned the top job down. His eventual acceptance put him on a rollercoaster ride that tells the story of the group's fortunes: 18 months negotiating its re-financing including a debt for equity swap, another year extending the banking facilities, then sale talks with Patron Capital, and finally nine months agreeing the deal with Banner. "It was just ridiculous, and it hasn't stopped."
"If you compare it to what I was doing in the previous five years it's like a deep sea diver becoming an astronaut. As a regional chairman you're totally focused on sales and construction. I can tell you how a scaffold should look, but how on earth should I talk to a bank about a debt for equity swap, with all its implications about tax and everything else? It was mindblowing."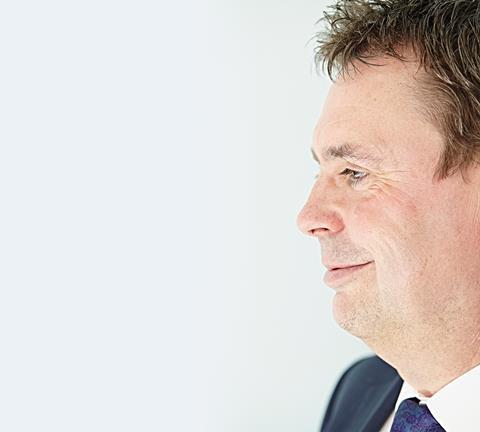 The Cala culture
He says what has kept him going is the culture at the firm. "I love it. It's a culture of empowerment. We encourage our people to think for themselves, make decisions for themselves and be dynamic." Selling at the higher end of the market has allowed the company to focus on being "a value adder, not a cost reducer", something that has helped its relationship with staff and suppliers, generating a loyalty which helped the firm during the bad times.
"Every analyst asks about costs, but it's not something we ever debate at group board level. We've looked after our subcontractors particularly during the recession. We've always paid them on the nose, a fair day's wage for a fair day's work. There's no doubt we're getting that loyalty paid back."
The challenge now, he says, is to communicate that relationship to the new suppliers Cala will have to engage as it expands.
So where is all this expansion leading to? Incredibly, Brown maintains Cala hasn't even discussed with Patron and Legal & General the matter of their exit strategy - which industry observers expect to be a flotation on the stock market. Certainly, he says, there is no imminent pressure to puff up the business for a sale, with the Patron Capital fund that bought Cala having a 12-year time span. And he rejects any attempt to line Cala up as a rival to Countryside or McCarthy & Stone in a race for next housebuilder IPO.
"Obviously Patron Capital and L&G have invested to make money, and by definition there will be some kind of event," he says, "At the moment we haven't even talked about what that might be, because our focus is on growing the business and getting the Banner business fully integrated."
Nor does he have a view on whether flotation, trade sale or private equity sale is the best option. "There's no point really having a view. The financial markets have changed so much in the last year. I think it'd be wrong for us to try and say this is what we're going to do in three years' time."
At the end of the interview Brown relays a story about a subcontractor carpenter who called him on retirement after 27 years of working for Cala to thank him for the firm's support, a man who had designed and built a dedicated mitre tool to ensure that the architraves he worked on were delivered to exactly the specifications required every time. It is this attention to detail that has kept Brown interested for 28 years, and he clearly hopes it is this culture which will likewise provide a compelling story for the next set of investors.
Source
This article was published in print with the headline "Flying high".
Portraits by Tom Campbell