Workspace development director Angus Boag on how the firm has evolved from a landlord into a serious client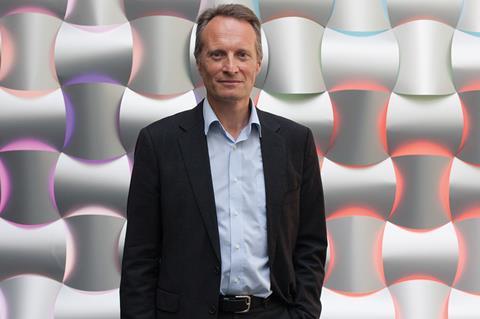 On the face of it, an industrial estate in Kennington, south London, is an unlikely location for a FTSE 250 property firm. However, that is exactly where Workspace has decided to set up shop. With a portfolio worth some £830m and a profit last year of £76m, the company clearly isn't wasting its money on shiny offices in the City.
Workspace's location isn't as incongruous as it appears. The company bought the site in 2005 and has been refurbished its ex-industrial buildings, with results that development director Angus Boag is proud to show off. Only one building remains untouched and the contrast between its unloved interior and its light-filled, thoughtfully designed neighbours is remarkable.
The Kennington project is also representative of wider changes to Workspace's business strategy. Once purely a property management firm, the company has evolved into a developer. As a result, Workspace is rapidly becoming a serious client to the construction industry.
Workspace's origins go back to the late eighties and the abolition of the Greater London Council. In 1987, the year after the GLC was wound up, Workspace, then known
as London Industrial, was set up as the privatisation vehicle for the council's portfolio of industrial sites. The portfolio, comprising 710,000ft2 of space, has since grown and now is around 5 million ft2 worth £830m, mostly aimed at small and medium-sized companies.
While Workspace is primarily a landlord, it has in recent years adapted its business strategy and begun to undertake redevelopment work. Indeed, Boag says that he was hired with a brief to increase Workspace's development undertakings. "I joined the company about five years ago," he says. "The company had done small amounts of development work up until then, but my role was to ramp that up and see if we could really extract some value from it." Workspace, along with its development partners, currently has planning permission for 1,931 flats and 331,000ft2 of business centres, with a further 2,687 flats and 464,000ft2 of commercial space in the pipeline.
Boag describes his strategy as three-pronged, with some sites that require refurbishment or would benefit from additional space, others that are best sold off for housing, and a third category that require substantial redevelopment if they are to deliver enhanced returns to shareholders. The vast majority of Workspace's sites are designated by planning authorities for some form of employment use. However, Boag says many of the sites are no longer suitable for industrial use and can be better used for offices and sometimes housing.
Our whole ethos is that we want to help small, exciting firms to grow, whether it's architects or contractors
But changing a site's use can be a long process. "Where we feel we have the opportunity to we will obviously lobby for a change of use," says Boag. "Now, there's never any certainty, but we'll go off and see a local authority and we'll draw up plans and talk them through our ideas. We have to take them through the whole concept of why we think we might be better off taking it out of employment protection and what the benefits would be for the local authority." Even presuming that a council accepts his arguments, however, Boag says the process can still take a long time. "The change of use has to be stamped by the Greater London Authority and the local authority has to redesignate the land through their area plans," he says. "Only then can we make a planning application. It's not a quick process by any stretch of the imagination."
The result of the lengthy change of use process, however, can be rewarding. Boag cites Workspace's ongoing redevelopment of the former Peek Freans biscuit factory in Bermondsey, where the company recently won planning permission for 800 flats and to convert some remaining buildings for offices for small companies. Boag says that once complete, the site will provide 1,500 jobs.
It is clear that Workspace's move from property manager to developer is starting to have a real impact on the company's bottom line. Workspace's annual report, published earlier this month, showed that the company made pre-tax profits of £76.4m last year, up from £49m in the previous year. Boag says that around £24m of those profits can be attributed to development activities, with the remainder down to increasing rents and occupancy levels. "It's a team effort," he says. "But look, we've had a very good year and unless there are sudden shocks to the economy it's looking very good going forward. We have a good pipeline of things in place."
So, how can construction firms benefit from Workspace's increased development activity? Boag says he places great importance on the quality of his developments' architecture, partly because Workspace's small business tenants want a quality environment. But also Boag wants his projects to improve the surrounding areas both economically and aesthetically.
"We use a range of architects to make sure that we produce buildings that are high quality and that really do help bring an area up," he says. "That doesn't mean that they're hugely expensive, but we try to be sensitive in our design and produce buildings that people care about." Boag adds that Workspace has a stable of architecture firms that it uses regularly, but that "we also bring in and help give a leg up to some younger practices that we think have a great deal of talent and can really add value."
When it comes to appointing a main contractor, Boag says he will always use a competitive tendering process "unless there is a very specific reason not to". However, he says that while Workspace does offer repeat business to established contractors, it likes to live up to its values by hiring smaller, younger firms. "We're very keen to work with new people; with young firms," he says. "Our whole ethos is that we want to help small, exciting firms to grow. And that's true whether it's architects or contractors of whatever else."
So, Workspace is a client worth knowing about. It is a major landlord and one with a strong pipeline of redevelopment projects. At the same time, because of the company's focus on providing employment space to small businesses, it offers an opportunity for smaller construction firms to gain experience working on projects that would normally be seen as the preserve of industry giants.