Capita Symonds' new chief executive has been brought back for a major rebranding job - including dropping the Symonds name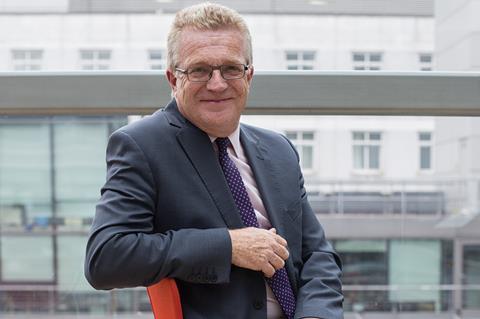 A few days before Building talked to consultant Capita Symonds' new chief executive Richard Marchant, the boss of the company's parent firm, Capita, gave a very different interview. Talking to the Financial Times, he made some colourful remarks, describing his office in Westminster as a "shithole". It was interesting that the head of a FTSE 100 company chose to stress that frugality in Capita's accommodation was one reason for its success; especially so when Capita Symonds - which works on everything from architecture to cost management - is in the business of advising on high-end office developments.
Marchant, a calm, almost unassuming individual, is evidently a company man to his fingertips and is happy to stick to the party line on this weighty issue. Sitting in a small and rather hot meeting room in Capita Symonds' Holborn office, he smiles as he agrees that a lot of his company's offices have seen better days. "It's probably the reason why you didn't come into my office - it seems to have coffee splashes up the wall," he says.
Discussions went on and people knew that I had a track record here in the past - it was about bringing senior management capacity
The announcement last month that Marchant has returned to head Capita Symonds - he was managing director between 2002 and 2006 and has worked in various senior roles within the group ever since - came as something of a surprise. In January, the company announced that managing director Jonathan Goring was to step aside in order to focus on Capita Symonds' bid for the Ministry of Defence's £400m private sector partner contract and that chief operating officer Graham Cowley would take over managing the firm. However, within a month Marchant had been appointed as interim chief executive and Cowley returned to his previous role. What changed? "I don't think it was about changing a decision," he says. "There were a couple of things going on. One was about mobilising the right team [for the bid]. The second was that Graham was the senior person in the business so he was announced. Then some discussions went on and people knew I had a track record here in the past and it was about bringing senior management capacity. There's no hidden agenda."
That may be the case, but it also begs the question as to what Goring's role will be should Capita Symonds lose out on the defence contract. After all, a new managing director has now been announced, so it seems unlikely that he'll get his old job back. "Clearly that's not going to happen," Marchant confirms. "Jonathan is a very senior person in the business, as I am, and at any one time Capita has always got new opportunities; things coming up. The group will cross that bridge when they come to it."
So, now that Marchant is back at Capita Symonds, his old stomping ground, what plans does he have for the business?
More change is certainly on the agenda for the 4,000-strong consultant. At the same time that Capita Symonds confirmed Marchant's appointment, it announced that the company was to drop the Symonds brand and become Capita Property and Infrastructure. The name Capita Symonds brand dates back nine years to the company's acquisition of the Symonds Group, at a time when Marchant was managing director. So, having established the brand in the first place, why is he now getting rid of it? "I created the Capita Symonds brand when I was here before," he says. "It was the right thing to do at the time. And the rationale behind that was that before that acquisition we were called Capita Property, which was a loose collection of acquisitions and deals that we'd done. Capita Symonds put two brands together and gave us a presence in the market. It's stood us in good stead for the last nine years."
Marchant now describes the Symonds element of the brand as "exhausted" and says that the Capita Symonds conjunction now causes confusion. Specifically, it confuses clients of other parts of the Capita business, with whom the Capita Symonds division might want to win further work. "So actually for us this provides us with more opportunities to be part of the Capita family and distinctly around property and infrastructure," says Marchant.
"It can be quite confusing when we say we're from Capita Symonds when you're going to see a Capita client. It means we can broaden our opportunities on the back of group opportunities."
The rebranding will be rolled out over the summer but Marchant hasn't been brought in just to deal with that. He has also been tasked, he says, with providing some strategic leadership and preparing the ground for growth over the next few years. Perhaps that's not so surprising - between 2011 and 2012 Capita Symonds revenues held steady at £256m, but operating profit fell from £12.8m to £6.9m. "There's a recognition that in some areas we're doing very, very well, but in other areas we could do better. Certain service lines need a bit of a refresh, but generally we're in pretty good shape so it really is about where we focus on for the next three years of growth."
To that end, Marchant has spent the last five months working out which markets offer the greatest growth opportunities and therefore which bits of the Capita Symonds business require investment. Capita Symonds has a reputation for taking on a high volume of public sector contracts, with dedicated divisions aimed at central and local government. Goring's intense focus on the defence contract is a case in point. And under Marchant's leadership it is clear that there will be no let-up in Capita Symonds' pursuit of high-value public sector work. This is, after all, someone who spent 19 years in local government, working for Leeds council before moving across to Capita 23 years ago and who has since played a major role in the company's concentration on public-private partnerships.
We will be looking at tactical bolt-on acquisitions that give us greater capacity and more strength in certain market areas
But, as Marchant points out, in many instances, Capita Symonds' public sector contracts enable it to drive private sector revenue streams. The company has deals in place with several local authorities, whereby it undertakes to provide services such as planning and development on their behalf. According to Marchant, as well as providing long-term revenue, the model allows Capita Symonds to set up a local base and build a business providing services to private sector clients. "You start off with 100% of your work being for that principal client, but over the years that dynamic shifts and we build up a much stronger local business," he says. "So when we talk about local government and the regions, what we're talking about is a sustainable business model that builds new work and new jobs. It's putting a firm anchor down and us saying 'right, that's a major business centre and we're going to be a major presence in this marketplace'."
That said, Marchant also wants Capita Symonds to increase its volume of private sector contracts. At a group level, he says, around 55% of business is derived from the private sector and 45% public. With this in mind, earlier this year he brought in Simon Birchall from Mace as an executive director. "One of the reasons we brought Simon in was to make sure that we have a very strong focus on private sector growth," he says. "There are a lot of deals that we've secured over the last couple of months that aren't in the public domain." The biggest private sector deal that has been announced recently is the contract as project and cost manager on the £40m revamp of Bristol City FC's Ashton Gate stadium.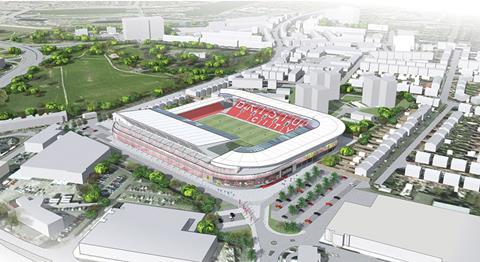 Marchant believes housing provides excellent growth opportunities, something he had been working on at a group level before coming back to Capita Symonds. A Capita housing business has now been merged into Capita Symonds. Richard McCarthy, Capita Symonds' head of central government and former director general for housing at the government's communities department, is to head the division, while retaining his current responsibilities.
Marchant has also identified infrastructure and health as potential growth areas and intends to increase capacity in both divisions. This, he says, is likely to be done through acquisition. "We will be looking at tactical bolt-on acquisitions that give us greater capacity and more strength in certain market areas," he says. "We're looking at where the money is going. We think there is significant investment in infrastructure, in rail, in energy, and in utilities. Those are areas in which we perform well, but we could do with some more expertise and capacity there."
But he refuses to be drawn on which firms are in his sights. "It would be wrong of me to say," he says. "But we are actively looking and if the opportunity looks right, then it might be something that we want to pursue."
In terms of Capita Symonds' pipeline, Marchant is clear that the defence contract is the single biggest opportunity the company has coming up. But while he is unable to discuss details, he is clear that the cupboards aren't empty - that not all is riding on that one, albeit huge, deal. "There are no other big deals that I can tell you about, he says. "But it's fair to say we have a healthy pipeline of opportunities that are at an early, non-public stage."