Property and construction consultancy Ridge works for clients who build, test and race the world's fastest cars. And with turnover for the business as a whole rising by 20% last year, you'd expect it to be happy to just cruise along. But partner Guy Austin has other ideas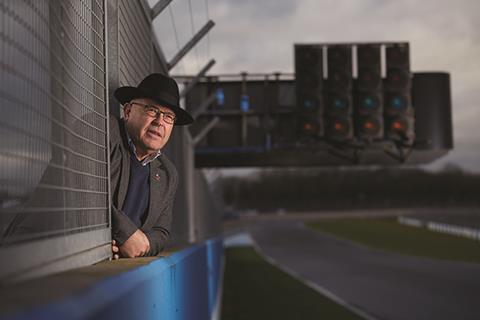 Ridge partner Guy Austin is a self-confessed petrolhead. He is the proud owner of six motorbikes - including two Harley-Davidsons - three super fast cars - a sky blue and orange Ford GT40 racing car, a Ferrari 328 GTS and a BMW M3 - and, randomly, a 1944 Willy's Jeep. "They keep me young," he says with a laugh.
Austin is also lucky enough to work day in, day out with motorsport clients. For the past 24 years, the trained quantity surveyor and the motorsport team he leads at Ridge have dominated the market for construction consultancy in this highly specialised sector. Ridge - which also offers project management, M&E, structural and civil engineering and architecture services - works with clients that build, test and race the world's fastest cars and motorbikes. The firm is particularly dominant in Formula 1 and has worked with high-profile teams from Stewart Grand Prix in the nineties through to current four-time world champions Red Bull. Indeed, seven of the last eight F1 world champions drove cars built in factories developed with Ridge. The consultant has also built up enviable expertise in race track development and is advising several race track owners on schemes, including a Chinese client planning a £250m track built around an artificial mountain, and the owners of both Silverstone and Donington Park.
Austin has agreed to open up publically about Ridge's work in the notoriously secretive motorsport world for the first time. Tucked inside a meeting room in Donington Park's car museum, he explains how the firm manages to keep the most demanding clients imaginable happy. He also explains how the entire 308-strong Ridge business is starting to pick up speed across all market sectors, what the firm's growth and M&A strategy is, and how the firm is managing to thrive in the dreaded "middle ground" occupied by medium-sized consultants.
A passion for speed
Austin has always had a passion for speed. As a kid he wanted to follow in his father's footsteps and become an RAF fighter pilot, but a birth defect which has left him with limited vision in his left eye made this impossible. He got hooked on motorsport during an early part-time job running an airfield in the middle of Silverstone race track and was soon travelling from donington Park to Le Mans to watch racing. He says he "never imagined" when he joined Ridge in 1976 that this would lead to him working closely with his beloved motorsport. Yet in the early nineties Ridge landed its first two motorsport jobs, which Austin managed - a factory for Benneton Racing F1 team in 1990 and another facility for Paul Stewart Racing in 1991, the team set up by three-time F1 champion Jackie Stewart for his son Paul Stewart, which later became Stewart Grand Prix.
Austin never looked back. Under his guidance, Ridge quickly built up its market share in motorsport. As well as numerous commissions for F1 teams, the firm works for companies in karting, touring cars, rallying and MotoGP motorcycling, as well as for parts suppliers including Bridgestone and Cosworth. Motorsport work has also taken Austin around the world, including to Russia as part of an ill-fated bid to bring F1 racing to Moscow in the early noughties. Today motorsport work is worth around £1m a year in fee income to Ridge, or "about 5%" of last year's £26.9m turnover.
Driven
What do you need to know to win work with F1 clients? "First and foremost you've got to take the time to understand these businesses in depth," he says. That even extends to understanding how an F1 car is built. "The factory is just the envelope around an F1 car - you need to know how the car is built to know how to build the factory." You've also got to be "very adaptable," he says. "These guys are the most driven, focused people you'll meet and consequently their businesses are constantly being developed." He says demand for Ridge's services increased from 2009, when F1 governing body the FIA banned teams from in-season track testing of their cars. This meant all in-season testing had to be simulated in the factory, sparking a proliferation of wind tunnels, rigs and devices to measure torque or rotational speed known as dynamometers - creating more facility building work for firms like Ridge.
Austin stresses the importance of "building deep relationships and trust" with motorsport clients, including "keeping your mouth shut" about details of their work. Some of these client relationships have led to unexpected work, including a golf course club house for former F1 boss and BBC motor racing pundit Eddie Jordan and residential projects for Jackie and Paul Stewart.
Accelerating growth
Ridge is a partnership, with 13 equity partners setting the strategic direction of the firm. Within this group, four partners - including Austin and senior partner Phil Jones - have executive responsibility for implementing the strategy on a day-to-day basis. After four years in which turnover modestly declined or stood still, Ridge grew 20% in its last financial year, more than regaining territory lost and propelling it to its highest ever turnover of £26.9m, while the firm also grew its headcount by 52. Ridge is targeting £30m turnover this year and is recruiting in all areas. The firm is particularly gearing up its civil and structural engineering professional areas, Austin says, while the firm's public sector, commercial and retail divisions are all growing.
Longer term, the firm is targeting £45m turnover by 2018 - a 68% increase on today. "The business has got to be seen to be moving forward," explains Austin. "Our staff want to be associated with a business that's got momentum and is creating opportunities." Austin says the growth target will partly be achieved through bolt-on acquisitions to plug gaps in the firm's multidisciplinary offering, such as its September acquisition of six-strong Midlands-based engineer, Brazier Holt.
No man's land
The received wisdom is that firms of Ridge's size occupy a no man's land in the middle-ground of consultancy - too small to compete with the depth of expertise of international conglomerates, yet too big to compete on fees with start-ups. But Austin believes that his firm is unusual in that it is an SME with a "genuinely multidisciplinary offer". He also says the firm has "sweated itsmargins" so as to compete on fees.
He gets animated when asked whether the current government is living up to its word on enabling SMEs to win more public sector work. "It's just politician-speak, I'm afraid," he says ruefully. "I'm sure in their flabby-chinned, slopey-shouldered way the politicians mean well, but it's up to the civil servants to actually deliver it and all they want to do is tick boxes."
Finish line
Austin comes to Donington Park regularly; Ridge is advising the owners on plans to turn it into a leisure and track day destination for wealthy punters. But on the last occasion it was him careering down the finishing straight at 140mph on a motorbike, before jumping on the brakes and, in his words, tilting his "not inconsiderable weight" into the first corner, as part of a motorbike racing training course. His left eye has "never stopped me driving my motorbike far too fast," he says with a grin. "It's exhilarating."
It's encouraging that SMEs like Ridge are also starting to rev up as construction's recovery takes hold.
This interview was published in print with the headline Speed Merchant.