Mace's new chief executive on how he plans to double the firm's turnover by 2020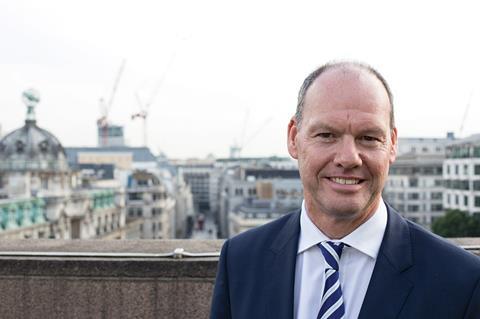 Competitive swimming involves a high level of discipline, if not monotony - the endless laps, day in, day out. The pool may change, but the lane and the repetitions don't. The trick, of course, is to take the conditions - the lane, the pool - and within that develop your own performance and thrive. The only variable is you.
As a former international swimmer, who still swims four to five times a week, Mark Reynolds, Mace chief executive, is all too familiar with this discipline. "I don't do uncontrolled conditions," he says. "When I go abroad I make sure the hotel has a pool and it's got to be a lap pool. It has to be 25 or 50m long - it has to be 27-29ºC and has to be chlorinated, otherwise I'm not interested."
For Reynolds, swimming is all about the right conditions and the right environment - and he takes a similar approach to leading Mace. The new chief executive took over from Stephen Pycroft at the beginning of this year, after a long and carefully managed transition. Reynolds says he is a different sort of chief executive to Pycroft: where his predecessor, who won personality of the year at the 2013 Building Awards, is ebullient, bullishly leading from the front, Reynolds says he is more corporate and focused on the nuts and bolts of the business environment. "Steve likes to be out there - he's the marketing guy, with his face out there, driving forward," Reynolds says. "I'm a bit more business system and process driven - and I'm probably more data driven."
But with Pycroft retaining a role, as executive chairman, who exactly is in charge of Mace? "I run the business," says Reynolds. "Ultimately I call the shots on who goes where or what bids [to make]. But we still work together."
So, now that he's secured the role of chief executive, where does Reynolds want to take Mace? And how does he intend to get there?
'A tight unit'
Reynolds says many of the 12-strong Mace board have known each other for 25 to 30 years - and this bond is a key part of the firm's success. "We've grown up either doing things on projects together or growing the business together. We're friends, we see each other outside work, it can be very loose in some respects, but it can be very formal in others."
Reynolds, who joined Mace as a project manager in 1996 after starting his career with Lovell Construction and then Bovis (now Lend Lease), says the bond between the board directors was in part forged through a management buyout in 2001. Reynolds, who was appointed to the group board in 2000, was part of the buyout, after which the business was led by a core team of six senior figures, headed by Pycroft. "We were a very tight unit and we had the authority to make decisions and drive things forward - it's a big benefit for us."
And there are certainly no plans to change the ownership structure. Four of the original buyout group remain: Pycroft, now executive chairman; Mark Holmes, chief operating officer of the consultancy business; David Vaughan, group finance director; and Reynolds. They own 96% of the business, with the remaining 4% owned by three further board members who were brought onto the board four years ago: Marcus Burley, head of the international business; David Grover, who leads the investment business, and Gareth Lewis, head of the construction business. The two remaining board members, Mark Castle, deputy chief operating officer of the construction business, and Jason Millett, head of the major programme and infrastructure business, are not yet owners, but will be "in due course", says Reynolds.
I've had people in the supply chain say you're owned by so-and-so, and I say, that's absolute bollocks. It's a private company
There has only ever been one serious takeover attempt, Reynolds says, by Atkins back in 1998 - "They could have bought us for £8m and they offered £6m, so we called them a cab," he recalls. He also dismisses rumours that the Qatari royal family's investment fund has bought a stake in the firm: "It's rubbish. I've had people in the supply chain say you're owned by so-and-so, and I say, that's absolute bollocks. It's a private company, owned by people who run the company, and we're there to make the decisions and drive the business forward."
Reynolds, who grew up in Watford and has spent much of his working life in London, took up the role of deputy chief executive in 2009. But it wasn't until he came off the Olympics project in 2011, where he was working as deputy programme director for the CLM delivery team, of which Mace was a partner, that the transition to chief executive began in earnest. "I was in the background picking up various things - getting into the corporate side," he says.
Reynolds also spent time working up the firm's strategy for growth up to 2020, by which point the firm expects to have increased its turnover to £2bn from the £1.1bn it posted in 2012. It is also aiming to have about 7,000 staff, up from about 4,000 currently. "You need a different business to manage those kind of people, particularly when they're going to be more spread out with diverse service offers. You have to have different business systems in place."
The race to £2bn
Now Reynolds' key task is delivering on the 2020 strategy that he helped to devise. It's an ambitious vision, but Reynolds has a track record of setting bold growth targets, which are then comfortably achieved. He says at the first away day for the directors responsible for the 2001 buyout he set an ambition to increase turnover to £500m within five years. At the time, Mace was largely a construction management company with a turnover of about £60m and 1,000 staff. "I said we want to be delivering services and products - not just doing consultancy - and that in five years we want to be earning £100m in fees and £400m in products," he recalls. "They took the piss out of me. But we actually achieved that in 2006. So yeah, that was good."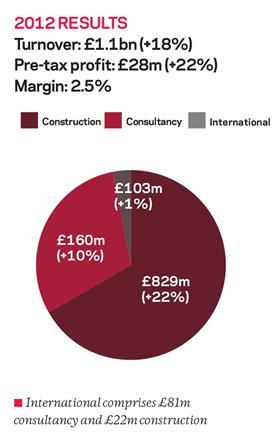 He says the 2020 £2bn-turnover target can be achieved on 7.5% growth year on year, which is less than the 11% annual growth the firm has achieved since 2006. Last year, profit grew 18%; revenue 13%; and staff 12% - and this year the firm expects to grow by about 15% across the board. This will bring revenue to about £1.27bn and see staff numbers rise above 4,000. "That's double China's growth," he says. "Not bad."
"Our focus for 2020 is to be a leading international programme manager; to be a top 10 UK contractor; to be delivering an integrated service offer throughout the business; and we want to be turning over £2bn with a margin of 4%. This isn't rocket science and it's only 7.5% growth year on year. Game on."
This year the firm has brought together its consultancy and international businesses, a move prompted by the increasing international consultancy work the firm was winning. This includes the £72m five-year deal to programme-manage, in a joint venture with EC Harris, the Qatar public works authority's vast programme of social infrastructure building projects, as well as the recent delivery partner role on the £1bn 15,600-home Gutenborg residential scheme in St Petersburg, Russia. And that's not to mention the project management job, also in a joint venture with EC Harris, for the Kingdom Tower in Saudi Arabia, which on completion will be the tallest building in the world at 1km high.
Mace is now organised into two principal businesses: a construction business, which includes fixed-price contracting and construction management; and the consultancy business, which includes programme and project management, design, and facilities management. This FM division currently turns over about £80m-£100m but is expected to grow into a £320m business by 2020, with operations in the UK, the US and the Middle East. Since 2010, Mace has also been building up an investment arm, with the aim of using its own capital to secure work for the consultancy and construction businesses. This currently generates about 2%, or £25m, of Mace's revenue, but Reynolds says the firm wants this to grow to 10%, about £200m, by 2020.
Key to this will be expanding Mace's presence in residential - which last year comprised 10%, or £80m, of construction turnover - particularly the private-rented sector (PRS). Reynolds says the recent Newington Butts contract win was a "big game changer". The contract will see Mace, in joint venture with investor Essential Living, develop, project manage and build a £100m 44-storey tower in Elephant & Castle, south London, which will be one of the largest private -rental developments in the UK. "Residential is becoming a key part of our business and our focus is on PRS. This is an area where Mace can play a big role, alongside funding organisations."
But it's the consultancy business where the real growth is expected to come, with revenue expected to rise from about £270m this year to £800m by 2020 - with the split between construction and consultancy shifting from the current 80:20 to 60:40 (see pie charts). Mace is targeting project and programme management roles overseas, particularly in North America, Asia-Pacific, sub-Saharan Africa, the Middle East, eastern Europe, Russia and Turkey.
Reynolds says the firm's high-profile projects, such as the Shard and London 2012, have helped it to gain a foothold overseas. "There's no doubt our reputation does help. These big beacon projects have helped us to win other things."
He does not expect construction, which this year is expected to report revenue close to £1bn, up from £829m in 2012, to grow as rapidly as the consultancy business. He predicts it will rise only to about £1.2bn by 2020. "I don't see the jump being huge. We've got a big presence in London, but we probably can't grow that at the same rate as other parts of the business."
That said, he would like to expand into the infrastructure sector, with more airports, railway stations and energy work, the aim being to triple the £125m of infrastructure work it undertook in 2012. "We're not going to be doing big, heavy civils or become a roads contractor, but there's the capability of real growth there."
He says the construction business will also look to do more work overseas, but only with select clients and in specific locations. "We'll do it around our core capabilities, be it commercial office or data centres or something like that. It'll be under the right conditions."
Much like Reynold's approach to swimming then, there's to be no plunging in without first carefully calibrating the conditions. It appears that behind all the bold talk of growth, there is first and foremost a cautious and considered approach.