The Skanska UK boss on prompt payment, where he aims to take the firm and his work at the Green Construction Board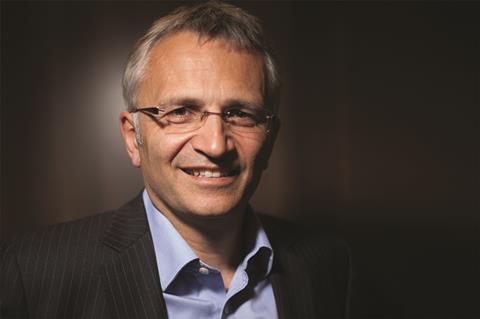 Mike Putnam isn't like other contractors, not at least when it comes to sartorial matters. While architects and other creative types tend to favour open neck shirts, contractors are usually far more buttoned up. Putnam, however, confides that he rarely wears a tie in the office and indeed his own bosses in Skanska's Swedish homeland almost never wear them. "I only put a tie on when I'm visiting clients," he confesses.
Putnam's straight-talking style, free of artifice, also marks him out from the crowd and sees him in good stead with his Swedish colleagues. "They tell me that for a Brit I'm very straight, plain talking and easy to understand," he says. "[In Sweden] you just say it as it is. You don't dress it up or make it look better than it is or gloss over it […] Often the British way is to make it very flowery or better or grander than it is."
It is perhaps unsurprising that Putnam fits so well with the company ethos. He has been at Skanska, or rather Trafalgar House, which Skanska bought in 2000 and rebranded as Skanska UK, since he graduated as a young civil engineer in 1982 - bar a short "sabbatical" at another firm in the early nineties. He worked his way up to executive vice-president before being made chief executive in 2009.
His approach has taken him to the top of the company, led him to co-chair the government's Green Construction Board with business minister Michael Fallon, and gained him a seat on the new Construction Leadership Council. But now, with growth returning to a number of Skanska's key markets, where is he set to take the firm and where does he want to see the industry heading?
Pay when it's due
Perhaps the best reflection of Putnam's attitude is his approach to prompt payment in the industry. The issue has taken centre stage as workloads and margins have been squeezed across the sector in recent years and Skanska's competitors have adopted myriad different ways to try and tackle the issue.
For instance, Carillion's early payment scheme, already widely covered in this week's magazine, has drawn criticism because it requires subcontractors to sign a contract with 120-day payment terms. But Putnam isn't really interested in any of these. "If you believe in things like prompt payment then you do it, you don't mess people around," he says. "You've got to be careful with some of these supply chain finance schemes because they are not all what they're cracked up to be. Some of our competitors have been fairly vocal in coming up with schemes but I'm not convinced that they work."
Putnam says that he would support a fair payment charter backed by legislation, a recommendation made recently by a committee of MPs that investigated payment practice across all British industries and singled out construction as one of the worst. He adds that improving payment is something which has industry-wide support and will be tackled through the recently established Construction Leadership Council, formed to take forward the Industrial Strategy for Construction. But he concedes it could be "more difficult in terms of execution" than it has been to agree the principle that it should be addressed. "It's something that needs to be addressed but addressed in a way that works for everybody," he adds.
While Putnam is clearly keen that Skanska drives change in the industry, he is still dealing with the fallout from one of the murkiest episodes of its past. Skanska was one of the biggest users of the Consulting Association (TCA), the agency that secretly held information about site workers and which construction employers then used to deny them work. But Putnam is confident the problem is now historic and that Skanska "has a robust approach to those sorts of practices".
You've got to be careful with some of these supply chain finance schemes because they are not all what they've cracked up to be
Skanska does, however, continue to employ John Dickinson, who was named as a key contact of the TCA by its boss, in its human resources department, raising fears that the information from the blacklist could still be in use. But Putnam says he has no worries that the practice still goes on. Has he broached the topic with Dickinson?
"I think you have to be careful here that we don't set up a witch hunt," he says.
He adds that although clients have previously asked the firm about its participation in blacklisting, it has never resulted in the loss of work.
Where will growth come from?
Indeed Skanska UK's bottom line looks positively healthy, given the current market. Operating margins have remained above 3% and revenue has hovered around £1.2bn over the last couple of years, down from a peak of £1.55bn in 2009. Through the deepest recession in living memory, Putnam appears to have navigated a fairly safe passage. "We are endeavouring to keep the results at a sustained level. One thing I'm focusing on is good consistent results," he says.
Putnam is reluctant to discuss his plans for the future but hints that 2013 will present much of the same before sustained growth starts to return in 2014. Indeed he is already growing staff levels, which fell last year by 371, in anticipation. That confidence will have been boosted by Skanska's appointment to build the £500m Scalpel tower in the City in July, although Putnam doesn't want to get into the details because of client confidentiality.
Putnam believes infrastructure work will prove the biggest source of growth in the next few years. "At the moment our [balance of] activities across infrastructure and buildings is about 50/50 and over time we see buildings staying at a pretty static level and we see the infrastructure side being where we will grow," he says.
One area that will now receive no investment is the fledgling Homes by Skanska business in the UK, which the firm announced this month that it will be closing. Putnam says the homes were "selling well" but that money was better invested elsewhere. He said in housing a lot of money was tied up in land and there had already been a "sizable investment". He says: "For that [business] to get to the size that we need it to get to that investment multiplies up many times. That's why we decided we would rather use this money elsewhere."
Construction's future
Outside of Skanska Putnam co-chairs the Green Construction Board and sits on the Construction Leadership Council, both of which have been set up to guide the construction industy towards fairer and more sustainable working practices.
At the Ecobuild event in March this year Putnam, operating alongside Michael Fallon, launched the Green Construction Board's Low Carbon Routemap, which set out the steps the construction industry needs to take if it is to meet its 2050 carbon reduction targets.
Many such groups have come and gone before without making a big impact, so, why should these be different? He is typically blunt: "It's not going to be an easy ride but there's a real appetite for change and actually it's easy to disregard the things that have gone on in the past," says Putnam "The industry we all work in today is much better than the industry that I joined. When I look at the culture of this business, it's miles away from the old Trafalgar House culture we had 20-25 years ago."
He says you always need to have goals and he practises what he preaches. Putnam has just finished building his own house: an eco-home with sharp lines on the banks of the Thames in Oxfordshire, which fulfils an ambition to build his own house he has had since he graduated as a civil engineer. The Skanska chief executive laughs when asked whether it was on time and budget. "Let's just say, you make some choices that put stress on those things," he says. But he adds: "I can say I paid everyone, if not ahead of time, then on time."
Mike Putnam will be blogging as part of the sustainability community on our website, which has expert opinion on topics from green energy and design to UK planning. Sign up to the newsletter to keep up to date