The new boss of Aggregate Industries is working overtime to ensure a recovering market has all the materials it needs and to improve the firm's relationship with the supply chain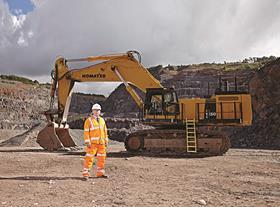 Pat Ward would like to meet you. The new chief executive of Aggregate Industries - one of northern Europe's largest aggregates, concrete and asphalt producers
- has spent his first six months in the role getting to know the firm's main customers, many of whom are contractors, architects, and other firms in the construction supply chain; companies probably like yours.
This interview is part of Aggregate Industries' charm offensive. After years of competition inquiries into the aggregates market, it's an industry that has had its share of bad PR, even if no evidence was found of anti-competitive behaviour in the specific markets AI operates in.
It takes place alongside the European leg of the International Holcim Awards for Sustainable Construction, held in Moscow, an impressive event put on by Aggregate Industries' (AI) Swiss parent company Holcim to celebrate the best in sustainable thinking in the built environment worldwide. The two-day event is drawing to a close, and
an hour has been scheduled to speak in the lobby bar of the striking Stalin-era high-rise Radisson Royal, known locally by its former name Hotel Ukraina, about Ward's plans for AI.
There's a lot to talk about. Suppliers have been thrust into the limelight recently as the UK's recovery puts pressure on materials producers and their prices; then there's the small matter of Holcim's proposed mega-merger with fellow aggregates giant Lafarge. Over a beer, the jovial Scot discusses these matters, and an uncomfortable home truth.
Talking capacity
Aggregate Industries is a large and diverse business. It has 350 facilities ranging from quarries to ready-mix plants and two-man operations, across the UK and Northern Europe. Its facilities produce 34 million tonnes of aggregate a year. Its primary production bases are in the UK and the firm is a net exporter from the UK. While aggregate production is its primary business line, AI also has a growing construction services business. This business works as a contractor in areas such as major road paving jobs - current works include upgrades of the M1 and M8 motorways - and it also has a research and development arm that produces tailored or mass-producible concrete products for contractors or architects. This R&D function is an important resource for the firm, and Ward says AI should be able to launch products to tackle "some big challenges, watch this space".
With parts of the construction industry rapidly moving from famine to feast in the last 12 months, security of materials supply and pricing has become a hot topic. Ward is keen to reassure AI customers that there'll be no issues for AI in ramping capacity back up again to meet demand. "There's concern about availability of supply, but the product availability is there and it could be enhanced if there's more construction," he says.
While the market has recovered in recent months, Ward says the aggregates market is still well down on the pre-recession peak. The firm's production fell around 50% during the recession, Ward says, with sites mothballed under drastically reduced demand. Some facilities have closed permanently, others temporarily, with the latter able to be brought back on stream to meet demand if required. He stresses "productivity gains" at the firm's remaining facilities mean AI can operate at "higher capacity from fewer sites".
At the moment AI's focus is on improving or replacing existing facilities rather than opening new or mothballed sites. The firm is in the process of replacing its Bardon quarry with another close by entailing a total "lifetime" investment of around £80m. The project will be broken down into packages, including civils packages and some tunnelling work, all going to market imminently. The firm has also completed a massive project to upgrade its Scottish quarry with a new crusher facility and "glory hole" delivery system, where quarried material is pushed down a 300m vertical shaft to an underground conveyor belt and out to waiting ships.
"These projects are a huge vote of confidence in the UK business," Ward says. His main concern in terms of capacity problems is logistics. "Large companies like ours have been able to weather the storm and have cut our cloth accordingly. But haulage companies have had to make deep cuts, and there is less transport available."
Another area of concern for firms is skills shortages, but AI reckons it's cracked that too. It has long-running apprenticeship and graduate programmes that are being ramped up. The success of AI's apprenticeship programme has attracted admiration from elsewhere in the Holcim group, according to Ward. "Some of the other [Holcim] companies are struggling with how to deal with the skills issue. So they're reviewing how we do ours," he says.
The Holcim and Lafarge merger would create a £32bn turnover firm with EBITDA profit in excess of £6bn, providing it clears the necessary regulatory hurdles. Both firms are selling off assets around the world to appease competition authorities, including Lafarge Tarmac in the UK. But Ward is cagey on the subject and insists planning for post-merger is not a priority for AI, in fact quite the opposite. "The merger was announced within a week of me arriving," Ward says. "So my first job was to make sure our people weren't distracted. The first key message to get out was that was not our priority for the year."
He won't be drawn on what the deal would mean for AI, or the UK construction industry: "From our perspective it's business as usual. It has been a long time since the announcement and [the deal] is a long way off."
Quarrying in the blood
Ward has quarrying in his blood. He's a lifer, with 19 years under his belt at AI, Holcim and their various forerunners. He got a degree in quarry management and took on various technical and operational roles at AI, including a brief stint in Saudi Arabia, before moving to the US to become senior vice-president of Holcim's Western and Mid-Atlantic US business for 15 years. When the AI chief executive role came up "there wasn't any hesitation at all", he says, given he "came from the business originally and always had retained links with it".
Sustainability is important to AI, and Ward says this goes from the ground up to Holcim board level. This is partly reflected in the Holcim Awards, which in this cycle celebrated everything from solar shading cladding products for towers to the winning proposal to reclaim industrial wastelands in Southern Italy with marshlands, while retaining the industrial landmarks. Holcim's board sets challenging carbon reduction targets, "but there's nothing to say we can't be more aggressive," Ward says. AI has set up a sustainability board to drive improvements. "We want to embed sustainability in all aspects of the business. We have got pockets of excellence at the moment, but we want to spread that best practice across the business," he says.
That said, there is no escaping the fact that AI's operations are energy intensive, for which it is penalised under UK and EU emissions trading schemes. Ward says he feels these carbon trading schemes can be improved, but says "everyone's on the same playing field". AI offers a special line of aggregates products for eco-conscious customers called the "Life" range, which is low carbon and low water.
Ward emphasises safety as a key priority for AI. He has taken it upon himself to "get to several of our projects, to see that we're set up well" in this respect. These projects include the M8 paving job at night, where conditions are challenging: "When you step out on a motorway job at night, where one or two of the lanes are still in operation, it's noisy and intimidating. But after 45 minutes you start to lose your awareness of it, and that's the danger."
But not everything will be so straightforward. There's a job to do to improve the firm's relationship with the construction supply chain. "The feedback has been it's not as easy to do business with us as it was," Ward admits. "I'm going to do my best to address that." Part of that will be trying to "get involved earlier" on projects and "integrating more closely" with its customers' supply chains.
And that too is all part of AI's charm offensive. Ward seems to have the credentials and the personality to win the construction firms back around.