Peter Rees' 29 years as head of planning in the Square Mile have been nothing if not controversial. In his first interview since announcing his departure, he talks about transforming the City, his legacy and why his critics are wrong about him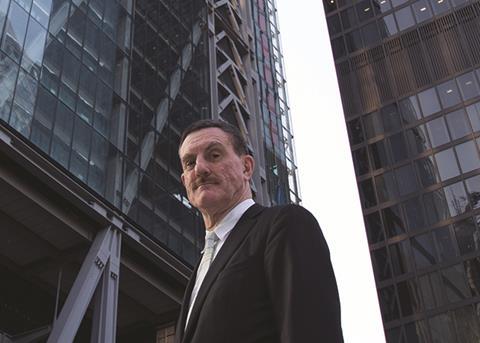 As head of planning in the Square Mile for the past 29 years, Peter Rees has arguably played a larger role in re-shaping London's skyline than any other individual in the period. He has overseen development in the City since Margaret Thatcher sparked the City's Big Bang through financial deregulation, and worked through three crazy decades of booms and busts.
Like Rees-approved schemes such as the Gherkin, Cheesegrater and Walkie-Talkie, he has towered over the development landscape of the City. The fact is that 78% of the City's office space has been renewed under Rees' 29-year tenure.Thousands of developments, including several towers, bear his stamp of approval. Countless more never made it past his desk.
Rees reluctantly passes the reins to his trusted deputy Annie Hampson next month, because his post was axed by City of London Corporation in a restructure - Rees says for cost-cutting reasons. He will join renowned architecture school The Bartlett as a professor.
Architects are like insecure male lovers - desperate to prove something. Engineers are the providers of Viagra

Peter Rees
Rees certainly stamped his authority and colourful personality on the role and, unusually for a planner, gained a larger than life reputation along the way. His tenure did not pass without controversy. He crossed swords with conservationists on multiple occasions - whom he once witheringly branded the "heritage Taliban" - while others criticised the extent of his powers. Uruguayan-born architect Rafael Viñoly, who is a fan of Rees after he approved his designs for the Walkie-Talkie, nonetheless likened him to France's absolutist monarch King Louis XIV for his "form of absolutism" in getting things done in the City. "It takes one to know one," Rees responds drily.
Sat self-consciously on a sofa in the corner of the central courtyard cafe of the City's ornate Royal Exchange building, Rees cuts an unlikely tyrant. For all his zinging one-liners, he is not a showman either, or at least not today. Instead - in his first interview since announcing his departure from City Corporation - Rees is humble, thoughtful and passionate. He is keen to take on his critics and to answer the big questions: what does he think his legacy will be and what will happen to the City now that he's moving on?
Legacy
Rees' imminent departure from City Corporation has dismayed the London development industry, which developed an understanding of the trained architect's views and relied on his dependable knack of winning over the City of London's planning department and committee. Veteran developer Sir Stuart Lipton, who has worked with Rees on several developments, including the eighties mixed-use Broadgate scheme, is among those sorry to see him go. "There's nothing wrong with planning when you work with Peter Rees," Lipton says. Guy Bransby, head of planning at Jones Lang LaSalle, agrees: "You knew you'd get certainty. What Peter told you was invaluable because his advice didn't waver. If he was supportive then it took some of the risk out."
One aspect of Rees' legacy is the evident success of the Square Mile as a business centre. Tony Travers of the London School of Economics says "the success of the City compared to other international centres" is in no small part down to its "adaptability" under Rees' stewardship. "The City has been the most adaptable British institution other than the monarchy," Travers says. "It adapted to the Big Bang and now it's adapting to the post-financial-crisis world by becoming an insurance and tech centre. No other world city has been as deftly knocked down and rebuilt."
This transformation was partly borne out of necessity as Canary Wharf threatened the Square Mile's supremacy from the nineties onwards. Rees says London "needs both" districts, but admits there is still competition between the two. He is theatrically dismissive of Canary Wharf, calling it a "second Croydon" and a "temporary solution" to "under supply of office space in the City". He contends that relatively new business districts like Canary Wharf, Croydon, and overseas equivalents like the La Défense financial district of Paris, will always play second fiddle to the wealth of life, places, boozers and history of the 2,000-year-old City.
This point about life on the streets of the City is key to Rees' thinking on his legacy. It is why he's suggested the Royal Exchange as a meeting place. The 19th-century merchant building was converted into a retail, office and restaurant complex under encouragement from City Corporation and now hums to the rumble of conversation and gossip, like nearby historic Leadenhall Market, which has similarly been restored to accommodate bars and retail. "We've tried to bring the party into the City," Rees says.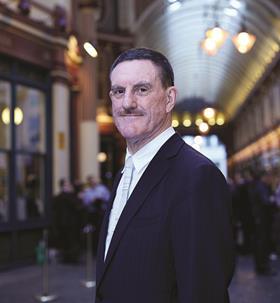 But for many, Rees' legacy will instead be the cluster of tall buildings that has sprouted up in the east of the Square Mile. Contrary to popular belief, City Corporation does not encourage developers to build tall. "There are two reasons to build tall," says Rees. "One is an inferiority complex, the second is that you've run out of space. The second is why we build tall in the City. But if you can possibly avoid doing them, don't do them." He jokes development teams are often motivated by inferiority complexes. "Architects are like insecure male lovers - desperate to prove something. Engineers are the providers of Viagra."
He denies an oft-levelled criticism that over-development in the City of London has damaged the city's historic fabric (see architecture correspondent Ike Ijeh's blog). As a former conservation architect, Rees takes the criticism particularly badly. "The City promotes conservation-led development," he says. "The balance between the two is what makes planning." He is unapologetic about historic alleyways that have been overshadowed by towers, such as Love Lane with the Walkie-Talkie. "In Manhattan you have a cathedral that is surrounded by skyscrapers," he says. "I love that kind of contrast."
Rees names Broadgate, the Gherkin, the Royal Exchange and revitalised public spaces around St Paul's Cathedral as project highlights from his time at City Corporation. But he admits some howlers have slipped through. Two in particular spring to his mind - an "awful" office tower block built by Barclays on Gracechurch Street that looks like "mating robots" and British Land's sprawling Plantation Place development adjacent to the Walkie Talkie on Fenchurch Street, which he regards as "gross over-development". Both got through, he says, against his will, due to political wranglings above his head. Rees' most proud planning victory was the James Stirling-designed No 1 Poultry, which he recommended for approval, only to be defeated at planning committee, before the scheme was dragged through the courts right up to the House of Lords, which ultimately backed Rees.
"Luckily there wasn't a European court in those days as it was reversed at every step and if it had gone on one more step it probably would have been refused." If he has regrets about recent highly contentious approvals - such as the under-construction groundscraper 5 Broadgate for Swiss banking giant UBS or the Walkie Talkie - he's not letting on today. He urges critics to "reserve judgment" on these projects until they're completed.
Pressure-cooker-type situations do not intimidate Rees - in fact, he enjoys them. "I like the excitement and the challenge," he enthuses. "I always wanted to be the odd one out. I'm not saying that to boast, I've always felt like that, even as a child. I'm a one-off. I've never wanted to gain friends and influence people." Has he thought about the terms on which he might judge his own legacy? "If I walk through the City in five to 10 years and it's still changing in a balanced way."
The future
Some in the London development community have speculated Rees' departure may have been partly for political reasons, perhaps linked to a perceived strengthening of the City of London's planning committee with the recent arrival of a QC and a planning committee member from rival authority the City of Westminster. Rees denies there were political reasons behind his departure. "Like any authority City Corporation has had to make cutbacks," he says. Contrary to comment that he ruled the City planning department like an absolute monarch, Rees is keen to acknowledge the "huge number of people who have been involved in transforming the City" and "the huge team of skilled planners in Guild Hall" for their work over his 29 years there.
As for the future for development in London, Rees is concerned about the prospect of nearly 250 proposed towers being scattered across London in areas such as Nine Elms, Canary Wharf and the South Bank, as forecast by New London Architecture last week. "I'm opposed to that if there's not going to be anything in between them," Rees says. "You must have a strategy. In the City our strategy has been to cluster them in a very small part [the east]." Contrary to the direction of travel elsewhere, Rees believes the City is "moving into a very different era, focused on refurbishment". He argues many buildings now coming to the end of their working life, or buildings with lease breaks, were built in the eighties and nineties and can be usefully refurbished, perhaps with a new facade, much more sustainably and cheaply than if a developer knocked them down and started again.
As for Rees, he has got over the initial disappointment of leaving the City Corporation, which is actually sponsoring his first year at the Bartlett. In any case he seems tired of playing the role of a gothic villain for the conservation lobby. "It's all very well spending all this time rejuvenating the City, but it's got to the point, like Dr Frankenstein's monster, where I need a bit of it myself. I'm seeing this professorship as some sort of vampiric attempt at rejuventation."