Bob White, Ian Eggers and Gareth Stapleton have had some stressful moments since launching their own construction management consultancy in the midst an economic downturn. But now Rise is, well, on the up.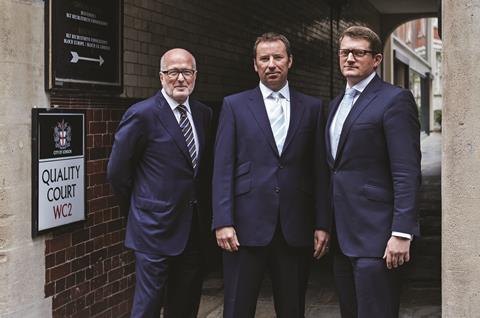 Ensuring that a business has the right mix of skills at its disposal is always important. But when you're launching a start-up from a coffee shop and only have the skills and experience of three partners, it becomes a matter of survival.
This is something that Bob White, Ian Eggers and Gareth Stapleton know only too well, having formed their nascent consultancy Rise just two years ago. Of course, the recession has seen a lot of start ups, but what sets Rise apart is the seniority of the partners involved: in White and Eggers - a former chief executive and construction boss at Mace - the company can boast two of the industry's best known figures.

So what skills did each of the three bring to the table in that coffee shop? "Gareth likes to go rowing, Bob drinks a lot and I like to play keepie-uppie in the office," says Eggers.
While such talents are clearly critical to nurturing a new project, development and construction management consultancy - with echoes of the business Mace was before it entered contracting - it is perhaps fortunate that the three men had rather more than that to go on.
So, what motivated Eggers and Stapleton to leave senior positions and plough their own money into setting up a new business at such a difficult time in the economic cycle? And why do the partners have such confidence that the company will be a success?
Three wise men
Bob White needs no introduction. One of the founding directors of Mace, he went on to become the firm's chief executive and then chairman before leaving the company in 2008 and becoming a face of the industry as chief executive at Constructing Excellence (see box, overleaf). Under his leadership Mace grew into probably the most respected construction management firm in the UK.
Eggers, too, is ex-Mace, having worked for the company for 18 years and risen to be director of construction management services and a member of its strategic board for construction, before leaving the firm in July 2011.
Stapleton is perhaps less well known to the construction industry as a whole, although he can boast a glowing CV. Like White, he is a trained architect (Eggers' background is in engineering) and he worked for Wilkinson Eyre and then Hawkins\Brown before completing an MBA and going into project management. Before he left to set up Rise he was managing director of project management firm PDCM, where he worked on high-profile schemes for clients such as the University of Oxford with architects including Rafael Viñoly and Herzog & de Meuron.
Rise's founders say the firm is a "management company working exclusively in the built environment", which sounds familiar. Indeed, the description has echoes of the formation of Mace back in 1990, created by senior Bovis executives keen to pioneer construction management in the UK.
But since the recession, Mace has broadened towards taking on fixed-price contracting roles, with the renegotiation of its role on the Shard being the most well-known example.
It is clear that this was a direction of travel with which Eggers felt pretty uncomfortable. "The company had gone from something that it was to something that I didn't want to be in, so I left," he says. "They were going in one direction and I was going in another. Good luck to them. There are no hard feelings. It was a formative part of my life - a huge chunk of my career - and it was good."
It was very much about getting closer to the client at the inception of a project, working on the business case with a client. So, not just the day-to-day PM role. And that was the beginning of the conversation that led to Rise
So can Rise be seen as Mace 2 - a firm founded on the principles behind the £1.1bn giant? Eggers laughs. "No, no, no," he says. "We are getting into construction management but from a consultancy position as opposed to a contracting position, which is where the boys from Bovis started. We've led ourselves upstream into development management, whereas the construction management guys at Mace went down in contracts. We're diametrically opposed."
The idea of setting up a dedicated project and construction management consultancy clearly also appealed to Stapleton, who says that the idea of nurturing relationships with key clients and working with them from the inception of a project was something that he had enjoyed at PDCM. "It was very much about getting closer to the client at the inception of a project, working on the business case with a client," he says. "So, not just the day-to-day PM role. And that was the beginning of the conversation that led to Rise as you see it now."
A helping hand
However, even with such a wealth of experience, Rise's founders didn't just hit the ground running. Both Eggers and Stapleton were bound by strict non-compete conditions when they left their respective businesses, meaning that poaching former clients was off the agenda. Eggers says: "I think that past experiences with these kinds of business is that senior directors walk out and take their clients with them. Believe me, we started out running between meetings and coffee shops."
The goodwill with which Eggers left Mace, however, turned out to be key to Rise's ascent from the City's coffee shops to its current third-floor offices in a courtyard off Chancery Lane. Mace's then chief executive Steve Pycroft - since elevated to chairman - provided an introduction to Julia Peyton-Jones, the director of the Serpentine Gallery, which was then starting its Zaha Hadid-designed Sackler Gallery refurbishment and extension project, with Mace engaged as a construction manager on pre-construction work. However, the client decided to go down the route of main contractor with a separate project manager and, following an interview, Rise was engaged in a PM capacity.
The project was very high-profile and involved some pretty formidable figures: not just Hadid and Peyton-Jones, but also funders such as property developer Peter Palumbo and New York mayor Michael Bloomberg. Having taken on the PM role, then, Rise couldn't be seen to be doing favours for old friends. One of Rise's first jobs was to run the procurement process for the main contractor, on which Mace lost out to Galliford Try. Eggers explains: "So while I'd had a leg up by Stevie P, I had to have him in the office and say that we were going to have to let Mace go on the job because the prices and the programme weren't working."
What did that do to the goodwill that had existed before? "It was bloody difficult - you can imagine the fun and games I had with that," says Eggers. "But Steve is very pragmatic. Business is business. We went out to bid and ended up with a different contractor, but that's history. It was very stressful. All in one go: Julia, Zaha and the issue with Steve and Mace. Phew! It's a great way of losing weight." Stress levels aside, the Sackler project proved a success and Rise picked up more work, albeit some of it on a pro bono basis, from the Serpentine, managing the installation of the gallery's last two summer pavilions. "We were there gluing, screwing, fixing as hands-on project managers to get the job over the line," says Stapleton. "I mean that literally."
The company has also steadily picked up other work over the last 18 months, with commissions from the likes of Barclays, the NSPCC and the Modern Art Oxford gallery. And it has picked up work overseas too, in places as varied as China, Qatar and Oman, and with the possibility of setting up an affiliate office in Chicago.
Perhaps the most high-profile commission Rise has on its books is a rooftop extension to the Westfield shopping centre in west London to accommodate Kidzania, a children's theme park. Stapleton is leading on the project and says that the early work Rise did on the scheme led directly to the company being appointed as construction manager.
"We did a really good job of working with them as PM over a 15-month period and it led to a very natural conversation around the boardroom table about whether we would deliver the project for them," he says. "So we have our first delivery commission. That, for us, is a big milestone."
Meteoric Rise?
All of which means that Rise's financials are starting to look rather better than they did this time last year. The company's first and only accounts lodged with Companies House show that it made a loss in its first year on a turnover of around £535,000. However, Stapleton says that the next set of accounts will show that turnover trebled and that the company made a small profit. "The order book for year three is growing in a similar fashion," he says. Over the last two years, the company's headcount has grown from three to 44, 13 of whom are based abroad.
It is clear that the three partners' plans for Rise extend far beyond where they are now. The ambition is based not on turnover or profit, but on being in a position to deliver projects to the best of their ability, in what they see as the best way possible. In short, Rise thinks that fixed-price contracting is a busted flush; an outmoded delivery model that is inefficient, provokes acrimony between contractor and subcontractor and does nothing for the client.
Of course, the argument for fixed-price contracts has always been that they remove the risk of delivery from the client, instead loading it onto a main contractor and its various subcontractors. Such an approach has obvious appeal to clients at a time of economic turmoil and at least in part explains Mace's increasing role as main contractor: it followed the clients.
But Eggers counters that view, claiming that Rise's model can save between 10% and 30% on the cost of delivery. This argument, says Stapleton, was key to Rise winning its recent commissions with Barclays.
Eggers says that Rise's still-developing delivery model is, in one sense, nothing new.
He points to developer and development manager Stanhope's Broadgate scheme, on which Stanhope deployed a construction management model to great success. "We just need to brush that off, dust it down, modernise it, integrate it with some clever technology - and bingo," he says.
It is clear that the way the supply chain currently works angers Eggers in particular, who says that there are too many managers from different firms engaged on a project, all of which leads to decreased efficiency and greater conflict. "You end up with a bloody QS on one side of the table battling with a commercial manager on the other side of the table, with a trade specialist commercial guy getting stuck in as well," he says. "It's bullshit. Why are clients having to suffer like that?"
The fixed-price model also means that subcontractors are treated with disrespect, says Eggers. "They are willing to come to the table under different terms where they are respected a lot more than is currently the case," he says. "They are professional. They are trade specialists in their own right and we don't give them that credence. They get subbie-bashed by contractors and …" - there's a theme developing here - "that's bullshit."
A lot of what Rise's directors are talking about is hardly revolutionary - as they admit when they reference the Broadgate project - but Eggers and Stapleton seem wary of rehashing the same old arguments about "collaborative working" that have been such a staple of industry and government reports since Egan. They remember watching the unveiling of the government's Construction Strategy this year. "It was the same pack of cards but they were presented in a different order," says Stapleton. "The king's got no clothes on and the little boy has to say something," adds Eggers. "That's certainly what we're doing."
Instead, Eggers says that as soon as Rise has a project on which it has been able to demonstrate its theories on efficient and effective delivery, it will publish the results as a case study. "Once we've secured one or two big commercial projects, we'll shout," he says. "We're very close, very close to securing a major scheme that will enable us to roll out everything we're talking about."
Coming from some in the industry that might sound like arrogance. Coming from Eggers and his fellow directors, however, it comes across as mere self-assurance.
Bob White on the rise ethos
In his 1986 book Out of the Crisis, the American statistician W Edwards Deming offered 14 principles for management to follow. The three most important were:
"Cease dependence on inspection to achieve quality […] by building quality into the product in the first place."
"End the practice of awarding business on the basis of price tag. Instead, minimise total cost. Move towards a single supplier for any one item, and a long-term relationship of loyalty and trust."
"Improve constantly production and service, to improve quality and productivity, and thus constantly decrease cost."
If we adhered to these principles we would eliminate many of the traditional procurement approaches that clients regularly adopt for their projects. Rise is committed to managed forms of contract. Our project management services can be extended into the control of the delivery phase, but only for clients with whom we have developed a close rapport based upon confidence and trust.
What we intend to recreate is the pure construction consultancy role conceived by Carl Morse in the sixties in New York. Morse, like Deming, was another great American - a builder rather than a scholar - who pioneered construction management and radically changed the planning and buying of construction to reduce costs. I was once fortunate enough to benefit from an hour of Morse's time. He extolled the virtues of his construction consultancy approach and emphasised the broad knowledge base of his staff.
Rise is intent upon recreating a similar model in the UK. We have a 10-point plan for change, the most radical point of which may be the abolition of lowest-cost tendering; the most innovative, our product-based design and supply approach; the most difficult, perhaps, the intent to significantly raise activity rates. Finally, there is the need to drive out waste in our industry. We will eliminate waste in team structure by removing inspectors and remove waste from the design process by the timely involvement of specialist contractors. By gifting the responsibility for internal management to the supply chain organisations, we will reduce waste in conventional processes.