Steve Morgan left Redrow in 2000 but returned five years ago to save the housebuilder he founded, now it's posting record results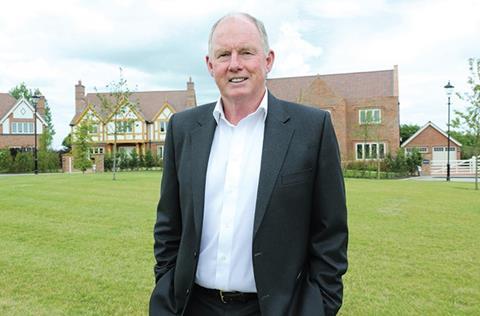 Coming to meet Redrow founder and chairman Steve Morgan at his Carden Hall mansion deep into the Cheshire footballer belt, you are left in little doubt that you have entered the world of the fabulously rich. Whether it's the enormous wrought-iron gates, the mansion itself, or the quarter mile arrow-straight colonnade of lime trees before you reach it that does most to give that impression is hard to tell, but there's no mistaking it.
Built a little over a decade ago, Morgan's home sits in a glorious landscaped setting. But there's something very Redrow about it: like the housebuilder's "new heritage collection" homes, it's a modern building clothed in old world charm. And like Garston-born Morgan's business empire and his wealth - estimated by the Sunday Times at over £500m - the whole thing has been created from virtually nothing in pretty short order.
From his office, in what looks like a converted stable blocks building on the side of Carden Hall, there's no doubting either his passions or his achievements. The walls are replete with pictures of players from the championship football club he owns, Wolverhampton Wanderers, and the likes of Liverpool footballer Steven Gerrard with his son as mascot at Anfield (he bought Wolves after an aborted bid to buy boyhood-love Liverpool in 2004).
The shelves hold multiple awards and a model of the diesel locomotive named after his new team; and the windows look out onto his personal mini five-a-side pitch and tennis court.
It's been quite a year for 61-year old Morgan. Named in April as Building's personality of the year, with Redrow housebuilder of the year, this month also marks 40 years since he founded the £864m turnover company with a £5,000 loan from his dad.
More importantly, he says, 2014 marks five years since he marched back into Redrow after having left the firm in 2000, and he commenced the business turnaround he now says is his career's biggest achievement. This return culminated in company record results revealed last month, and Morgan is happy to tell the story of how he managed it. But, as one of the last owner-managers still running listed construction businesses, the question is now how long he plans to stick around?
Turning things around
When we meet, Morgan's right leg is in plaster following a recent routine operation to sort an old sporting injury, something that's led him to do most of his business from his Cheshire home in the last month. "It's been entertaining," he grins in his broad Liverpudlian voice, "telling the directors to come up and see me - it's Mohamed coming to the mountain."
It's pretty clear to anyone that meets Morgan that he's not a man to hold back. But he's momentarily lost for words when asked to describe the Redrow that he returned to in 2009. "A disaster," he finally splutters, "Well, you wouldn't be able to print it."
He did, however, allow his company statement to print his "intense disappointment" in the set of results Redrow issued shortly after he returned: a £141m loss for the year to June 2009 on revenue of just £301m, down over 50% on the 2008 number. Almost 60% of the firm's 1,321 jobs had been cut.
Of course Redrow wasn't alone in being hit hard by the worst recession in 60 years. But Morgan is clear that managers had made "Redrow-specific mistakes" which worsened the impact on the firm. "First of all, none of them saw it coming. They went out in 2006 and early 2007 and filled their boots up with land, all bought at the wrong price, all bought on the assumption that life was going to carry on for forever and a day the way it was, with high density schemes and over-optimistic selling rates, and guess what? The music stopped. Redrow were completely caught with their pants down."
Then, Morgan says, Redrow compounded its error by cutting back too hard when the crash did come, meaning it stopped construction on half-built high-rise schemes that could never earn a penny until they were completed. How did it make these mistakes? "There were a lot of accountants on the board. I don't think they make great managers. In situations like that, accountants' training is you cut your cost."
Watching from the outside it had been a painful time. When Morgan exited his firm in 2000 he retained an 8% stake, netting a reported £115m. But the value of his holding fell as the firm suffered, and by the end of 2008 he was being approached by other shareholders requesting he step back in. Initially reluctant, he said he eventually changed his mind when he started to fear for the future of the firm.
Ever the canny operator, he clearly sensed an opportunity to buy back in at a good price and started building up his shareholding at the start of 2009, buying up anonymous "contracts for difference" in order that he crept in under the radar. It was a deal with another large shareholder, Toscafund, that secured him control, and on 23 March he walked back into the firm he'd left nearly a decade previously.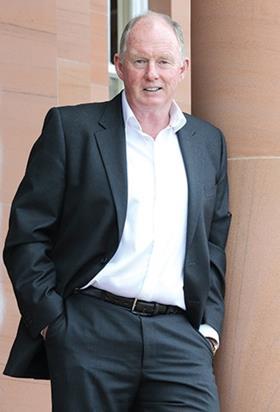 Morgan says he found a company virtually flat on its back, beaten by waves of redundancies and a lack of any sense of how to get back up.
"Morale was dreadful. I remember going into the head office first day back, there were weeds coming out of the car park, the windows were filthy, they'd closed the canteen. The place was echoing. I'd never seen so many heads down in my life. The afternoon of my first day I had a team pulling the weeds out of the car park, sweeping up and I had an army of window cleaners cleaning the windows."
His response, fuelled by a sense that there were opportunities in the market for the right product, was dramatic. "They'd closed five regions and therefore you had these super regions - the northern region managed everything from the Irish Sea to the north sea. It was just a nonsense.
"The first thing I did was actually reverse a lot of the cuts that had gone before me. I took the complete opposite view that we had to attack. We got busy again, opened sites up. Took people on. Built. Attacked. Incentivised the sales team. Brought some energy in."
He says it had an immediate impact. "It was amazing the lift in morale, where people had shed tears seeing their colleagues go out of the building, weeks and months before, when some of those same people walked back through the door again with their jobs. It had a phenomenal effect."
After six months fighting fires, his first strategic move was a complete redesign of Redrow's product. This move away from the high-density homes inspired by Labour's PPG3 planning guidance, resulted in the New Heritage collection - modern homes with an interwar feel inspired by the arts and craft movement. He then fought a hard battle for the acceptance of council planners.
There's no doubt Morgan is passionate about all this and that he put big demands on Redrow staff to make the turnaround happen. "I got the design team in: 'Right we're building shit product, let's get New Heritage started. Come on.' I was on their backs - 'Where are the drawings, lads? Come on, work! Right guys, build. Build. Get building.' And all of a sudden it was like, fucking hell, we're busy, everyone was busy."
Redrow turned the 2009 loss into a tiny £1m profit the following year, but the business was now pointing in the right direction. "That 15 months was the hardest I've ever worked in my life. To get to a £1m was, I think, possibly the biggest achievement in my career," he says, also paying tribute to his staff. "A lot of people worked their nuts off during that 15 months. It was a massive team effort."
Hopes and fears
Redrow has made stellar progress since its 2009 low. It launched a London business soon after, with a totally different product again, which has in the last year started to reap dividends, contributing £124m of turnover. Like the rest of industry, Redrow has benefitted from Help to Buy and improvements to the planning system, with Morgan increasing turnover almost threefold since he joined, and ramping up the number of homes produced by the firm by 70% to over 3,500.
This rapid expansion, alongside that of other listed housebuilders, has presented it with big problems in securing materials and labour.
"I could take you to quite a number of our sites where plots are completely on stop because there's no bricks. And that's not good, because if you get a house two-thirds of the way up and then stop, you're stopping everything. As a result of things like this scaffolding has become a problem, as there's so much tied up in half-built homes," he says.
The first thing i did was reverse a lot of the cuts. I took the complete opposite view that we had to attack. We got busy again, opened sites up. Took people on. Built. Attacked
His bigger fear is about getting the necessary trained staff, with endless cycles of boom and bust hitting the sector hard. Redrow employs more than 80 apprentices, a figure which has increased by 14% in the past year, and Morgan is scathing about the lack of responsibility taken by some of his major competitors in terms of training the next generation, though he says the situation is improving. "We need consistency, and we need training. Some of my peers in the industry have been dreadful. They know who they are. There's two or three fairly major builders in the industry who pay scant regard for training, particularly for apprentices. There's too much grey hair on the building sites."
However, with recent housing sales figures showing the impact of Help to Buy has probably peaked, Morgan cautions that it will no longer be possible to grow volume by speeding up the number of sales per site per week - expansion will have to come through opening more sites. Morgan remains a huge critic of the "quite frankly irresponsible" planning system, in particular the conditions which prevent housebuilders starting on site even when approval in principle has been achieved. He blames this entirely for the industry's inability to ramp up production more quickly. Woe betide anyone suggesting some developers are deliberately restraining growth in order to stay more profitable. "It's quite blatantly a nonsense," he says. "I know everyone senior in the industry and there's not a single one that thinks like that. When we get together we all have the same moan - it's about planning.
"They put in 60, 70, 80 planning conditions. And then you get some little bureaucratic - I was going to use another word - bureaucrat who comes along and says: 'It's more than my job's worth to let you start on site until condition 4AA3/1 has been cleared.' It's just…" He gives up the sentence in exasperation, pulling at his hair in frustration. "There's so much lack of common sense."
Despite his willingness to air his views in a pretty forthright manner, Morgan does not court the media, and says he doesn't enjoy the limelight - declining to have photos taken for this interview, for example. But there is no doubt he is - and knows he is - one of the listed housebuilding sector's last remaining big characters, an entrepreneur in a corporate world. The strictures of City reporting clearly chafe: asked about plans in the most recent results to grow turnover to £1.3bn, he responds grumpily: "You have to have forward looking statements these days under the latest bloody rules. If it was up to me I wouldn't be saying it at all - I think it's bullshit. I argued very strongly about putting the statement in. I was told under new accounting rules you have to do it. A load of bollocks. If you go out and say what you're going to do all the time you leave yourself a hostage to fortune."
And he senses there's a responsibility with being an industry "personality", even if a reluctant one. "If I go back 15-20 years there were a lot of big personalities in the industry, people like Lawrie Barratt, Danny Horrocks, David Wilson. A lot of people who would stand up and say it as it is to politicians. In recent years a lot of people are very political, they're afraid of upsetting politicians. But sometimes things need saying.
"I've probably got to the point now where I'm one of the guys who's got a few grey hairs. It's tended to be me that's said things that needed saying. We're a dying breed."
And if he's uncomfortable with his high profile, then he's not about to let this concern stop him doing the job he evidently still relishes. "My favourite time is going round the regional businesses - it's not their favourite times, I think they dread me coming - but I love going round the sites with the local management teams, getting back to the roots. It's in the blood."
So at 61, having turned Redrow around, and with all his other interests to distract him, and - presumably - with all the financial security he could want, does he have any plans to step back from day to day control? Not a bit of it. "Ask me in 10 years' time," he says, with a smile.
Steve Morgan on…
Politicians
Bloody politicians from successive governments. When was the last time we had a housing minister in the Cabinet? When was the last time they had more than 12 months in the job?
Taking Redrow private
That ship has sailed. I had a few people backing me but I couldn't persuade them to make their backing unconditional. I've had no end of them since saying they wish they'd gone unconditional. There's no satisfaction in saying I told you so to them, but I told them so.
The market
I think the traffic lights are on green. All the major political parties are committed to more housing, and we've got an improving economy all the time. Interest rates will go up, but I don't see them shooting up.
Building Awards 2015
Steve Morgan was named Personality of the Year at the 2014 Building Awards in April. The entry process for next year's awards - including categories for contractors, housebuilders, consultants and projects - will open later this month. Keep an eye on www.building-awards.com for details
Postscript
Original print title: 'Return of the king'