The development director for Sainsbury's on why there's still a future in building big supermarkets
Dean Clegg bounces into his interview with Building, his arm held out for a warm handshake. If he had a tail, it would be wagging. Just eight months into his post, the store development director for Sainsbury's wants to reassure the industry that the company has a "consistent" pipeline of development lined up. And with his northern cadences and no-nonsense style, it's easy to take the man at his word.
Those reassurances are particularly encouraging at this moment in time. Just last month Tesco announced a property writedown of more than £800m and said that it would concentrate on developing its convenience retail offer at the expense of its larger supermarket development programme. While stressing that Tesco is an exceptional case, analysts also noted a slowdown in supermarket development as a whole. So, to what extent has Sainsbury's scaled back its development pipeline? And what sort of work will the company be commissioning in the next few years?
Mixing the ingredients
The good news is that Sainsbury's development ambitions have been scaled back, but not by much. The supermarket built around 1 million ft2 of new space in 2012, down from 1.2 million ft2 in 2011. However, Clegg says that the company's development plans are now on an even keel. "Our strategy as far as we can see - and we need to be flexible - is in the medium term landing about 1 million ft2 a year for around £1bn of investment," he says. "Our plan is to maintain that. We've got the pipeline to do that." This year and in each year for the foreseeable future, Clegg says that Sainsbury's will build 10 or more supermarkets, plus a few extensions, and plans to open around two convenience stores every week, branded Sainsbury's Local, which Clegg describes as "a good mix of investments".
Our most loyal customers shop at a large supermarket, they do top-up shops on the way home from work and they shop online as well
So Sainsbury's is not about to echo Tesco's declared intention of focusing almost exclusively on the convenience end of the market when it comes to new development. Clegg says that his company takes a more balanced view of future need. "Our most loyal customers shop at a large supermarket, they do top-up shops on the way home from work and they shop online as well," he says. "It's important that we're in the mix in all those three areas."
However, Clegg admits that convenience stores do present a major opportunity for the big food retailers: the big four supermarkets currently occupy just 20% of the market, compared with around 50% of the overall grocery market, according to research by CBRE. "We're really proud of the growth of our local convenience stores in the last few years," he says. "Our convenience stores will overtake the number of supermarkets at some stage this year if we maintain our delivery. Especially in some of our big cities, the opportunities for convenience stores are immense."
The concentration on convenience stores by the big supermarkets - with the possible exception of Asda - has, of course, major implications for those contractors that have traditionally specialised in big, out-of-town supermarket development. After all, most convenience stores will in all likelihood be in existing retail spaces or constitute a small, albeit often critical part, of a wider retail project. As a result, the opportunities for main contractors with a history of developing supermarkets, however successfully, should be almost non-existent.
Clegg, however, presents a more positive analysis. "A lot of our convenience stores are developer-led - we'll go in there and fit them out," he says. "But we do have some convenience stores that we'll build from the ground. Obviously we've got our convenience local contractor partners that we've had for a number of years and they are remaining with us, but equally we're now seeing and actually supporting some of our traditional main contractors to take on convenience
work with fit-outs."
Indeed, Clegg is at pains to reassure its historical contractor partners that Sainsbury's isn't about to disappear as a client. "It's fair to say that if you compare the situation with three or four years ago the proportion of convenience stores is greater," he says. "The message, certainly from Sainsbury's' perspective, is that this isn't a complete flip. I know that the message from other retailers is, 'Whoa, let's stop with the large supermarkets'. But we still believe that the right strategy is understanding what's right for a particular catchment. So we will be opening 60,000ft2 supermarkets and 1,500ft2 convenience stores."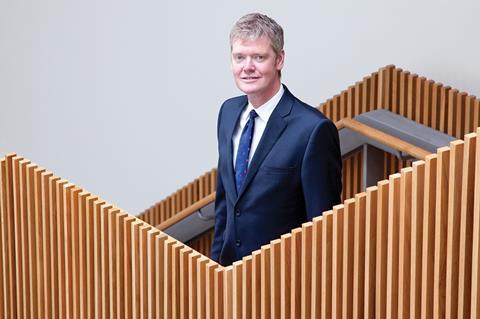 Restyling the aisles
While Sainsbury's has no current plans to develop so-called "dark stores" - mocked-up supermarkets in industrial spaces designed to service online orders - the company does have a significant refurbishment programme and continues to invest in the environmental retrofit of its estate. Clegg says that he has plans for 15 major refurbishments this year, and "between 15 and 20 in the years going forward sounds about right".
He adds that the company's strategy is for every store to have a major refurbishment every 10 years, with a "refresh" every five years, particularly in stores with a high footfall. "If you go back to when I joined Sainsbury's, we were massively playing catch up because we hadn't invested for a number of years," says Clegg. "We're now in a place where if we deliver 15-20 refurbishments every year we'll be in good order. We're launching three refurbished stores this week and when you walk into them they will feel like brand new stores."
Sainsbury's refurbishment programme is driven, at least in part, by its ambition to cut its carbon emissions by 30% by 2020 against a 2005 baseline. The company has a relationship with Imperial College London, which helps to analyse its data and guides investment in whichever green technologies will help the retailer meet its carbon reduction targets.
Our convenience stores will overtake the number of supermarkets at some stage this year if we maintain our delivery
However, in order to hit the 30% target, Sainsbury's new stores have to cut carbon emissions by 65% compared with previously developed stores. The combination of strategies, Clegg says, is already delivering results. "Since 2007/08, Sainsbury's has increased its selling space by 25% and achieved a 6% carbon reduction," he says. "In that same period, our estate has reduced its energy consumption by 9%."
So, with a pipeline of new stores worth £1bn a year, plus refurbishment works, how can building companies get a piece of the action? Clegg says that he has a framework comprising around 13 contractors working on new-build supermarkets at any one time, but that the approach on selecting a contractor differs from scheme to scheme. "In terms of who is going to be working with us on a particular project, every scheme is different, be it a complex mixed-use inner-city development or greenfield or a brownfield regeneration piece," he says. "So, there are some schemes where we identify who we think is the best contractor for that job within our framework and we'll then negotiate and deliver the relevant contract. And there are some schemes we'll go out to tender on. So we're not set."
Clegg says that just because Sainsbury's has a framework in place, that doesn't mean that he isn't open to engaging with other firms. In fact, he actively encourages companies to get in touch. "It's not a closed door - we're happy to talk to anyone," he says. "It's a rolling framework. We constantly review [and] the door is always open to new people."
How green is Sainsbury's?
Plans to cut carbon emissions by 30% against a 2005 benchmark by 2020
Has achieved a 6% carbon reduction and 9% reduction in energy consumption since 2007/08
Has 71 stores with biomass boilers, with plans to introduce more this year
Has 12 stores with ground source heat pumps and plans to deliver another 12 this year
Has the biggest array of PV cells of any company in Europe, with 82,000 panels covering 120,000m2 of roof space, and 189 stores have PVs on the roof