The Construction Industry Council's new chairman wants the body to make a strong case on behalf of the industry's professionals. He talks about skills shortages, improving the image of construction and stepping into the limelight
Gardiner & Theobald (G&T) is both one of the most successful British independent construction consultants, and one of the most private. So it may come as a surprise to many in the industry to learn that one of its partners, Tony Burton, will this week take on a very public role as chairman of the Construction Industry Council (CIC), heading the lobbying organisation for the construction professions. Not only that, but Burton takes over from media-savvy, outgoing chair and former RIBA president Jack Pringle.
Under Pringle's leadership the CIC has become a more visible organisation. The government is working together with the industry on a huge range of issues, from payment terms to procurement to the roll-out of building information modelling (BIM), through major policies like the construction strategy and the 2025 industrial strategy for construction. The CIC is at the heart of this and increasingly seen as the professions' main conduit to government, no small feat when you consider that as recently as five years ago the RICS was considering quitting the CIC on the grounds it didn't consider it value for money.
A quiet and measured person, Burton is the first to admit he'll be a "different character" in the role than his gregarious predecessor Pringle. But he is keen to make his mark. He also takes up the CIC's place on the heavyweight Construction Leadership Council (CLC), the committee set up by chief construction adviser Peter Hansford to implement the 2025 industrial strategy.
In a first floor meeting room in G&T's central London headquarters, Burton reveals his priorities for CIC under his leadership and some of the secrets behind G&T's success as one of the last remaining independent UK QSs. So what should we expect from him?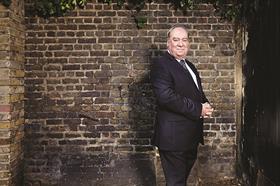 Skills shortage
There are a number of issues high on Burton's agenda as CIC chairman. But while helping construction consultants and the government improve their sustainability credentials, rolling out BIM and capitalising on the export potential of British construction consultancy services are all areas that require important work, it is clear his main focus will be twofold: helping the industry address skills shortages and improving the image of construction.
Skills shortages are only set to get worse as the market picks up and firms pay the price of not recruiting, training or retaining enough staff during the downturn. Building's 2014 consultants' salary survey, published last month, found 68% of consultants predict skills shortages over the next 12 months. Burton says the CIC will continue to lobby the government » » to put construction professions on the UK's skills shortages register, which would enable construction firms to obtain visas for overseas professionals more easily. But he admits this is not a long-term solution as "experience says they don't stay very long".
"There's no quick fix," Burton says. "We're a minimum of five or six years away from graduates coming through." Burton says under his leadership the CIC will explore areas where it can help open up other "faster" routes for people to enter the construction professions. He has first-hand experience of working with young would-be surveyors as a part-time lecturer at London Southbank and Leeds Metropolitan universities, and in this capacity is now working with London Southbank to restructure its surveying courses to "attract more young people".
But these shortages can't be addressed without looking at Burton's other top priority - improving the image of construction. "When you ask young people about construction, you don't get many complimentary or flattering remarks," he admits. "Why is it that society doesn't value construction professionals? Construction has helped address some of society's biggest problems, such as sanitation and railways. Today it should be about firing up young people about the next big challenges, such as climate change."
Construction has helped address some of society's biggest problems. Today it should be about firing up young people about the next big challenges
He says the CLC will lobby for public funds for an "image campaign" to help attract the "next generation" into the industry. Burton believes improving the image of construction will "help improve the diversity of the professions" in terms of attracting more women and ethnic minority entrants, another key Construction 2025 target.
But can organisations like the CIC and CLC really affect change, given the industry's torrid reputation for being fragmented and unable to speak with a single voice to government? Last year outgoing chief construction adviser Paul Morrell called it a source of "massive frustration" that efforts to bring the construction industry together as a single voice under the Strategic Forum failed after the UK Contractors' Group opted out. Burton agrees "it has been massively frustrating" but argues the CLC can perform this single-voice role. "We have got a different arrangement now with CLC and we've got to make it work," he says. "There's been a lot of debate about the CLC's composition, but I would say I don't really mind what it is. We have got it now and we have to use it. It'll evolve." On the Strategic Forum question, he says: "What it can usefully do is act as an industry forum for debate prior to the industry moving into a CLC meeting, where government is also at the table."
Burton says he sees his role as CIC chairman as being equivalent to "conducting an orchestra". "There's a score out there that you've got to follow. But if somebody starts playing jazz when the score is classical, you have to address that." He adds: "It's not my role to set the agenda, it's to listen to what the members are really saying."
Burton has shadowed outgoing chairman Pringle for the past year as his deputy chairman and Pringle will step down to deputy chairman to support Burton in his first year in the top job. "While our approaches may differ, I don't think our objectives do. Our principles are the same," says Burton. Will he match Pringle's ability to be highly vocal when required to fight for CLC's interests? "In the right places, yes," he replies.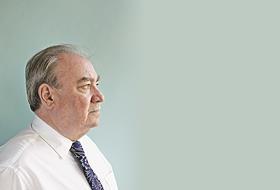 Family affair
This measured view may be because courting publicity is not something in G&T's DNA. Burton admits G&T shies away from the limelight: "There are certain things you don't want to share outside the family." But he indicated the firm was considering opening up more to the media.
Burton is part of senior partner Simon Jones' core management team, sitting on the consultant's main board and its finance team. He is also leader of "a large cost management business unit". From what he does say about G&T, he could be accused of a Panglossian view of the business, saying "every area of the business is doing particularly well" in recent months, including "across the UK regions; across all sectors", while he describes performance in the US as "quite remarkable". In the last couple of years the firm has also launched in Scandinavia. Even where "the recession" prompted the firm to sell its offices in central and eastern Europe to start-ups set up by its former partners in the region, Burton says these businesses are "doing far better" on their own.
However, while Burton maintains a rosy outlook, a look at G&T's most recent accounts shows it hasn't been an easy journey to get to this point. The firm enjoyed a solid year in its last set of published accounts to 30 April 2013, with profit edging up 4% to £18.3m, but this was its first rise in profit in four years. At the same time its partnership expanded by 20 to 143. However, turnover fell 5% to £106.7m, with the UK falling most by 9% to £82.9m. The UK regions contracted particularly sharply, by 27%, following on from the merger of a number of its regional offices. Nevertheless, in London the firm performed strongly and poached work and staff from rivals in recent months, such as much of Aecom's King's Cross work and team, including the proposed Google UK headquarters building. Overseas the firm has a lead role on one of the largest and most ambitious construction programmes in the world, as lead cost consultant on the 2022 Qatar World Cup.
He says G&T's ownership structure as an independent partnership has been "critical" to its solid performance since the downturn, and that the firm benefits from being answerable to equity partners rather than external shareholders and investors, allowing it to be flexible. "If we need to meet to discuss something we'll meet to discuss it right away." Major decisions are taken "in many cases by small groups" within the equity partnership. He says the firm is absolutely committed to independence, despite the spate of firms that have sold up. "We're not short of cash and we don't have an ageing demographic of partners. Almost all of the reasons why you would sell don't apply to us."
Perhaps surprisingly, given G&T's ever-expanding global footprint, Burton says the firm doesn't set itself hard and fast targets. "We don't target anything. We don't have a strategic view. We'll acquire a retail expert in Mexico. We simply follow our clients," he says. Pushed further, Burton admits they have targets, but they pride themselves on flexibility: "We're not slaves to them," he says.
As he adapts to his chairman role of CIC, Burton may become more accustomed to talking the language of targets. Construction consultants will want to know he is the right man to build on the organisation's recent momentum.