Aecom's head of buildings and places, Jason Prior, maps out where the company is headed
Not every firm could take on a project like Dholera. Aecom has just landed the role of programme managing the development of this brand new city in India, which will be home to a million people.
Aecom - with 45,000 staff and $8.2bn turnover (£5.2bn) - is the largest engineering consultant in the world and one of a handful of firms that governments can turn to for this scale of project. Jason Prior, the firm's global head of buildings and places, says Dholera could be the first of many such roles for Aecom on cities built from scratch in the developing world.
"Building a city on a green field site in the UK would be a pretty terrifying concept and we would take many years to even get to pushing the button," he says, speaking from MidCity Place, Aecom's European headquarters in central London. "But of course in Asia people push the button overnight and say OK let's get on with it […] these projects require firms with this level of infrastructure to tackle them."
Prior is Aecom's big picture man. Coming with the acquistion of architecture practice Edaw, for seven years he led the development and implementation of the masterplan for the London 2012 Olympic park and he is now tasked with chasing down equally large or larger development opportunities globally. He's also leading the integration of the team to deliver them: Aecom's newly-merged, 10,000-strong buildings and places division - incorporating a range of consultancy areas including masterplanning, architecture, cost consultancy and project management.
Aecom's critics say that this macro focus comes at the expense of quality delivery to its local markets such as London. Some of the biggest critics are former partners of one of Aecom's largest acquisitions, UK-based consultant Davis Langdon. Half of Davis Langdon's former equity partners have departed since its 2010 takeover - some citing frustrations with Aecom - to join rivals or to set up on their own. In addition, Aecom's wider business reported a $58.6m (£36.9m) loss after a $317m (£200m) writedown on the value of its European and management support services businesses in its 2011-12 financial year.
But if Aecom suffers from a perception of being a big US corporate machine, Prior does not fit the stereotype of a company drone.
The former landscape architect is charming, warm and funny, with an ever-present flicker of earnest geekiness for projects. He also advocates unapologetically Aecom's expansive multidisciplinary approach. But how does he justify this and where is Aecom looking to target its massive resources? And how will it move on from the aftermath of the Davis Langdon deal?
Global ambition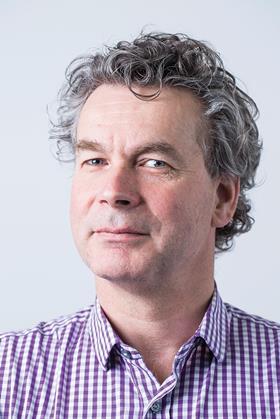 Aecom is six months into an internal restructure that brought together three of its consultancy divisions into Prior's buildings and places division: programme and cost consultancy - mainly comprising Davis Langdon; planning, design and development - including the UK masterplanning business formerly run by Prior; and building and engineering.
Prior describes his buildings and places team, which sits above these business lines, as a "small team buzzing over the top, trying to make this integration work day-to-day".
Prior's main proposition to Aecom's critics is that integration is driven by global clients' demands. The demand is particularly acute in the developing world, he says. "We're doing very large developments in parts of the world where the development industry is not that strong. Some of our global clients are saying we want you to do what you did in country x in country y and we want some consistency about it." While he says Aecom has the "strength" to go it alone on major projects, he stresses that much of the firm's work is secured in partnership with other companies. "We've got colleagues in the industry saying: 'We've got an opportunity here but we don't have the capacity to deliver.' We can be the backbone to some of these projects - that's gaining a lot of traction."
In terms of sectors, Prior says health, sports, commercial, transportation, hotel and leisure are all looking strong. And for regions he highlights Brazil, Turkey and neighbouring countries, India, the Middle East - in particular Qatar and Saudi Arabia - Asia, Africa, Canada and pockets of the US. He says Russia is "coming back after a quiet year or two".
Aecom's stand-out projects at the moment include Dholera and masterplanning the Rio 2016 Olympic park, where the firm's design team has increased almost eight-fold from four to 30-strong in 18 months, thanks to a major expansion in its role to include design development of the venues, infrastructure and landscaping, as revealed by Building last week.
With so many opportunities overseas, Prior is spending a lot of time in airport departure lounges - and he's far from the only one. "I was having breakfast in Heathrow Terminal Five (T5) three weeks ago and I watched five people from this floor [of this office] walk past me," he says. "I meet more colleagues and friends from this industry in Heathrow than I've ever met at a drinks reception."
How does the UK fit in?
This T5 anecdote gets to the heart of where Prior believes the UK fits in to Aecom's global strategy. "The UK built up a phenomenal resource through our own boom. But now there's probably more resource here than there is work to go round," he says. "The good news is there's a huge marketplace out there for the UK. The UK is well respected and London is the most convenient base on the planet to get to other markets. My broader encouragement to people would be to realise how hugely advantageous it is being in London."
But does this mean Aecom has taken its eye off the ball in terms of servicing its UK clients? Some current and former clients have said in recent months that they believe so. The perception has been reinforced by the spate of senior departures from Davis Langdon, particularly in its London office, where 21 out of 30 former equity partners have left since the firm voted through the takeover.
If you look at productivity in construction and the development industry, it's basically flatlined since Stonehenge
Prior acknowledges Aecom has had to learn lessons from its "cultural integration" with Davis Langdon, which will inform its future acquisitions strategy, but declines to go into specifics. He says the firm is "constantly working" on improving staff retention, motivation and progression and that Aecom is having "continuous dialogue" with clients to manage change and "check they're reassured".
He believes the timing of the Davis Langdon takeover is critical to understanding the subsequent fallout. "My firm Edaw joined Aecom [in 2005] at a completely virtuous moment as there was a booming economy [so] everything just went on in a wonderful way," he says. "In the case of Davis Langdon you had all the normal challenges but the economy went off a cliff. People look back to pre-recession, to, say, 2007, but that's not a benchmark for how this industry works now."
Prior says Davis Langdon has recruited "an awful lot of people" and has been strengthened by the October 2012 acquisition of 600-strong Asian quantity surveyor KPK. "We now have a global cost consultancy business, which was the desired outcome of doing the merger."
He argues that Aecom - which restructured and bolstered its London-based commercial team last month to make up for recent departures - will "continue to be successful" in London. As Building reveals this week, Aecom has continued to land some of the capital's most prestigious projects, after securing the cost consultancy role on Google's UK headquarters in King's Cross. But Prior says a narrow focus on London and the south-east will not suit the firm.
"A lot of the talent is being drawn overseas at the moment," he says. "It's quite possible that some of those [former Davis Langdon] guys will be extremely successful delivering into this local market, but I'm not certain I'm going to see a lot of those guys in T5 on Monday morning."
The future
According to Prior, it's not just Aecom that needs to transform, but the whole industry. "I passionately believe this industry has to go through some changes," he says. "If you look at productivity in construction and the development industry it's basically flatlined since Stonehenge - and fallen way behind industries like agriculture and technology." He lists a number of areas where he says construction must improve - including better collaboration, product design, off-site construction, use of BIM and building and city performance evaluation. Prior says Aecom is already trying to deliver on this vision and wants to work with the rest of the industry to make it happen. If you want to join him you'll have to catch up with him in T5.
Prior on London 2012
Prior didn't entirely enjoy the first week of the London 2012 Games. He spent it "terrified" that the Olympic park he helped create would fail, even as the world's media heaped praise on it. "I kind of enjoyed it but I remember being deeply nervous until the first Friday when the park was at full capacity and it was deemed to work," he says. His enjoyment of the Games picked up - he picks out David Rudisha's 800m gold and world record, and a Paralympics athletics finals night as "extraordinary" highlights - but there's a part of him that's "deeply relieved" it's all over.
"I do believe I was the most boring person in the UK for many years," he jokes. "I literally did not talk about anything else [other than London 2012] and nobody wanted to talk to me about anything else. I was at one level deeply relieved when it ended, as I'm sure my family were."