Stanhope's development manager on how the company is stepping outside its comfort zone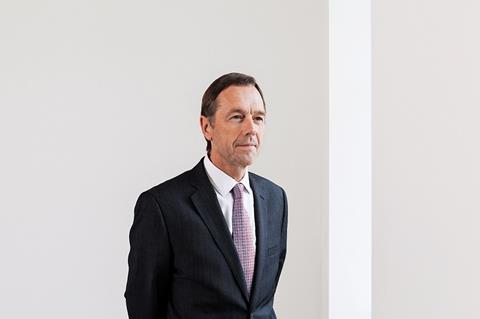 Developers tend to fall into two personality types. They are suave salesman, keen on hyperbole, with unnervingly enthusiastic and starched-white smiles. Or they are hard-headed City types, lacking in patience or humour, but devastatingly effective on the bottom line. While no less charming or effective, Paul Lewis, head of development management at developer Stanhope, is strikingly different to these stereotypes.
A polite, softly-spoken man with an easy manner, Lewis comes across as more down to earth than many developers I've encountered. Pitching up for this interview on time - itself a rarity - he immediately asks Building's photographer if he's been offered a cup of tea or coffee. That is a first, in my experience.
Like many of his colleagues, Lewis has been with Stanhope for most of his career - and most of the company's 30-year history. Over that time, both Lewis and Stanhope have developed an enviable reputation for delivering prestigious commercial buildings in the City and London's West End, such as Broadgate, Paternoster Square and Central Saint Giles, working with construction giants such as Mace, Bovis (now Lend Lease) and Sir Robert McAlpine.
You have to be very confident about the location and product with regeneration schemes
And despite the past five years of economic gloom, the company's position is looking pretty rosy at the moment. Its latest set of accounts to the end of March 2013 show that it has more than doubled its operating profit, from £3.44m in 2011/12 to £7.54m in 2012/13, with turnover up from £16.42m to £56.47m over the same period. Last year, it received a funding boost: while it is still majority owned by its directors, in 2012 Mitsui Fudosan UK increased its stake in the company to 25%, and Alberta Investment Management Corporation bought 10%, providing capital to allow Stanhope to acquire and develop new sites as well as act as a development manager on behalf of external investors.
However, in recent months the company has stepped outside its comfort zone, acting as developer on the mixed-use transformation of BBC Television Centre in west London and as development manager on the Chinese-led regeneration of the Royal Albert Dock to the east of Canary Wharf. What's more, Stanhope has diversified geographically, picking up mixed-use
and retail-led regeneration schemes around the country.
So, what does the apparent change in emphasis tell us about Stanhope's strategic direction? And what might that mean for the way in which the company works with the wider construction industry?
Branching out
The new areas Stanhope has ventured into generally fall into two categories: mixed-use development and retail-led regeneration. Stanhope recently started on site at one of the latter: Hereford town centre, a project Lewis says led to the firm taking on similar work in a clutch of other locations.
On the mixed-use side, in addition to the Royal Albert Dock and Television Centre schemes, Stanhope recently secured planning permission for its Ruskin Square Development in Croydon, has submitted plans for the Station Hill scheme in Reading and is working up plans for its Elwick Place project in Ashford.
Partly as a result, Stanhope is now pushing into residential development. "Out of this urban, mixed-use regeneration we've got a residential angle," says Lewis. "I don't think we're going to be challenging the big housebuilders, but there is a niche there for us with the units we're going to do at Station Hill, at Croydon and, of course, more than 1,000 units at the BBC."
Stanhope's move into regeneration is something of a surprise. Regeneration schemes tend to be on the margins of viability at the best of times, generally requiring some level of state subsidy to attract private investment. After the 2008 crash, many developers and housebuilders walked away from regeneration schemes altogether - a trend that gained momentum when it became apparent how little state funding there would be for the sector after the 2010 election.
So, why did Stanhope see urban regeneration as a sector that could support the growth of the company? Lewis answers that it isn't the sector as a whole that was attractive. Rather, it was very specific schemes in specific locations. "You've got to be very selective when it comes to regeneration schemes," he says. "You have to be very confident about the location and the product. That means you have to research the area, the audience, the product and then be confident that you can deliver it."
Hard core
Lewis is adamant, however, that Stanhope's new projects don't mean the company is any less focused on London's prime office market. "Our core business, the things that we're traditionally known for - the City and the West End - hasn't changed much," he says. "It's remained and we've enhanced it with some pretty significant schemes."
But the difference between its current projects and those in the pipeline is striking. For instance at the end of March, Stanhope had 2 million ft2 of development under construction in the Square Mile, but just 340,000ft2 in its City pipeline. By contrast, it is currently building 350,000ft2 of office-led regeneration schemes, but has 8.8 million ft2 in the pipeline. Isn't that the picture of a company that has changed direction?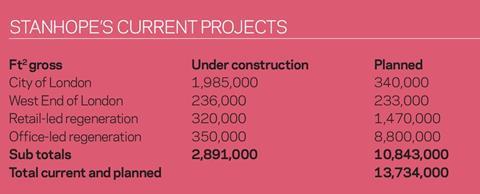 "Your point is that there's a big swing towards urban regeneration schemes and that's fair enough," replies Lewis. "But that doesn't mean that we're not doing stuff in the City and West End." What's more, he says, the overall figures mask the fact that there are a few huge projects outside central London in the pipeline that will take a long time to build, during which time several currently unimagined City and West End schemes are likely to be conceived, designed, prepared and constructed. "We wouldn't want people to think that we've changed direction," says Lewis. "We will still push hard for jobs in the City."
A hell of a lot of squeezing has been going on, which isn't healthy. The last thing we need is someone going bust on us
However, the changing profile of Stanhope's pipeline profile does present increased opportunities for consultants, contractors and specialist contractors. Although, while Lewis says that the company is always on the lookout for "new people on the block" to work with, it has built up a group of firms over the years that it trusts to do a good job and has worked with time and again. "There's a massive amount of trust involved in constructing buildings and you have to set the tone to enable that to work properly," he says.
No matter, the push into new sectors and areas means Stanhope is, out of both necessity and a desire to spread the love, actively seeking out new firms with which to work. "We're absolutely open to working with other firms ," says Lewis. "If you go to Hereford, for example, we have to look for a mixture of local and maybe London trade contractors. It's about making sure that there's enough of a mix between people who know us and know what we're looking for and some of the local guys we want to encourage."
Whichever sector or area of the country Stanhope is working in, however, its attitude to procurement remains unchanged. Lewis says that whether the company chooses to appoint a construction manager or a contractor on a fixed-price depends on the job and who the client is, but, either way, price is only one factor he considers.
"A hell of a lot of squeezing has been going on, which isn't healthy," he says. "The last thing we need is someone going bust on us. What we should be doing is decreasing waste and increasing efficiency in new developments. If the whole price is coming down, that's through team-working and making things more efficient, not by squeezing somebody's margin."
However, if Stanhope is paying a decent price, Lewis expects a degree of goodwill in return. "We want the input and output price to be the same, unless we radically change something," he says.
"That's the trust factor - we want to enter into a relationship where there's some certainty on the price, the programme and the quality. What a waste of energy it is to focus on some change or another instead of on building something you're going to be proud of."
So Stanhope will continue to be what it has always been: a developer and development manager of some of the most prestigious office buildings in central London. But it is also diversifying the markets in which it works in a serious way - something that should open up opportunities for a new wave of companies. And with a development pipeline amounting to more than 10 million ft2, it is a client well worth getting to know.