How much damage will the unfolding blacklisting allegations inflict on contractors?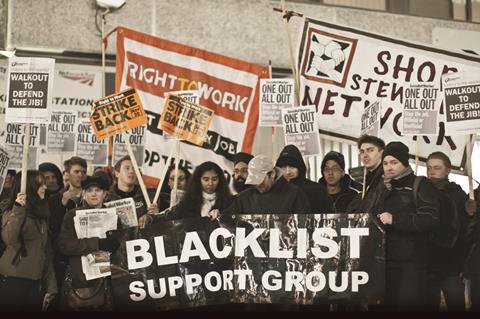 The chief executive of the UK's second largest contractor did something unusual for any boss last month - he said sorry.
In a 300-word statement sent to Building, Carillion CEO Richard Howson apologised for his company's involvement in the blacklisting of construction workers - a scandal that first emerged four years ago but seems to escalate in significance with every week that passes.
Howson said the firm regretted that Crown House Engineering - which was formerly part of the Carillion business - used the notorious database held by the now defunct Consulting Association, a blacklist of 3,200 names which was one of the industry's darkest secrets until it was seized by watchdog the Information Commissioner's Office in 2009.
Unions claim blacklisting ruined the lives of workers by denying them employment, and that they were listed just because of their union or political allegiances or simply because they raised health and safety issues.
In a section of his statement highlighted in bold text, Howson said of the Crown House example: "This was not consistent with the high standards of behaviour that we set for ourselves, based on our core values."
Howson's apology was significant because Carillion is one of two major contractors, alongside Sir Robert McAlpine, currently facing major civil claims for blacklisting, in an issue that risks sucking in all of the 40 or so construction firms caught using the list.
Paul Kenny, general secretary of the GMB union, which is preparing the High Court claim for compensation against Carillion, said: "This [Howson's statement] is an important first step in recognition of the disgraceful and immoral behaviour of Carillion and many other construction companies".
The question remains how far Carillion and Sir Robert McAlpine will have to go to resolve the issue. How likely is it that two of the country's largest contractors will wind up having to pay out huge sums in compensation to workers who claim to have been unlawfully deprived of work? And, with growing political controversy around the topic, is it possible it will affect other contractors or influence how the public sector awards major contracts?
The legal case
In the wake of the discovery of the Consulting Association database, the law on blacklisting was tightened two years ago through amendments to the 1999 Employment Relations Act. This made it illegal to compile, supply, sell or use a blacklist. However, since the legislation does not apply retrospectively, lawyers have had to look elsewhere for inspiration in making their case.
Both the claim against Sir Robert McAlpine - prepared by solicitor Guney Clark & Ryan for the Blacklist Support Group - and the GMB's one against Carillion, handled by Leigh Day & Co, are set to use the tort of unlawful means conspiracy. This is an area of common law concerned with a tort - or civil wrong - which involves two or more parties conspiring to use unlawful means to injure the claimant, who suffers economic damage as a result. It means lawyers acting on behalf of blacklisted workers can pursue just one of the many construction firms involved because it is a conspiracy charge. This is similar to the Crown Prosecution Service charging an individual gang member with conspiracy to murder when there was a group of attackers and it cannot be proved which one delivered the coup de grâce. As one solicitor told Building: "It's not pulled out of the bag very often by lawyers but where it's useful is that you can pick one person out of the group and blame them for everything."
The claimants need to prove that- but for the list - they would have been employed by a company that subscribed to it. that will be hard to prove

Stephen Rockhill, Charles Russell
In this instance, the unlawful act would concern breaches of data protection law. And unlike previous unsuccessful employment tribunals on blacklisting mounted by individuals such as that pursued by campaigner and former electrician Dave Smith against Carillion, the High Court is not constrained by technical considerations like how much time has elapsed since the blacklisting came to light or whether the worker was employed directly by the firm.
As Leigh Day & Co partner Chris Benson says: "If the evidence that Dave Smith gave was before the High Court, you could expect that would be looked at sympathetically. The Tribunal was in no doubt that individuals had suffered injustice and loss - they just did not have the powers to deal with it.
"There will be individuals [claiming in the High Court] who could not work and could not use the skills they were trained in. I don't think it's a big ask to draw the conclusion that the blacklist was responsible."
This argument will be pursued by renowned QC Hugh Tomlinson, who is - Building can reveal - acting on behalf of both firms of solicitors. Tomlinson played a central role in representing victims of phone hacking by the News of the World.
But one construction lawyer who is uninvolved in the cases says proving these claims will be less straightforward than Benson suggests. Stephen Rockhill, a partner at law firm Charles Russell, says: "The claimants will need to prove that - but for the list - they would have been employed by an organisation which subscribed to it.
It seems to me that this will be difficult to prove. Further, the defendants may argue that the use of the list was necessary to protect the construction industry."
Opening the floodgates
However, Carillion and Sir Robert McAlpine will be less heartened to hear that Rockhill is also warning that he expects a "flood of other claimants" to come forward if the two actions do succeed. There is also plenty to worry the big contractors in terms of the scale of the High Court claims. There are now 84 claimants involved in Guney Clark & Ryan's claim against Sir Robert McAlpine and just a handful involved in Leigh Day & Co's forthcoming claim against Carillion. But fewer than 200 of the 3,200 people named on the blacklist have so far been identified.
As Building revealed last month, the High Court claims are now expected to balloon in size to hundreds if not thousands of individuals following the decision of the Information Commissioner's Office to share the full list of names with the unions involved. This will allow the unions to pro-actively contact those members they believe are affected.
As a result, sources close to the blacklisting issue estimate that the claim against Sir Robert McAlpine will grow to at least 200 workers while the claim against Carillion will reach at least 100. If each claimed an average of £80,000 in lost earnings - something of a conservative estimate, according to many - this would add up to £16m to Sir Robert McAlpine and £8m to Carillion.
That's a combined bill of £24m which experts say could easily spiral to a total of £100m once punitive damages for the additional emotional distress and impact on family life were factored in. Rockhill believes it remains possible that the number of claimants taking action could rise into the thousands, raising the potential bill for contractors into the hundreds of millions. With such eye-watering sums at stake, the two firms do have the option of pointing the finger in court at some of the other 40 construction firms which also paid for the services of the Consulting Association.
These could then join them as defendants. But that of course would raise the profile of construction industry blacklisting still further, something that may be
worrying Sir Robert McAlpine and Carillion even more than the possible compensation bill.
Should the pair lose these cases, it is not difficult to imagine blacklisting attracting a degree of the kind of public opprobrium caused by the phone hacking scandal or the security shambles that took place ahead of the London 2012 Olympics.
The latter resulted in a committee of MPs angrily demanding that private security firm G4S be "blacklisted" by government because of its failures. For building contractors dependent on public sector clients for hundreds of millions of pounds worth of contracts every year, that ironic scenario is the true stuff of nightmares.
What Sir Robert McAlpine and Carilllion say on blacklisting
Sir Robert McAlpine confirmed it had received a claim in respect of the activities of the Consulting Association (CA) between 2000 and 2009. In a statement, the firm said it "rejects any implication that the CA influenced its view of individuals because they were trade union members or were engaged in health and safety issues." It added: "We look forward to refuting any such allegations in full if they form part of the detailed claim when it is finally served."
In a statement last month, Carillion chief executive Richard Howson apologised for the firm's past involvement with the CA but also condemned what he called the "appalling" claims made about Carillion by the GMB union. He insisted Carillion was not at the heart of blacklisting and that Crown House - which was then part of the business - discontinued the use of the database in 2004 "long before the practice became illegal". He added that the firm wishes to appear before the Scottish Affairs select committee - which is investigating blacklisting - to "set the public record straight".
Another contractor's viewpoint
"We have never condoned the use of blacklisting - we did use the Consulting Association, but it was about reference checking," says the boss of one contractor which paid the blacklisting organisation but is not currently subject to legal action.
"We were checking references - we didn't have access to the database, so we didn't know what was in the database. It was a question of going there and looking for a reference check on whether somebody is suitable for employment.
"When we recognised that this was non-compliant with the Data Protection Act and we got an enforcement notice from the ICO then everything was shut down. Nothing has happened since 2009 so it's an historical issue.
"We've put measures in place - a code of conduct - to really make sure it can never happen again.
"But it's anybody's guess where this is going. Do they have a case or do they not? Can they actually demonstrate they've lost work through this? It's all a bit unsure.
"But it has to get resolved in some form or another. Personally I would not like to see it go all the way to a legal situation. But we have to wait to see how it's going to play out in the long term.
"We may then look at how we might respond but at this stage its wait to see how it develops."
What is the current law on blacklisting?
Henry Doswell, Associate at law firm Thomas Mansfield
The recent class action brought in the High Court against Sir Robert McAlpine by workers blacklisted for being trade unionists has highlighted what many in the construction industry see as an unfair and insidious practice. This practice is also unlawful by reason of The Employment Relations Act 1999 (Blacklists) Regulations 2010 (the Blacklisting Regulations).
These regulations came into force in March 2010 and make it unlawful to compile, supply, sell or use a "prohibited list" (a blacklist) subject to certain exceptions. For it to be a prohibited list it must contain details of persons who are or have been trade union members or have taken part in trade union activities. It must also have been compiled with a view to it being used by employers or employment agencies for the purposes of discrimination.
Claims may be brought in the county court for breach of this general prohibition by an individual, trade union or other organisation that has suffered (or may suffer) a loss as a result of that breach. The court can award damages (including for injury to feelings) with no upper or lower limit. It can also grant an injunction to restrain further use or supply of a list.
It is also unlawful to refuse to employ someone for a reason which relates to a prohibited list or for an employment agency to refuse to offer its services to someone for such a reason. Individuals may bring a claim in employment tribunal within 3 months of the date of the relevant conduct. Remedies include a declaration of discrimination, compensation (including for injury to feelings) for not less than £5,000 and a recommendation that the respondent take action to remove or reduce any adverse effect on the individual.
The individual may also bring a claim under section 137 of the Trade Union Labour Relations Consolidation Act 1992 where the reason for refusal is because of membership (or non-membership) of a trade union. There is no requirement to prove the existence of a blacklist.