The second leg of this year's Construction Rocks event goes vintage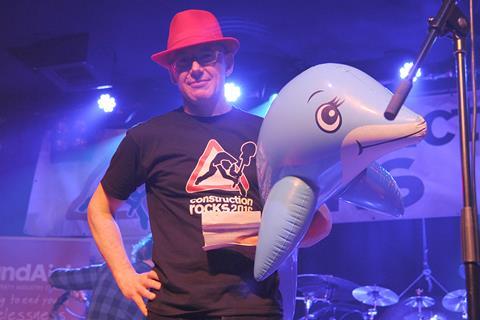 Seconds out… And here we are on round two of 2016's Construction Rocks at the Scala in King's Cross. After the previous night's "New Band" evening this one is devoted to "Vintage Bands"… And so returns a vintage judge in the form of Building editor and music aficiando Sarah Richardson who is back on the judges' balcony along with new recruits Leah De Silva, deputy chief executive of LandAid, Alistair Lenczner, director of Expedition Engineering, and Tom Bullen of Air-Edel Recording Studio.
First up is Cushman and Wakefield's Soul Agent who start off this night of rock at Construction Rocks with the Primal Scream rock classic Rocks. And it does. Sporting a nice line in glittery clothes (at least the singer's dress and guitarist's trousers) they reel off a further couple of Construction Rocks classic covers (Kings of Leon's Eighteen and Otis Reading's Hard to Handle) before closing with a pleasingly shouty and out-of-left field version of Blur's Parklife. "I've been here before," says Sarah Richardson (possibly to try to show the new judges who's boss), before continuing: "But I've never seen a first band on that gets people dancing before now."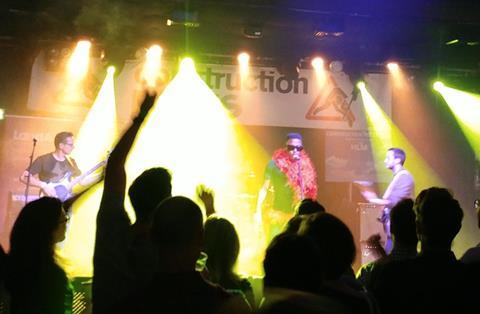 Next up are the Propheads from CLT specialists KLH, whose singer marches/prances onto the stage with a red feather boa before doing something extremely entertaining to the Rolling Stones' Paint it Black. Take notes people, this is what a frontman looks like. With the prop of a bunch of good musicians behind him he dances, shouts and charms through some Artic Monkeys, Green Day and an awesome version of the Pixies' Where is My Mind, which morphs into No Woman, No Cry. "Cross laminated timber has a whole new meaning," cries compere Joanna Averley. Hmm…
Then there's the Cats (of Catalyst Housing), with their distinctive cat ears and strong vocal performances (both the lead singer and backing harmonies). They too have quite an eclectic set with some more obvious crowd pleasers (Sweet Child of Mine, Play that Funky Music White Boy) sat next to Alanis Morisette's You Oughta Know and a very Florence Welsh-y version of You've Got the Love.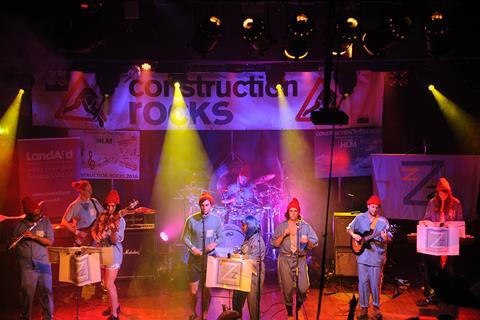 And then things get weird. And wet. Well, more nautical than wet. Taking a cue from Bill Murray's character in the Wes Anderson film, The Life Aquatic with Steve Zissou, the stage is suddenly decorated with a prop shark, inflatable porpoise are tossed into the crowd and Levitt Bernstein Associates' Team Zissou (of whom there are many, including a violinist and a flautist) emerge in Zissou-esque matching red wooly hats and proceed to perform a medley on seemingly unconnected songs including Fatboy Slim's Praise You, Elvis' A Little Less Conversation, Play That Funky Music White Boy (again), and so on… It's like an early noughties dance remix mash up played by a nu folk version of Arcade Fire in fancy dress. Which is not your usual Construction Rocks cup of tea but I thought was brilliant. "I'm going to buy a red wooly hat tomorrow because I've just realised there's a Zissou-shaped hole in my life," says judge Leah De Silva. Quite.
"And what could follow that?" I hear you gasp, reader. Well, I'll tell you… It's only reigning Construction Rocks champions Zero Charm (from Balfour Beatty). Arguably no band is quite as Construction Rocks as Zero Charm. They work in construction. They play classic rock. In many ways they embody the spirit of the event. So we get a guitarist with a big-rimmed leather hat, a singer who emerges initially in a 1970s heavy metal band black hooded cape, and then a set made up of belting covers of Bon Jovi's Living on a Prayer, Van Halen's Jump, AC DC's Highway to Hell, and Guns and Roses' Sweet Child of Mine (a reoccurring Construction Rocks favourite). They don't dress it up as anything it isn't. They just do it really well. And the judges raved about them.
In a similar vein we have Mace's White City Vultures. They might not be quite as metal as Zero Charm but they're straightforward rock 'n' rollers with an open-shirted rock god front man and a guitarist who does good "guitar face" when playing solos. So we have a classic set, opening with the (daunting to play live, I would imagine) Gimme Shelter by The Rolling Stones, Bowies' Ziggy Stardust, and then bringing things up to date with The Killers' All These Things That I Have Done.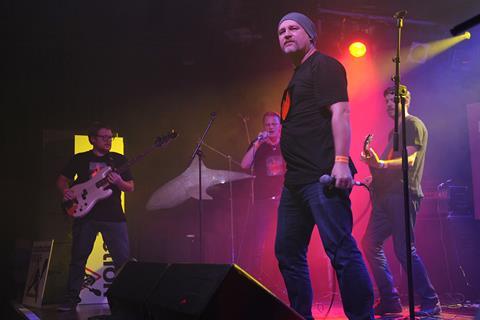 No Smoke Without Fire, from WSP Parsons Brinckerhoff, have an interesting band uniform in the form of T-shirts with a holographic flame effect on them. Nice. But would things get steamy with Team Zissou? Anyway - it's a bit of a younger vibe than the last couple of veteran outfits but the rocking continues with some fire-inspired song/band choices (By the Way by Red Hot Chilli Peppers and This Sex is On Fire by Kings of Leon) and a last minute horn section addition for the end of the set. With the crowd demanding "one more song, one more song" as they finished, they were, perhaps, this year's people's choice.
And then the final act of the evening – Deloitte's Strawberry Blues. They seem to start their set with the intro of The Who's Won't Get Fooled Again (my favourite Who song). But then stop. Some kind of cruel joke? I was fooled. What we get instead is All Along the Watchetower, another Van Halen Jump and the Artic Monkeys' I Bet You Look Good on the Dancefloor, all delivered in an effortlessly cool 1980s new wave rock style.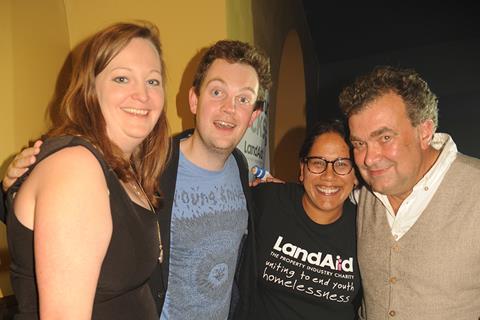 And so the end of the night, and indeed this year's mammoth event. After a longer than usual consultation the judges emerged from on high to give the results.
And the winners were:
Zero Charm Best band
(with a high commendation to No Smoke Without Fire)
Propheads Best stage performance
White City Vultures Best fundraiser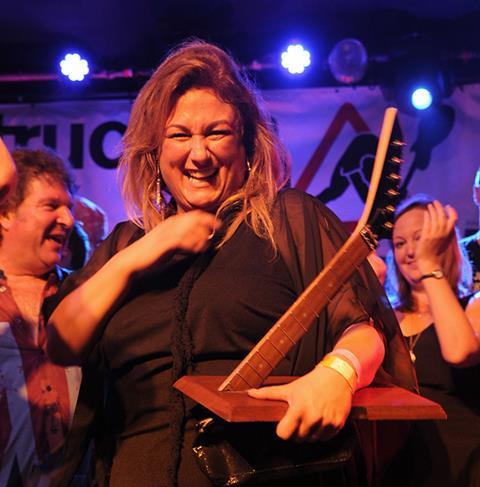 Well done to everyone involved, including all the bands, all the judges, the event organisers, and the crew and venue staff who made it all happen. See you next year…
Construction Rocks was conceived by Bill Price and Nigel Fraser in 2007. Since its conception Construction Rocks has raised over £90,000. This year the event raised over £21,000. The funds go primarily to property industry charity LandAid (www.landaid.org), among others. For more information go to www.constructionrocks.com