Solar capacity installation up fourfold as slashing of feed-in tariff continues cycle of boom and bust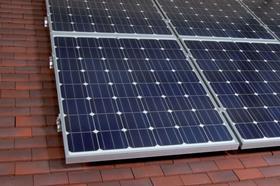 The beleaguered solar industry has seen a quadrupling of installations in anticipation of further cuts to the feed-in tariff.
On 1 August, the feed-in tariff for solar power, paid to homeowners who install solar electric panels, was cut to 16p per kWh from 21p per kWh – a rate that was introduced in March this year after a protracted legal battle.
In the week preceding the August cut, the amount of solar capacity installed shot up to 42MW from an average of 10MW a week in the three months following the introduction of 21p per kWh rate in March.
The rise is the fourth spike in activity in the past year.
But experts predicted that the increase will be followed by a substantial drop in activity in early August as customers go cold on the idea of installing solar electric panels with a 5p lower feed-in tariff.
Paul Barwell, chief executive of the Solar Trade Association, said: "I would expect to see a tailing off in August, but hopefully we will get back to steady growth."
The government will now review the amount of solar capacity installed each quarter and cut the tariff by 3.5% if installation targets are met, with the industry hoping this will end the cycle of large spikes in installations followed by dramatic drop-offs.
Barwell said because future cuts would be much smaller and more regular there would not be the opportunity for solar firms to do "last chance" style sales campaigns, which drive up the amount of capacity installed over short periods of time.
But Susannah Wood, marketing director for Solarcentury, said: "I think we will continue to see peaks and troughs - we are not at the end of this."
Chris Hopkins, member of the government's Green Construction Board, said the new system of introducing smaller cuts was "about right".