Fundrasier for Article 25 charity sees 100 architects and engineers each draw a segment of the Square Mile in London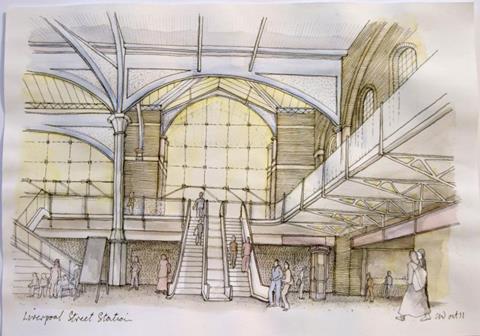 This freehand sketch of Liverpool Street Station in London by Chris Wilkinson, partner of architect Wilkinson Eyre, and another 99 drawings are to be auctioned for overseas disaster relief.
Wilkinson is one of 100 big-name architects and engineers, including Lord Foster, Sir Terry Farrell and structural engineer Hanif Kara, who are donating their drawing skills to a money-raising event named 10 x 10.
The event entails dividing up London's Square Mile into a grid of 100 squares, and then allocating each square to a different contributor with an invitation to draw whatever catches his or her eye.
The drawings will be auctioned on 1 December by Article 25, the UK's leading built environment charity, which hopes raise up to £40,000 to help build schools and community buildings in Burkina Faso, Nigeria and Liberia.