Government and Berkeley Group need to reach deal for Woolwich station fit-out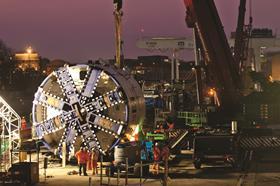 The completion of the £100m Woolwich Crossrail station in time for the opening of the east-west link line is in doubt because of a failure to agree funding for its fit-out.
Construction of the £25m station box, which is being built on the site of Berkeley Group's 2,500-home Woolwich Arsenal development, is already being funded by the developer.
However, an agreement between Berkeley, Transport for London and Greenwich Council to pay for the £75m fit-out of the station has not yet been reached, despite agreement being required in the next couple of months to ensure the station's completion in time for Crossrail's opening.
In addition, separate sources said a failure to agree the funding package before the end of the summer, in time for parts of the work to be completed in advance of the Crossrail Tunnel Boring Machine reaching Woolwich, could see an extra £10-15m added to the cost of the fit-out due to the greater complexity entailed.
The public sector is thought to be holding out for a further contribution of £10-15m from Berkeley Homes, which got permission to build 1,000 extra homes at Woolwich Arsenal on the basis of it being the location of a Crossrail station.
Berkeley Group chairman Tony Pidgley said Berkeley's contribution would be "much smaller" than 20%. He said: "We won't pay for the fit out, they want us to make a contribution. I think we are happy to make a small contribution. It [the fit out] does need to happen."
However, in a statement the Department for Transport said that "no additional public sector contribution can be made available" to fund the scheme, and that agreement was required in the "near term" to keep costs down.
A DfT spokesman said: "The Crossrail sponsors are continuing to work with Berkeley Homes and Greenwich [Council] to secure the necessary private sector contributions for the fit-out of Woolwich Station. The sooner their contributions can be secured, the more certainty there is that a fitted out station can open at the same time as the rest of the Crossrail route."
"As was made clear by the Secretary of State's statement in February 2011, no additional public sector contribution can be made available to fund the fit-out of the station box so the fit-out is conditional on receiving sufficient funding contributions."
Nick Raynsford, MP for Greenwich and Woolwich, said: "It is essential an early agreement is reached in which all parties make an appropriate contribution to make it all work, as the Crossrail station is crucial to the long-term economic regeneration of the area."