Veteran developer Sir Stuart Lipton pays tribute to departing Ashley Muldoon
Multiplex's biggest client in the UK has said it is expecting to see the firm's new head soon after yesterday's shock news that chief executive Ashley Muldoon is leaving.
Muldoon will later today say his goodbyes to staff at the contractor's head office at 99 Bishopsgate in the City of London – a stone's throw away from the 22 Bishopsgate tower it is building for developer Lipton Rogers.
Veteran developer Sir Stuart Lipton told Building he hadn't yet been in touch with Muldoon's replacement John Flecker but said partner Peter Rogers had already spoken to him. "I'm sure we'll be meeting him soon," he added.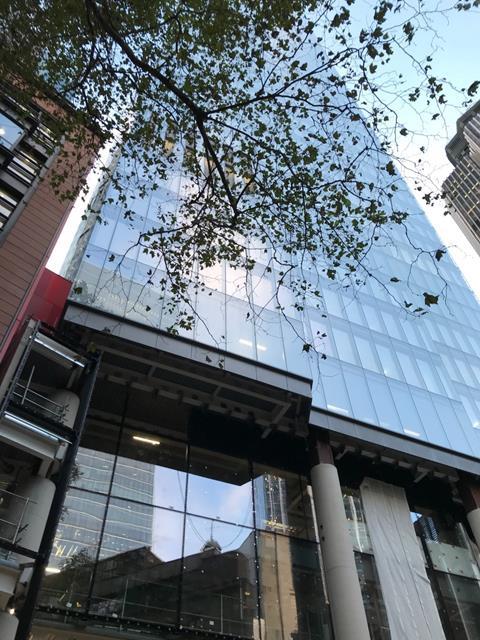 Multiplex is coming to the end of its £600m contract on the 278m tower and Lipton praised Muldoon's role in getting the job – which was stalled by the 2008 global financial crisis when it was known as the Pinnacle – close to completion.
"He was good, he worked hard and the quality here [at 22] is good. He was very upfront, he led his team and he had a passion. We'll miss him. But you have to be philosophical. Life moves on."
Muldoon is bringing the curtain down on 22 years' service for Multiplex, having helped rebuild the firm's reputation following the battering it took on the scheme to rebuild Wembley stadium which finally opened in 2007.
Brought in to run the Wembley job by the late John Roberts, who set up Multiplex in Perth, Western Australia, in 1962, Muldoon's 16 year tenure in the UK has stretched from the national stadium to a string of high-profile towers in London including the Strata tower, the Foster + Partners-designed Principal Tower, Ian Simpson's One Blackfriars, 100 Bishopsgate, designed by Allies and Morrison, and PLP's 22 Bishopsgate.
It is currently on site at One Nine Elms, the KPF twin tower scheme for Chinese developer R&F.
In a statement, Multiplex said it and Muldoon had "agreed to part ways on an amicable basis".
The news caught many off-guard and one said: "It's a big, big shock. Ashley was Multiplex over here."
And Jason Beutel, the chief executive of engineer Robert Bird, said: "[Muldoon is] a great contractor, businessman and leader. A real people focus and of the highest integrity."
The firm is currently waiting to hear if it has won schemes to build a shopping centre in Elephant & Castle for Delancey as well as the first stage of a new towers scheme at Blackfriars called Bankside Yards for Native Land.
One source said the decision to swap Muldoon for Flecker might make clients have a rethink before making a final decision. "It's not great timing from their [Multiplex's] point of view just as they're waiting to find out on these jobs. It will change the dynamic. If I was one of their rivals, I'd be thinking 'it might help me'."
Australian Flecker started at Multiplex in 1987 and was named chief executive of its Australia and India business in 2011. He is now taking up the newly created position of global chief executive.
According to the latest report and accounts filed for the Europe arm of Multiplex, the salary of the highest paid director, who is not named, was £425,000 in the year to December 2018.