Over 900 contractors will have to pay two training levies from April 2017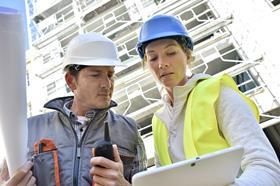 More than 900 contractors will have to pay both the CITB levy and the government's new apprenticeship levy, the CITB has confirmed.
The CITB and the Department for Business, Innovation and Skills have come to an agreement which will see firms with a payroll over £3m pay both the CITB levy and the government's all-industry apprenticeship levy, which will come into effect from April 2017.
Just over 900 firms – across 500 groups – will be affected by the changes, which will see firms pay both levies for at least a year while a consultation across the construction sector is carried out on what a new CITB levy will look like from 2018.
Speaking to Building, CITB head of policy and research Gillian Econopouly said affected firms will only have to pay the two levies on the portion of their payroll above £3m.
Firms with a payroll below £3m will be unaffected by the changes.
Econopouly said: "In some cases they may not pay much. If a company has a £4m payroll, they only pay on the amount above £3m, so in that case it would work out at around £5,000."
She added that "enhanced funding" – usually given to specialist firms with more expensive training requirements – will be available for firms who have to pay twice.
Econopouly confirmed the cost to the CITB will be between £35m and £38m, and said: "We're not going to refund companies every penny they pay in, but we will give them as much as we can through enhanced funding."
The extra funding for firms will come from efficiency savings from the CITB's restructure as well as its bank reserves.
Full details of how the double levy system will work will be announced in early July.