Developer claims Grenfell-style combustible cladding played no part in major fire at New Providence Wharf development
The developer behind a block of flats that caught fire in east London on Friday has claimed that the ACM cladding on the scheme played no part in the fire.
Two residents of Ballymore's New Providence Wharf scheme in Poplar were taken to hospital suffering from smoke inhalation with a further 42 people treated at the scene after a blaze broke out affecting the eight, ninth and tenth storeys of the 19-storey block.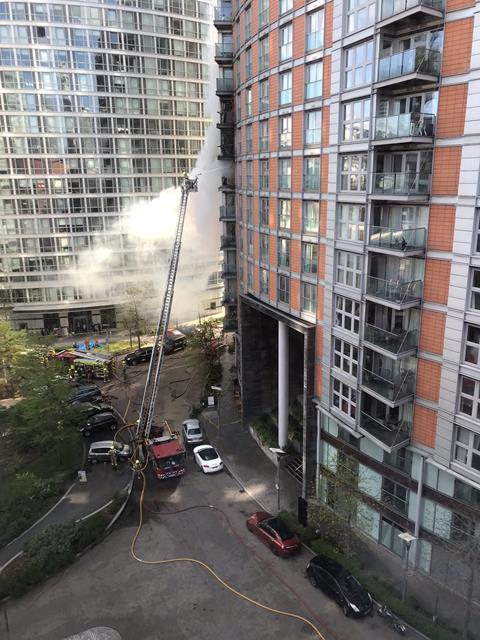 The blaze comes in the wake of a long campaign by residents to get Ballymore to replace Grenfell-style combustible ACM panels on the new build block with fire-safe cladding. A subsidiary of the Anglo-Irish developer was put on a "name and shame" list of landlords who had failed to take action on combustible cladding by the government at the start of the year.
But in a statement issue late Friday in the wake of the fire, Ballymore said while the cause of the fire was "yet to be determined", "we can however confirm that the ACM cladding on the building did not combust and played no part in causing or facilitating the fire".
The firm's statement did not provide any explanation as to how the fire, which it said started in a flat on the eighth storey, spread to the ninth and tenth storeys of the building. It has previously said that ACM panels are present on just 22% of the building's facade.
The blaze at Fairmont Avenue required 20 fire engines and around 125 firefighters to bring it under control.
The London Fire Brigade said in a statement that parts of the eighth, ninth and 10th floors of the 19-storey block were alight, with a flat on the eighth floor "destroyed" by the blaze and "parts of flats on the ninth and tenth floors also damaged".
Ballymore's statement said the fire damage was contained to "one apartment and to two balconies of apartments above."
Despite multiple reports on social media from residents of the development that they did not hear fire alarms or orders to evacuate when the blaze broke out just after 9AM on Friday, Ballymore also said that "all residents evacuated from the building in a timely manner, in accordance with the building's fire safety protocols."
Ballymore has put affected residents in local hotel accommodation, and said: "We understand how difficult and distressing [it] has been for our residents and we are grateful for the patience they have demonstrated. Our response team on the ground will continue to support them in any way we can."
The firm said contractors had been due to start work replacing the combustible cladding on the building this week, with enabling works having begun in the last couple of weeks.
The London Fire Brigade's statement said the cause of fire was under investigation. It said: "Firefighters wearing breathing apparatus have carried out multiple rescues. Two men have been taken to hospital suffering smoke inhalation. A further 38 adults and four children have been treated at the scene by London Ambulance Service crews for shock and smoke inhalation."