Winner picked from star-studded shortlist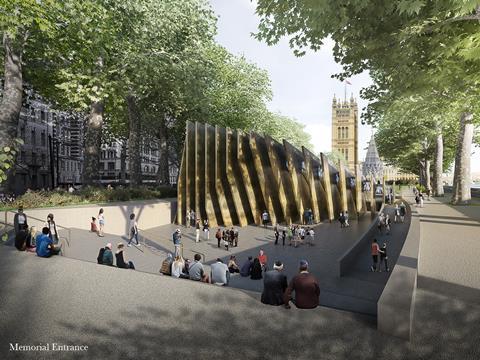 A team featuring David Adjaye has won the competition to design a National Holocaust Memorial in the shadow of the Houses of Parliament.
The firm beat nine others to land the scheme, which also includes a learning centre, will be built in the riverside Victoria Tower Gardens, right next to Parliament.
The Adjaye team, which includes Ron Arad, the Tel Aviv-born founder of Ron Arad Architects, pipped a number of high-profile rivals including John McAslan, Foster & Partners, Studio Libeskind, Zaha Hadid Architects and Caruso St John.
The finalists also included Heneghan Peng Architects, Allied Works, Lahdelma & Mahlamäki Architects and Canadian practice Diamond Schmitt Architects.
The scheme is the most high-profile job in the UK for Adjaye, whose previous schemes in this country include a market hall in Wakefield, West Yorkshire, and a library at Whitechapel in east London.
Last September, former US president Barack Obama opened Adjaye's £415m National Museum of African American History and Culture in Washington DC.
Adjaye said he was "deeply honoured" to win the work with the winning team describing their project as "a gently meandering path which leads across a gradually rising hill, inviting ascending visitors for views of the river and Westminster. It is then revealed as a cliff edge over a fractured landscape, held up by tall patinated bronze walls which inscribe 22 paths – one for each country in which Jewish communities were decimated during the Holocaust."
The international design contest was announced by prime minister Theresa May last September and attracted almost 100 entries from 26 countries.
The jury included London mayor Sadiq Khan and communities secretary Sajid Javid.
The government has pledged to cover the cost of the scheme which the UK Holocaust Memorial Foundation has estimated will have a total project value of £50 million.
Other jury members include former Serpentine Galleries director Julia Peyton-Jones, Stanton Williams director Paul Williams and the UK's chief rabbi Ephraim Mirvis.
Full National Holocaust Memorial shortlist
Adjaye Associates and Ron Arad Architects (UK) with Gustafson Porter + Bowman, Plan A and DHA Designs
Allied Works (US) with Robert Montgomery, The Olin Studio, Ralph Appelbaum Associates,
Allied Info Works, Arup, Curl la Tourelle Head Architecture, PFB Construction Management
Services Ltd, BuroHappold and Nathaniel Lichfield & Partners
Anish Kapoor and Zaha Hadid Architects (UK) with Sophie Walker Studio, Arup Lighting,
Event London, Lord Cultural Resources, Max Fordham, Michael Hadi Associates, Gardiner &
Theobald, Whybrow, Access=Design and Goddard Consulting
Caruso St John Architects (UK), Marcus Taylor and Rachel Whiteread with Vogt Landscape
Architects, Arup Lighting and David Bonnett Associates
Diamond Schmitt Architects (CA) with Ralph Appelbaum Associates, Martha Schwartz
Partners and Arup
Foster & Partners (UK) and Michal Rovner with Simon Schama, Avner Shalev, Local Projects,
Samantha Heywood, David Bonnett Associates, Tillotson Design Associates and Whybrow
Heneghan Peng Architects (IE) with Gustafson Porter + Bowman, Event, Sven Anderson,
Bartenbach, Arup, Bruce Mau Design, BuroHappold, Mamou-Mani, Turner & Townsend, PFB,
Andrew Ingham & Associates and LMNB
John McAslan & Partners (UK) and MASS Design Group with Lily Jencks Studio, Local Projects
and Arup
Lahdelma & Mahlamäki Architects (FI) and David Morley Architects with Ralph Appelbaum
Associates, Hemgård Landscape Design, Barbara Kirshenblatt-Gimblett, Dani Karavan and Arup
Studio Libeskind (US) and Haptic Architects with Martha Schwartz Partners, BuroHappold,
Lord Cultural Resources, Alan Baxter, Garbers & James and James E. Young