Construction giant back in black but results did not meet Wall Street expectations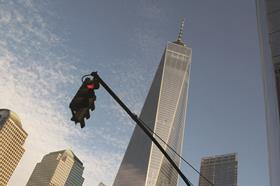 Aecom has posted a £100m pre-tax profit in its full-year results to September 2016.
The US-based construction giant returned to profit after posting a $151.5m pre-tax loss (£100m) the previous year after its £2.3bn mega-merger with engineer and contractor URS.
But according to reports in the US the results did not meet Wall Street expectations, with various outlets describing the results as "disappointing".
Revenue was down 3.2% to $17.4bn (£13.9bn) compared to $17.9bn (£14.4bn) the previous year, while the firm's fourth quarter revenue dropped 8% to $4.3bn (£3.4bn) – analysts had been expecting $4.66bn (£3.7bn).
Despite the underwhelming results, Aecom bagged a record $6.3bn (£5bn) in contract wins in the fourth quarter, including a deal to build a $2.66bn (£2.1bn) stadium for NFL team the Los Angeles Rams in a JV with Hochtief subsidiary Turner Construction.
Aecom CEO and chairman Michael Burke said the firm has achieved its earnings per share and free cash flow targets.
But he added: "Our fiscal 2016 financial performance was negatively impacted by market challenges, including uneven client spending in our Americas Design business, continued market pressures from low oil and gas prices, and lower than anticipated earnings contributions from the sizable power and industrial construction wins in the second half of the year due to the timing."
Aecom, which is bidding to carry out project management work on the contract to overhaul the Palace of Westminster, did not share any financial numbers specifically for its UK or European businesses.