It is the firm's first major contracting role in the UK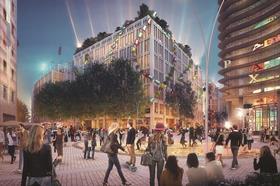 Aecom has bagged the contract to build up to 3,000 new homes at the £3.5bn 62-acre regeneration of Silvertown in East London.
The firm, which set up a UK contracting arm in 2015, has been chosen by the development team – called the Silvertown Partnership and comprising Chelsfield, First Base and Australian firm Macquarie Capital – to deliver the £200m residential element in the first phase at the site via modular construction.
Building revealed earlier this year that the developers behind the scheme were looking to build a temporary factory at the site to help it construct the £500m first phase which includes some of the 3,000 homes and 5 million ft2 of commercial space.
The developers and Aecom are now in the process of drawing up plans that include a modular construction facility at the site with the capacity to create 500 homes per year from 2018, which is when main building work on the site will start, subject to planning approval.
First Base director Phil Wade said: "As the government stated in its recent Housing White Paper, innovation is essential to meet housing demand in the UK, and this is a bold step that will help us deliver these much-needed new homes in significantly less time. We look forward to working with Newham and the Greater London Authority to advance these plans."
The centrepiece of the first phase will be the redevelopment of the Millennium Mills, a derelict turn of 20th-century flour mill in West Silvertown, into commercial workspace, which has been designed by architect AHMM.
The first phase will also include £100m of infrastructure including a new £20m bridge linking the site to Custom House station and some of the residential units.
The scheme, which has increased in value by £1.5bn to £3.5bn since it was given the go-ahead at the end of 2015 by former London mayor Boris Johnson, will also include retail and restaurants, a hotel as well as cultural and community facilities.
The wider project team also includes Alinea, AKT II and WSP Parsons Brinckerhoff.