Firm says problem job sent number tumbling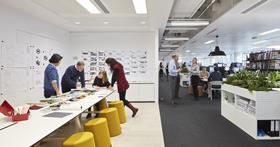 Aecom's UK business saw a problem contract eat into the firm's bottom line last year with pre-tax profit more than halving to £3.3m.
The consultant said profit slumped 52% in the year to September 2017 from £6.9m for the 12 months before.
It said profit was "lower than expected due to the losses taken on an underperforming project in one of the company's core market segments".
In a report accompanying the accounts, signed by the firm's chief executive David Barwell, who was appointed last November after the firm's year end, Aecom said "growth and market sentiment have been impacted by the ongoing Brexit negotiations and the collapse of Carillion".
Turnover was up 14% to £403m with 95% of this – £385m – coming from the UK. Its next largest market by turnover was Europe where it carried out just over £9m worth of work.
Earlier this year Building revealed that work on a 67-storey tower being built by Aecom in London's Docklands had been stopped after the developer ordered a review of the £800m job which remains ongoing.
The US giant scored a coup after beating a number of traditional tower builders, including Multiplex, to the main contractor role signing a pre-construction services agreement with the developer, Chinese firm Greenland Group, last May.
Last month, smaller rival Alinea lured Aecom big hitter Alastair Kenyon to the £13m turnover business.
Kenyon spent nearly six years at Aecom and was the US giant's head of offices in London where he was in charge of a team of 60.
Aecom employs nearly 4,500 people in the UK and moved its head office from London's MidCity Place to the Multiplex-built Aldgate Tower (pictured) in east London 18 months ago.