Howard Davies' airports commission warns airport operators they may have under-estimated the costs of new runways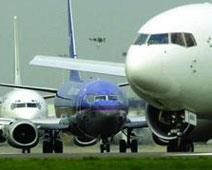 Sir Howard Davies' airports commission has warned that all the three shortlisted schemes for expanding airport capacity in the South-east will cost more than originally estimated.
The commission is undertaking a major review of where a new runway should be built and is set to make its final recommendation next summer.
The three options under consideration are a new runway at Gatwick; a third runway at Heathrow; or extending the northern runway at Heathrow.
But in a consultation document on the three proposals published today the commission said all of them would cost more than originally estimated.
The reasons for the higher cost estimates from the commission varied with each scheme but in all cases it said it took a "differing view of optimism bias".
It said the most expensive of the three options - building a third runway at Heathrow, would cost £18.6bn - nearly £4bn more than the £14.8bn that Heathrow Airport had itself estimated.
It said Heathrow would need to raise additional equity of around £8.4bn and debt financing of up to £29.9bn to build the scheme, which it said would be "challenging".
It said: "This will put the airport at the highest end of the range of financing for infrastructure projects in the UK and could make Heathrow Airport Ltd of comparable scale to Network Rail (with a long-term debt of c. £35 billion) and larger than National Grid (c. £25bn)."
The commission estimated construction of a second runway at Gatwick would cost £9.3bn - more than Gatwick Airport's estimate of £7.4bn.
It said that raising the additional equity of around £3.7bn and debt of £14.3bn to finance the scheme "may be challenging in a context where there is uncertainty around passenger demand"
The commission added that the increased charges to passengers that would ensue might prove difficult to sustain in the competitive airport market.
Davies' commission said the third proposal, brought forward by Heathrow Hub, to extend the northern runway at Heathrow would cost up to £13.5bn, £3.4bn more thatn Heathrow Hub's estimate of £10.1bn.
It said that were the scheme to be undertaken by Heathrow Airport, which would have to buy the proposals, the airport operator would need to raise around £5.1bn of additional equity and £24.9bn of debt.
It said this too would be "challenging" and it would risk the airport not being competitive with other hubs globally due to increased charges to passengers.
It added: "The delivery risks associated with an extended runway at Heathrow Airport are substantial, but could be managed."
The airports commission is now consulting on its findings and the airports' submissions ahead of publishing its final report next year, which will recommend a scheme to the secretary of state for transport.